32 Cheap Gifts For Your Bestie That Go Beyond Basic BFF Necklaces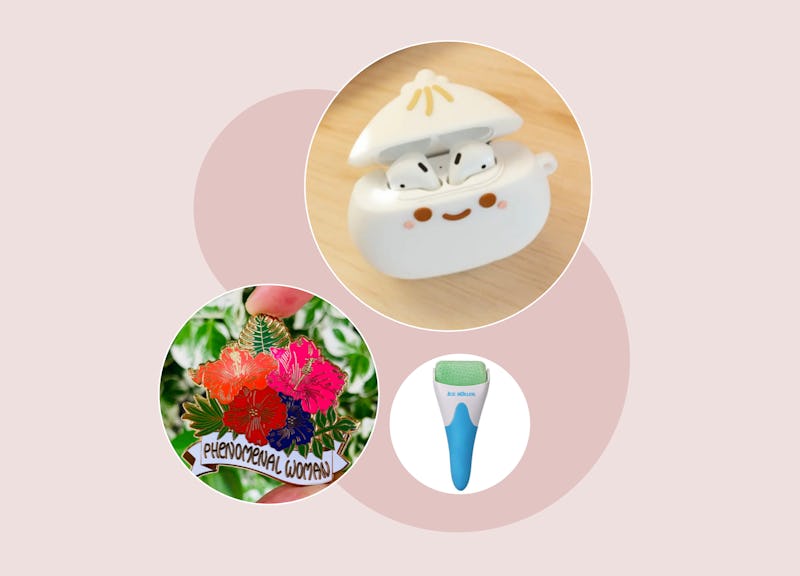 We may receive a portion of sales if you purchase a product through a link in this article.
When it comes to buying cheap gifts for best friends, personalization and knowing their interests can make all the difference. And while it can be hard to buy gifts your friends will like when you're trying to cut back on spending, inexpensive doesn't always have to mean it's low quality or generic. In fact, there are plenty of affordable gifts out there that are unique and will last well past New Year's.
Even if you do get your best friend a seemingly run-of-the-mill gift like a scarf or a coffee mug, tailoring it to their favorite color or specific interest will make it feel more personal. That's why you're friends in the first place, right? Because you know what each other likes. Here are just a few ideas to get you started.
We only include products that have been independently selected by Bustle's editorial team. However, we may receive a portion of sales if you purchase a product through a link in this article.
1. Mushroom AirPods Case
Give your friend a home for their AirPods and charging case with this precious little dumpling case that you just want to squeeze.
2. Wine Mug
And by "probably" you mean "absolutely," right? Even when it's filled with coffee, your best friend will appreciate this cheeky mug that'll get them through the day.
3. Coloring Book
Coloring as an adult can actually improve your daily life, relieve stress, and inspire creativity. If you have an artsy friend, this could be exactly what they need to unwind after a long day.
4. Infinity Scarf
It's cute and it's soft and it's warm — how could your bestie not love this gift? And with cold weather coming soon, we could all use a good scarf.
5. The I Love Trader Joes Cookbook
Filled with 150 fan-favorite recipes, your Trader Joe's obsessed bestie will quickly make this cookbook their go-to.
6. New Book-Smell Candle
Perfect for the friend who's a literary buff or just appreciates the smell of a new book, this candle is handmade and features notes of ambered glue, fresh ink, and cedarwood.
7. Tips & Toes Kit
This Burt's Bees kit comes with cuticle cream and lip balm, along with hand and foot cream. Whoever said looking good has to cost a lot was wrong.
8. Rose Bud Tin Set
Not only does it smell great and leave your lips, elbows, and cuticles feeling soft and smooth, but one Rosebud tin can last for years.
9. An Initial Necklace
These initial necklaces are way cooler than your typical "BFF" variety. You can get your bestie the first letter of their name which is a reminder of you without the gaudy "best friends forever" messaging.
10. Lip Masks
Tell your bestie you've got them covered this winter. When humidity disappears from the air, their lips will stay hydrated with theis bestselling overnight mask from Laneige.
11. Leather Journal
Your bestie probably has some amazing thoughts and ideas they need to write down! Personalizing the front makes it extra special, too.
12. Protect Your Energy Journal
The new year should always be about putting yourself first; make it a priority with this journal that will inspire you to conserve your energy when necessary.
13. Mortar & Pestle
This granite mortar and pestle is a must for the friend who loves to make their own guac or pesto. And technically as their best friend, it's only fair you try everything they make using it.
14. Memory Foam Slippers
Give your best friend the gift of true comfort with these plush flannel-lined slippers you'll probably end up "borrowing" right away.
15. A PopSocket
For the bestie who's obsessed with their phone, this phone holder makes watching YouTube videos and taking selfies for Instagram so much easier.
16. Jewelry Trays
Did your bestie just move into an apartment of their own? Help them spruce up their space with these aesthetically catch-all trays.
17. The Hungoevr Cookbook
This is a gift for the friend who enjoys a good glass of wine every now and again. It includes lots of short and sweet recipes sure to cure even the nastiest of hangovers (and yes, the book is misspelled intentionally).
18. Mug Featuring Feminist Books
If your BFF is a bookworm, they'll love this mug featuring illustrations of book spines like Becoming by Michelle Obama, Shrill by Lindy West, and Bad Feminist by Roxane Gay.
19. LYS Cream Blush
The best thing about this cream blush is how versatile it is. Plus, your BFF can keep it in their purse and always have a pocket mirror ready.
20. "Get Sh*t Done" Bullet Journal
A badass friend deserves a badass bullet journal. What better way to help them stay organized than with a notebook that encourages your friend to get their ish done.
21. Tabletop Ring Light
For the Instagram-obsessed bestie who will go to great lengths to find their light, this tabletop ring light tripod is easy.
22. Vegan Refillable Hand Sanitizer
Let your vegan bestie know you're paying attention, by gifting them this refillable hand sanitizer that's good for the planet. Shop refills when you run out instead of purchasing plastic single-use bottles over and over again.
23. "Phenomenal Woman" Enamel Pin
Celebrate a phenomenal friend with this gorgeous enamel pin featuring a bouquet of hibiscus flowers. If unique enamel pins are your friend's thing, you'll want to check out the rest of MyFilibo's Etsy shop.
24. Emotional Barometer Cards
Don't underestimate the power of a board game you can play together.
25. "Young, Broke, But Talented" Award Ribbon
If your BFF doesn't get your sense of humor, hate to break it to you but that's not your BFF. Statement Goods has a collection of realistic award ribbons that honor being good at naps and, as the above states, young, broke, and talented.
26. Field Notes 3-Pack
If you've got a friend whose aesthetic is "letterpress," these field notes notebook sets are for them. Featuring the work of nine independent letterpress studios across the country, each pack comes with three uniquely designed notebooks that are almost too pretty to use. Almost.
27. Partake Cookie Variety Pack
Be a comfort to your friend even if you can't be there in person. Ship this three-pack of cookies for just $15.
28. A Funky Claw Clip
The '90s claw clip trend is here to stay, but give your friend a less-than-basic way to get the look. This Chunks lime green check pattern is the way to go.
29. An Ultra-Moisturizing Lip Tint
Lip jellies and tints have replaced traditional lipstick in so many makeup routine's. This option from Tower 28 offers a sheer pigment that makes lips look full without that glammed up look that may clash with a more natural makeup style.
30. Cult-Favorite Crew Socks
The socks that nearly broke the internet earlier this year are a great gift you know your friend will actually put to use.
31. A Skincare Headband
This headband is meant to be used while face washing since the terrycloth material will absorb any extra water than splashes.
32. Relaxing Face Ice Roller
Ice rollers like this one are a great addition to any skincare routine that adds a step of depuffing and general relaxation. P.S. They're great for hangovers or migraines too.