9 Signs You're Trying Too Hard To Make A Relationship Work
Sometimes you need to be willing to walk away.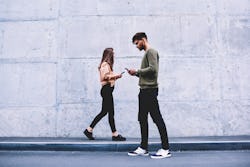 Shutterstock
All relationships require effort and energy. You'll need to talk through problems, compromise, and encourage each other to grow. But it should never feel as if you're fighting an uphill battle, or as if you're changing who you are in order to get along. These are all signs you're trying too hard to make a relationship work, Jim Seibold, PhD, LMFT, a couples therapist, tells Bustle. And when that's the case, you may ultimately decide it's no longer worth it.
"Instead of trying to make a square peg fit into a round hole," Seibold says, it's often better to end a relationship and move on. The idea of letting go can be painful, and it's often tempting to double down and hold onto a relationship for dear life. "However, the longer a bad relationship goes on the more pain you will experience," he says.
Of course, there's nothing wrong with trying to resolve your problems, first. If it feels like there are ongoing issues, talk with your partner and share your concerns. You may be able to make a few changes and begin seeing eye-to-eye. Couples therapy can also be a big help, since it teaches you how to approach problems in a different, and more effective, way.
That said, if you've tried everything and still experience the issues listed below, it's a sure sign you're forcing your relationship to work.
There's no one sign that indicates a relationship is over, but if you're noticing any of these red flags, it might be time to stop exhausting yourself by forcing something to work that just isn't meant to be, and give yourself permission to move on.
Experts:
Jim Seibold, PhD LMFT, couples therapist
Carolyn Cole, LCPC, LMFT, NCC, relationship therapist
Shira Myrow MA, LMFT, psychotherapist and co-cirruculm director or Evenflow
This article was originally published on