4 Signs Most Affected By The April 2022 New Moon Solar Eclipse
It'll bring you closer to your destiny, that's for sure.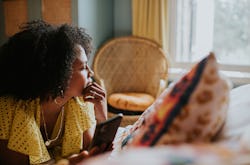 Catherine Falls Commercial/Moment/Getty Images
Buckle up for plot twists and surprising turns of events, because the April 2022 new moon solar eclipse is about to rock the boat and invite drastic changes into our lives. Shaking things up on April 30, the new moon solar eclipse in headstrong Taurus, also called a black moon, is throwing curveballs when it comes to money, love, and personal values. For those zodiac signs most affected by the new moon in Taurus, these energetic shifts may feel particularly intense, but knowing how to work with these transformations can help you move closer in alignment with your destiny.
Just like new moons mark the beginning of a new lunar cycle, they also represent a fresh start in astrology. The monthly reset signifies a time for catching up on rest and setting new goals. It's also a rare black moon, which refers to a second new moon in a calendar month. Since April's new moon happens to be a solar eclipse, meaning the moon travels between the earth and sun, you can expect twists, intense revelations, and shocking new beginnings. The sun and moon are linking up in homebody Taurus, causing friction in self-value and finances as well as surprises in our love lives.
"Because Taurus deals with more earthly and financial matters, and new moons deal with manifestations, you may be faced with lessons around budgeting, asking for new rates that reflect your self worth, or even booking clients that you once felt were out of reach," astrologer Meghan Rose tells Bustle.
Although ecliptic changes align us closer to our fate, these fluctuations can feel overwhelming. Keep reading to find out if you're one of the zodiac signs most affected by the April 2022 new moon solar eclipse.