Here's Your Horoscope For Unconventional Aquarius Season
Venus is about to heat up your love life.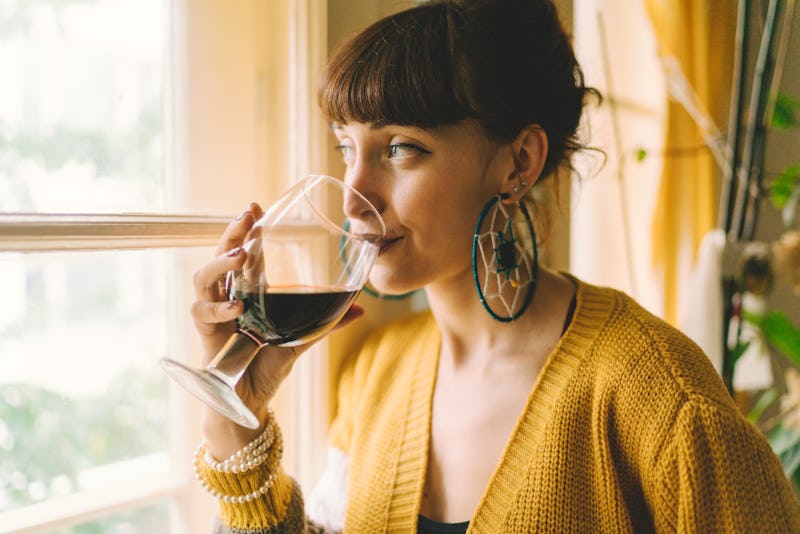 martin-dm/E+/Getty Images
After a turbulent retrograde season at the start of the year, the brain fog is finally lifted as we shift into a more abstract and optimistic vibe. That's because the cosmic torch is passed on to unconventional Aquarius — and the eccentric air sign is inspiring us to embrace our inner weirdo as we question the status quo all Aquarius season long. Expect the next month to inspire innovation, humanitarianism, and a buzzing social life. If you want to fully embody these quirky vibes, knowing how Aquarius season 2023 affects your zodiac sign is a must.
"The general vibe of the upcoming Aquarius 2023 season is about finding your unique spark and sharing it with the people who share your goals, aims, and hopes for the future," astrologer MaKayla McRae, aka the Starryeyedmystic, tells Bustle. "It'll teach us what matters most to us and how to commit to making the world a better place with our new or improved humanitarian, big-picture ideas."
Aquarius zodiac signs are known for being rebellious, unique, and innovative, so this season nudges the collective into a progressive state of mind, and encourages others to embrace the eclectic differences that make each person unique. In modern astrology, this sign is ruled by unpredictable Uranus, which hints at the likelihood of shocking truths coming into view during this Aquarius season. The water bearer's traditional ruler is stern Saturn and brings some of its austere tendencies to its overall free-spirited vibe. And with Saturn being stationed in the rebellious air sign, expect some tough lessons related to our identity and personal conventions.
The transition from industrious Capricorn to wild child Aquarius can be jarring as the collective shifts our practical perspective to a philosophical one. But Mercury, the planet associated with communication, stations in the earth sign until Feb. 11. As McRae explains, "Individually, each sign will be challenged to stay loyal and committed to their goals, despite the slower pace making things happen not as quickly as we may have hoped."
Venus, the planet of love and aesthetics, will be stationed in amorous Pisces beginning Jan. 26, concocting a generous blend of romance and idealism that pairs well with Aquarius' ice queen reputation. This is a great time to evaluate your emotional needs when it comes to love.
Ready to let your freak flag fly? Keep reading to find out how Aquarius season 2023 affects your zodiac sign.
Platonic love is on the brain, Aries, and Aquarius season is about to light up your social life. Scheduling quality time with your pals is pertinent right now, especially if you've been on your work grind recently. McRae suggests investigating who you consider a friend and redefining your inner circle. "Remember, some friends are for work, some are for fun, and some are for more intimate personal dealings," she explains. "Know the place people have in your life at this time."
You're slowly transitioning out of a lethargic retrograde season and into work mode, Taurus. You may feel like people are watching your movements as Aquarius season highlights your public image, but it's a perfect moment to reflect on what kind of mark you want to leave on the world. Let your inner rebel shine — don't be afraid to challenge your traditions. "It's time to focus on your career goals, aims, and overall sense of legacy," says McRae. "Where do you want to be a year from now? Two years? Five? Ten? Think big picture."
Pack your bags, Gemini — adventure is on the horizon this Aquarius season. The fellow air sign is stoking your already-curious mind and exposing you to unconventional lessons. You may change your mind about a situation or a strong position you once held sternly — the whole point of this season is to stay open to growth. "The time is here to study, learn, grow, discover new perspectives, travel, and overall, redefine your philosophy and get out of your comfort zone," explains McRae. "Be careful not to silence your voice to fit into group settings."
Aquarius season is all about letting go, Cancer. The swift and confusing changes made during the water bearer's territory may feel especially overwhelming as it prompts you to perceive and process your emotions analytically. Leaning on your friendships can help you navigate the unknown. "You may feel more sensitive during this time and crave real, deep, genuine connections with others versus superficial, fun, unpredictable social settings," says McRae.
Your relationships are your top priority during Aquarius season, Leo. Are you able to be yourself around your partner, eccentricities and all? This period is all about giving to others rather than accepting what your relationships have to offer. Think about the role you play in your romantic and social connections. You may be craving intimacy and socializing extra hard right now. "Take the time to make plans with loved ones and be open-minded to new people being introduced into your life," McRae says.
Expect the unexpected, Virgo — especially when it comes to your day-to-day. You might be caught off guard by a new routine or find yourself needing a progressive shift in your wellness sector. McRae says focusing on your health is key right now. "Mundane, everyday routines may need to be revised and updated to fit your new desired lifestyle changes."
Prepare for fun-loving and quirky vibes all season, Libra. Aquarius energy spotlights the need for self-care, intimacy, and art — so revel in your natural creativity and don't be afraid to break a few rules along the way! Spend time with a loved one or spice up your sex life. "Take the risk to ask your crush out on a date or to bring the spark back into your long-term relationships," says McRae.
Aquarius season may muster up some tender feelings for you, Scorpio. But rather than having yourself a good cry, this season is about progressing forward in a hopeful light. What are some familial cycles you'd like to break? McRae says domestic values and your sense of family are being highlighted right now. "Reconnecting with your roots, past, heritage, and history will remind you of what matters most and who you are at your core," explains McRae.
Aquarius season comes bearing innovative ideas, Sagittarius. You might find unorthodox solutions to everyday problems, so try to be open about suggestions you might not necessarily agree with or understand. Be mindful about what you divulge to others — think before you speak. "Be sure to ask for clarification when needed rather than jumping to conclusions," warns McRae. "Speak your mind and feelings with clarity as best as possible to avoid misunderstandings."
What are your values, Capricorn? McRae says that Aquarius season is asking you to reevaluate some of your conventions, especially as they relate to self-worth and money. You may find an unusual yet lucrative side hustle that's worth pursuing. "Know that time and focus are money, and in order to achieve your goals, you must know how limited and precious these resources are," she explains.
It might feel like the stars are aligning, Aquarius, and you're fully stepping into your own. With Saturn in your home sign, you might find yourself learnings some harsh truths. But remember, your self-care journey is the main focus — and it's always a good time to reinvent yourself. You're learning how to be more attuned to your romantic self as Venus moves into Pisces, but overall, reveling in your independence is key. "Be ready to step into the spotlight as you will be grabbing more attention out in public and in social situations," says McRae. "Putting yourself at the center of your universe will attract more positivity and success into your life."
You might have withdrawn into your safe haven during Capricorn season, Pisces. Pisces. But Aquarius season is prompting you to see things from a more realistic point of view. Recognize your big-picture goals for your mental health as you reflect and check in on your emotional state. Don't hold back when it comes to feeling your feelings, although remember — they aren't facts. "This is a season of rest and relaxation, Pisces. It is OK to not always be OK during this season and to take time to process endings in your life," McRae says.
This article was originally published on