I'm An All-Pink Girl In A Barbie World
One fan hasn't worn any other colors since 1980.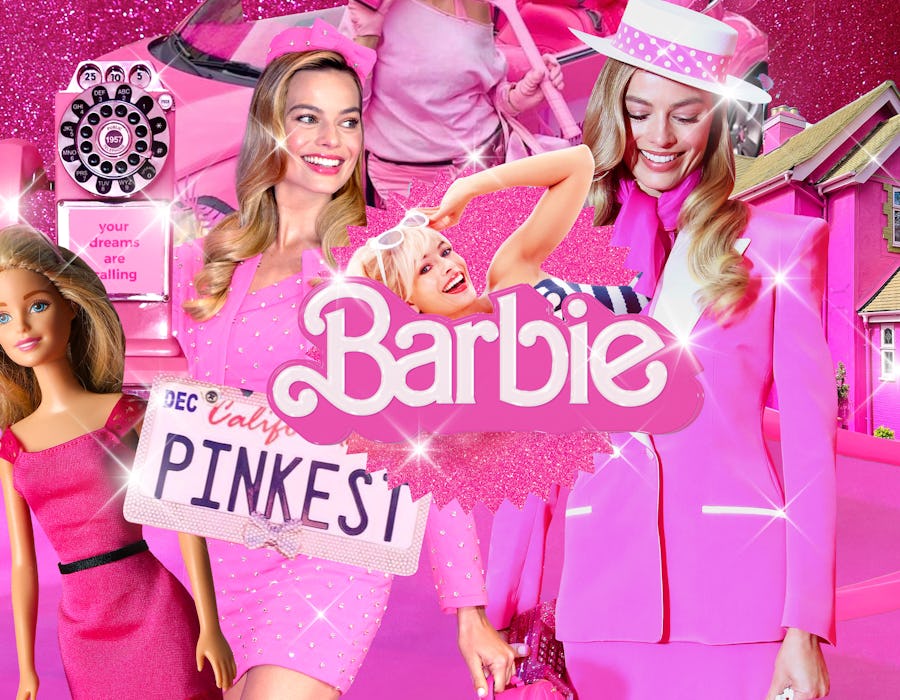 Kitten Kay Sera is known as the "pinkest person in the world," having dressed head-to-toe in the hue since 1980. In what the 60-year-old Hollywood-based pinkfluencer deems an "offensive" oversight by the Barbie movie's marketing team, however, she was left off the guest list for the pink carpet premiere. She got in anyway, thanks to a dash of divine intervention and Ty Pennington, host of Extreme Makeover: Home Edition.
"I manifest things," Kitten says. "I've crashed parties before. You gotta go, feel confident, look amazing, and people are like, oh my gosh. They let you in. Ty Pennington was right there when I walked out of the Uber, and I was like, 'Ty, hey!' We were judges on HGTV's Barbie's Dreamhouse Challenge together." When she mentioned she didn't have a ticket, he offered her two — he was leaving. "I knew that was divine intervention," she says. "No joke. The pink angels put him in my path."
It's fitting. "I had a spiritual awakening on my 17th birthday," she says. Up to that point, she rarely wore the hue, but that night, she wanted to wear her new pink off-the-shoulder sweatshirt with a matching skirt and tennis shoes. She hasn't strayed from the color since. "I felt like I finally found myself. Before, I was sort of a wallflower. I didn't have a definite style. I had a voice, but it wasn't fabulous. But then, I arrived. I don't want to sound like a sap or anything, but I'll take pink to the grave."
She really could. She owns a (used) coffin and a faux tombstone in her signature shade. In her apartment — dubbed the "Pepto Palace," partly in tribute to the ad the brand shot there — the color is quite literally splashed wall to wall. Her carbon monoxide detector is pink. So are her electrical outlets, cleaning supplies, bathtub, Q-tips, rotary phone, treadmill, and even her dog, a Pomeranian named Pinky whose fur she dyes with beet juice. Aside from her 2006 Volkswagen Bug (which has a license plate that reads "PINKEST"), her biggest splurge was a custom pink leather, bejeweled bed that she estimates cost around $5,000.
Kitten Kay Sera
Kitten Kay Sera
She's made a living off brand deals, commercials, and reality TV appearances since the 2000s, but prior to that, she held more mundane jobs. While working as a leasing agent in Texas, she was the sole employee excused from the white, blue, and khaki dress code. Later, she took a job at Pottery Barn Kids in California, where she was allowed to wear pink tops and shoes, but found out she was required to don black pants. She quit. As she told Cosmopolitan in 2018, she once spotted a bubblegum-colored throne on Craigslist. Unable to afford it, she bartered with the seller, trading the majestic chair for three months of cleaning his home. In total, she's spent more than $1 million on her pink palace but insists she's "not rolling in the Benjamins."
Kitten loved the premiere, by the way. Ryan Gosling gave her a Ken-like stiff wave, she cried "like five times" during the movie, and she gives set designer Sarah Greenwood and set decorator Katie Spencer "pinkcredible marks" for all the rose-hued streets and sand. (She wishes costume designer Jacqueline Durran had embraced the shade more.)
"I think the only person that's been doing pink longer than me is Barbie," she says, laughing. Debuting in 1959, the plastic icon has four years on her and shaped Kitten's views on womanhood. "She doesn't need to be taken care of. She's a fashion designer, an astronaut, anything. She doesn't just take care of a baby, change the baby, you know?"
💖
Beyond Kitten and Barbie, the shade has plenty of dedicated fans. Such "monochromatics" have been around way before Barbiecore had a name, and thanks to the buzz surrounding the movie, their lives are rosier than ever before. Instead of attracting side-eyes, they inspire (quite literally) millions of followers online. Crucially, pink products are easier to find, too.
Kitten celebrated a milestone on Jan. 1, 2022: She "married" her favorite color. "It was pinktacular," she says. The Las Vegas, Nevada, ceremony took place — six months before Jennifer Lopez and Ben Affleck did the same thing — in a pink Cadillac that Elvis is said to have once used. The officiant held a copy of Vogue Portugal's 2021 pink issue featuring the bride on the cover. During her vows, she held a jumbo strip of paint swatches with all of her favorite shades. The bridesmen donned custom powder-pink velvet tuxedos, the restroom was stocked with magenta toilet paper, and she served a flamingo-topped pink cake and matching cupcakes. She asked her guests to wear pink — the only one who didn't comply had loaned all of her pink clothes to other partygoers, so she showed up in green and said she was "green with envy" over the nuptials. The night before, Katy Perry attended the bridal shower clad in sparkly dark pink. (Kitten is friendly with her talent manager, and the wedding's after-party took place at Katy's concert.)
Coco Mason
Pascal Le Segretain/Getty Images Entertainment/Getty Images
Kitten was far from the only person thinking pink that winter. Two months later, director Greta Gerwig began filming Barbie, and simultaneously, Valentino presented a collection featuring 40 ensembles in electric fuchsia. Neutrals had reigned supreme over the previous few years (think Kim Kardashian's all-white mansion), but in the ensuing months, the vibrant color took center stage as the Barbiecore trend collided with the revival of Y2K's pink fever.
By June, Anne Hathaway, Ariana DeBose, Dua Lipa, Jenna Ortega, Lana Condor, Lizzo, Nicola Peltz Beckham, Selena Gomez, Vanessa Hudgens, and Zendaya had all teetered on Valentino's $1,400 Garavani Tango patent leather platform pumps, which stand just over 6 inches tall. Harry Styles headlined Coachella in metallic magenta pants and a candy-colored feathered coat. Even Kim Kardashian released a Skims collection featuring hot pink swimsuits and sarongs. Hailey Bieber dyed her hair bubblegum, Megan Fox went rose gold, and Florence Pugh is currently rocking a pink buzzcut. Among mere mortals, copycats abounded.
"My friend calls it copy-kittens," Kitten says. "I'm like, you can't take my title, honey." She isn't actually bothered by it — as she notes, people copied Madonna, too.
Her fellow monochromatics are also pretty thrilled by their color's turn in the spotlight. "I'm not a gatekeeper," says Armin Arshe, 22, a senior business major at the University of Texas at Dallas. On the side, she's a pinkfluencer with nearly 750,000 TikTok followers. "I like seeing all the pink out there."
As a kid, Armin felt like the pink sheep among the cool tomboys she saw at school. Privately, she played with her cousin's Barbie Dreamhouse and yearned to paint her bedroom walls pale pink, but in public, she hid her love for the rosy shade. "People looked at it like, oh, you're so basic," she says.
By high school, however, she had the confidence to embrace her true colors, and now, she estimates that 99% of her possessions — clothes, bedding, even Tupperware — are some variation of pink. She does own blue jeans but rarely wears them. "Actually, I have pink floral-print jeans, too," she says. Sometimes, she sees items she'd love to buy, but they aren't available in her preferred shade. That's a deal-breaker. "I'm just like, no, I'm not gonna get this." The trickiest shopping quest was for skin care in pink bottles, but thanks to products from Futurewise and Pacifica Beauty, her bathroom shelves are now perfectly coordinated.
On campus, other people were caught off guard by her style but never rude. "When I walked into a classroom, people would stare at me, but sometimes, girls would be like, 'That's a cute phone case,' or, 'Cute backpack.' Now, they know that I'm just out there," she says. While in college, she stumbled across a corner of Instagram flooded with pink outfits. "I was like, oh wait, this is a whole thing online," she says. Inspired, she followed suit. "That's how I ended up meeting most of my friends." Her social life is now primarily pink.
Others also embrace the passionate monochromatic community on social media. "Those girls that figure out, like, oh my God, I love pink — I'm like, yes, welcome to the club. We've been here for a while. I'll help you find cute pink stuff, too," says Brook Villela, 30, whose 2.3 million TikTok followers turn to her for product recommendations. About half of the full-time creator's belongings are pink — she once returned a green purse because it didn't give her that same boost of energy. She lives in (where else?) Roseville, California, and is on the hunt for the perfect pink fridge.
The rise of Barbiecore has had one major perk for pink diehards: "There are so many more things that you can get in pink now," Brook says. In the months leading up to Barbie's July 21 release date, Mattel dropped collabs with more than two dozen brands, including ALDO, boohoo, Burger King, Cold Stone Creamery, Crocs, Forever 21, Gap, NYX Cosmetics, Ruggable, and Zara, making it easier than ever to wear, eat, and live pink.
It's a stark contrast to Kitten's experience in a pre-internet world. "You had to go physically search in each store. If I couldn't find it, I'd buy it white and dye it pink. I got so sick of painting. So did my production assistant," she says. Despite us all living in a Barbie world these days, she's still occasionally unable to find a garment in the right shade. Luckily, she has a workaround: "I'll buy it in another color and have my seamstress make it, then take [the original] back unworn," she says.
If you're not ready to commit to transforming your home into a monochrome oasis just yet, you can dip your toe into the experience in several locations: Drag queen Trixie Mattel runs the "pink paradise" Trixie Motel in Palm Springs, California; there's the Pink Secrets Hideaway in Orlando, Florida; and the Little Pink Dolly House and Iconic 12 South's Barbie Vacation House in Nashville, Tennessee, among others. And you'll find a new Barbie Dreamhouse-inspired bedroom at Eaton House Studio in Essex, England, an all-pink private residence, photography studio, and special events venue. The room opened in June, featuring dolls preserved in pristine packaging, a toy convertible, a neon sign that proclaims "Life is your creation," plus pink walls, carpet, bedding, a chandelier, and even a radiator.
The rumors are true: life in plastic, it's fantastic. But when the Barbiecore buzz dies down, lifelong fans won't be going anywhere. Kitten will still front the band Pinktastic Plastixx. Brook will still hit the gym in pink to channel strong, confident feminine energy. And Armin plans to don pink blazers and skirts when she enters the corporate world. "I want to prove that even being 'extra' in what I wear to work, I can still get the job done," she says. "The color of my outfit doesn't really matter."