The 10 Best Cat Puzzle Feeders
We only recommend products we love and that we think you will, too. We may receive a portion of sales from products purchased from this article, which was written by our Commerce team.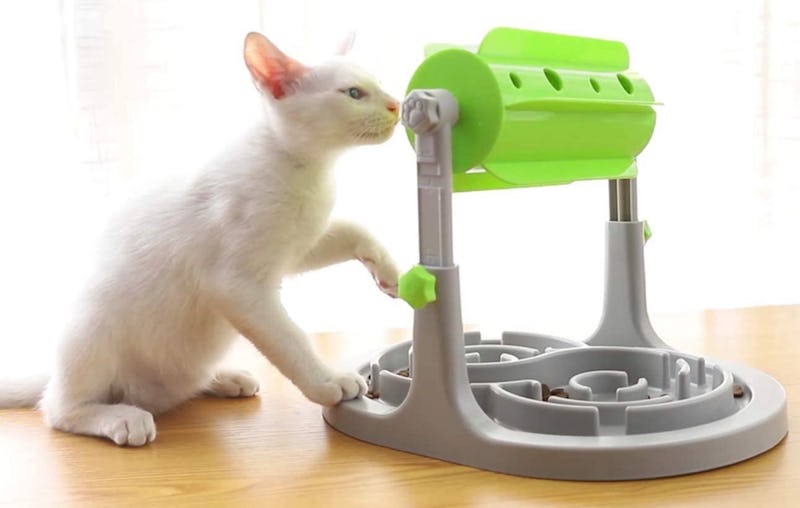 Amazon
There are many ways to improve the health and happiness of our feline friends, and a popular method is the use of puzzle feeders. The best cat puzzle feeders offer fun and just-challenging-enough obstacles, varying levels of difficulty, and an element of exercise. Not only do these feeders offer much-needed mental stimulation and help satisfy the urge to hunt, but they've also been shown to reduce stress and aggression in many cats.
What To Consider When Shopping For A Cat Puzzle Feeder
There are three main types of cat puzzles: licking mats and slow feeders, mazes/obstacles, and treat balls. Licking mats and slow feeders work to slow the consumption of food. Mazes and obstacles, on the other hand, prioritize problem-solving skills and helps your cat develop tactics for acquiring their food. Finally, treat balls offer the most exercise benefit as they require cats to chase and roll the ball in order to get the kibble to fall out.
The type of cat puzzle you choose will also depend on whether you want to use it for meals, treats, or both. Slow feeders are great for full meals because they can hold a larger amount of food while licking mats are good for both meals and soft treats. However, you may want to reserve challenging mazes as a treat activity due to how long it might take your cat to retrieve each piece of food. Also consider how to clean the feeder — some options are dishwasher safe while others are hand-wash only.
No matter the style of cat puzzle you choose, cat experts recommend introducing puzzle feeders gradually in order to avoid frustration. As a first step, it may also be helpful to use puzzle feeders which easily allow cats to see their food. Additionally, cats with anxiety or nervousness may prefer to use their puzzle feeder in a quiet area where they can eat and explore on their own.
Read on for the best puzzle feeders for cats, which in addition to other fun toys, can help keep your feline friend healthy and happy.
1. A Digging Simulator That Can Be Used By Multiple Cats
This puzzle feeder features multiple tubes that stimulate a cat's natural pawing behavior as they try to scoop out dry kibble and treats. A rubber mat keeps the bowl securely in place, and the unit itself can be easily disassembled to clean — though hand-washing is recommended. In addition, this product can be connected with other Catit Senses products to create mazes and playgrounds for your furry friends.
A glowing review: "I've had my eye on this for a while, and I'm so glad I finally got it. It is well made, and even though it is a simple concept, it is great enrichment for my kitty. I can see how much he enjoys the stimulation of "digging out" and "catching" his treats like prey, and it's rather entertaining to watch."
Material: Rubber and BPA-free plastic | Recommended food type: Dry kibble and treats | Care instructions: Hand wash | Dimensions: 5.7 x 9.5 x 9.5 inches
2. A Slow Feeder With A Cute Fish Design
Featuring 3-D fish at varying heights, this ceramic cat puzzle feeder creates maze-like obstacles for your kitty to maneuver. In addition to being easy to clean in the dishwasher, the feeder is also microwave safe and a good option for cats that like warm food. Reviewers love this bowl for both wet and dry food and are pleased with how it regulates their cats' eating pace, with one fan writing it "slowed down my cat's eating greatly."
A glowing review: "I can't say enough good things about this slow feeder. My kitty HOOVERS food and this has been great to slow her down so she doesn't "bleh" constantly after eating. I have used both wet and dry food with this product [...] The divots and "humps" are fantastic - They are different sizes so you can make it easier/harder depending on your preference (the outside ones are shorter, middle ones are the [highest]). It is very easy to clean (I use a "wand" sponge to get in the nooks and crannies, but I have put it in the dishwasher as well)."
Material: Ceramic | Recommended food type: Wet or dry food and treats | Care instructions: Dishwasher safe | Dimensions: 8.7 x 1.6 inches
3. A Food Tree Puzzle With Multiple Levels Of Difficulty
This cat food tree offers three difficulty levels to keep your kitty engaged. Simply place dry food or treats into the top of the tree and let your cat have fun pawing the pieces out of the holes. As part of the Catit system, you can use this food tree alone or attached to other components to create an entire activity center. Reviewers love how easy it is to disassemble and hand wash. "Plus we are entertained watching their antics," wrote one fan.
A glowing review: "This has been a wonderful addition for our cat. She is obsessed over getting all the food out and it's fun to watch her figure it out [...] She spent the whole time purring the first three days of using this."
Material: BPA-free plastic | Recommended food type: Dry kibble and treats | Care instructions: Hand wash | Dimensions: 12 x 13.8 x 10.6 inches
4. An Activity Board With 5 Games In One
With five different games in one, this cat activity board allows your feline to practice multiple skills and master different challenges. From scooping treats out of the fishbowl to searching the tunnel for secret snacks, this puzzle feeder will help keep your cat entertained. It works well with both dry kibble and wet food (depending on the specific activity) and can be easily washed in the dishwasher.
A glowing review: "I wanted my cats to work for their dry treats--which I feed in between meals. I love that there are multiple challenges/ways to make the cats work their brains to figure out how to get to the kibble. It not only slows down the eating, but I can tell their brains are working hard! At one point all three of my kitties were working on this activity tray."
Material: Plastic and rubber | Recommended food type: Wet and dry food and treats | Care instructions: Dishwasher safe | Dimensions: 12 x 16 inches
5. This Licking Mat For Soft Food and Treats
If you're looking for a puzzle feeder made especially for wet cat food and treats, this licking mat is a perfect fit. It features a whisker-friendly design that can be used with a variety of soft foods including canned cat food and raw meals, and some reviewers even use it for dry food. In addition, the dishwasher-safe mat is made of food-grade rubber and is free from BPA, silicones, and phthalates. The mat is available in two patterns and three colors and also comes in two-packs.
A glowing review: "My tiny kitty was the runt of the litter for sure, so she still scarfs her food down as if she will never see food again. We were having to feed her in small sections which was time consuming and frustrating. This mat solved this problem completely with her wet food! She never scarf & barfs anymore even though we feed her the same amount. It is a bit hard to clean, but now that I soak it for 20 minutes before I try to clean it by hand it is pretty easy!"
Material: BPA-free rubber | Recommended food type: Wet food | Care instructions: Dishwasher safe | Dimensions: 8.66 x 0.28 x 6.3 inches
6. A Challenging Maze With 3 Difficulty Levels
This maze puzzle features removable inner walls which you can configure in three different ways with three different difficulty levels. All the levels require cats to push the food through the maze and out a side opening. Reviewers love how easy the cover is to remove for cleaning (though it's not recommended for the dishwasher) and several fans note the feeder keeps cats "entertained for hours."
A glowing review: "This toy is fab because you can customize and change it to suit your cat's difficulty level, as well as just changing it up so your cat can't memorize the easiest way to solve the board. I let him try it on "level 1" listed on the box, then quickly upgraded to "level 3" the same day, and it takes him a while but he can get out every treat! Perfect."
Material: Plastic and rubber | Recommended food type: Dry kibble and treats | Care instructions: n/a | Dimensions: n/a
7. This Food-Dispensing Ball For More Exercise
Available in four colors, this food-dispensing ball will provide your cat with some fun exercise as they try to run and swat the ball to get a treat. The toy is about the size of a tennis ball (measuring about 3 inches in diameter) and can hold up to 3 ounces of food. Simply pour dry kibble or treats into the top opening and secure the lid. As your cat pushes it around the floor, pieces of food will fall out of the side openings. Plus, the size of the openings can be adjusted for different sizes of kibble and desired difficulty levels.
A glowing review: "This little ball was perfect! All we have to do is shake it and my cat comes speeding into the kitchen and starts jumping and crying for it. [...] This thing has been so great to distract her when we are leaving the house and need to lock her up in the back "kitty proof" room while we are out."
Material: Plastic | Recommended food type: Dry kibble and treats | Care instructions: Dishwasher top rack only | Dimensions: Approximately 3 inches in diameter
8. A Hide N' Seek Puzzle For Curious Cats
Designed to stimulate your cat's natural foraging instincts, this cat feeder toy can be used for both treats and daily feedings. It features 16 hidden compartments and can hold up to 1/4 cup of dry food. It's made of BPA, PVC, and phthalate-free materials and is recommended to be hand-washed. Because this is considered an intermediate-level puzzle, some reviewers wrote that they introduced the puzzle to their cats with the food holes completely open and visible. Over time, they slowly closed the holes to create a more challenging puzzle.
A glowing review: "If you have cats, I really recommend this. [...] It took just a small time for my cats to figure this out, but it's wonderful and I think I'll use it for years. I just bring it out a couple of times a week. I load it up when they aren't around and then when they're bothering me at tv time, I get this out. They get excited and go "straight to work"."
Material: Food-safe, BPA-free materials | Recommended food type: Dry kibble and treats | Care instructions: Hand wash | Dimensions: 13 x 9.5 x 1.26 inches
9. A Maze Cardboard Box That's Surprisingly Durable
This award-winning box puzzle encourages cats to explore, sniff, and find hidden treats and food. The box is made of durable reinforced cardboard with supporting walls inside to create chambers that can be repositioned to create varying difficulty levels. It works well with dry kibble, treats, and even catnip. Reviewers love how durable this seemingly simple cardboard box toy is and how much entertainment it provides their cats.
A glowing review: "For $15 I thought why not try it, it had got good reviews. Well my cat Homer usually likes the box the toy came in more than the actual toy, but not this time. He really seems to enjoy it and it keeps him entertained and stimulated. This might be his all time favorite plaything. We've had this toy for at least a year and [...] still looks new."
Material: Cardboard | Recommended food type: Dry kibble and treats | Care instructions: Can't be washed | Dimensions: 14 x 9 x 3.5 inches
10. A 2-Part Toy That Utilizes Multiple Skills
This two-part puzzle feeder features a spinning top barrel and a slow-feeder base for two challenges to navigate in order to get food. Dry kibble and treats start in the top barrel and, when rotated, drop into the bottom portion where cats can then reach them. The barrel height can be adjusted to be between 7.1 and 10.6 inches high, and the entire unit is made of food-grade, BPA-free plastic that's easy to clean (though not recommended for the dishwasher).
A glowing review: "I have over a dozen food puzzles. I really like this one because once you get the food out of the bin, it falls into another puzzle. Two puzzles in one! My cats, who are experts, found it challenging at first, but quickly figured out how to get the food out. It's a great addition to our collection."
Material: Food-grade, BPA-free plastic | Recommended food type: Dry kibble and treats | Care instructions: n/a | Dimensions: 5.8 x 9 x 13 inches