The 4 Best No-Scratch Sprays For Cats
We only recommend products we love and that we think you will, too. We may receive a portion of sales from products purchased from this article, which was written by our Commerce team.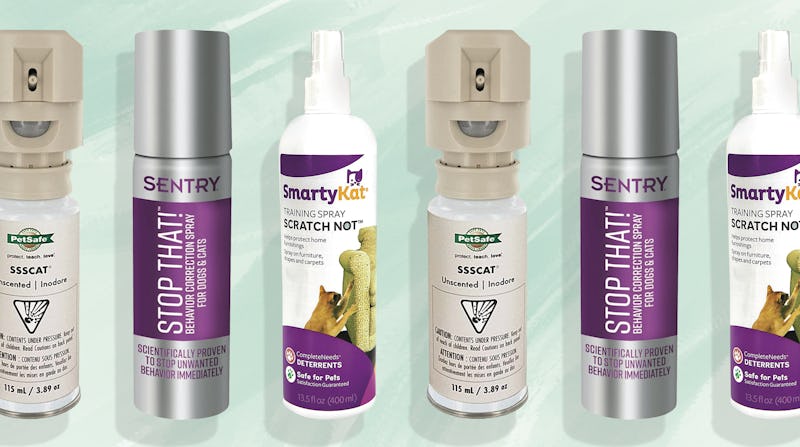 Bustle/Amazon
To keep your kitty from clawing off-limits areas, the best no-scratch sprays for cats use synthetic pheromones, sound, and/or scents that can help stop unwanted behaviors. But since every cat is different, you may find certain sprays are more effective than others. Ahead, you'll find deterrents that can be used on furniture or directed towards your cat, so you can choose the best one for your pet and your home.
What To Consider When Choosing A No-Scratch Spray
Cat sprays formulated with synthetic pheromones mimic the feel-good chemicals cats release to feel safe and calm, and a study published in the International Journal of Applied Research in Veterinary Medicine in 2018 found that pheromone-based products may stop cats from scratching. You'll also find sprays that use sound, like the hiss of compressed air, to startle your cat and stop unwanted behavior in its tracks. Because sound-based deterrent sprays don't come in contact with furniture, they're a good choice if you have a leather couch — but keep in mind, they may be too frightening if your cat is especially sensitive. Alternatively, cats have an incredible sense of smell, and sprays containing a low concentration of diluted citrus and eucalyptus oils, which some cats find offensive, might be enough to keep them away. For an especially challenging case, you may want to consider a spray that incorporates both pheromones and sound.
Shop The Best No-Scratch Sprays For Cats
In a hurry? Here are the best no-scratch sprays for cats:
1. The Overall Best Pheromone Spray: Comfort Zone Spray & Scratch Control
2. The Best Spray With Sound: PetSafe SSSCAT Spray Deterrent
3. The Best On A Budget: SmartyKat Anti-Scratch Training Spray
4. The Best Spray That Combines Pheromones & Sound: SENTRY Stop That! Behavior Correction Spray
One more thing: If you choose a deterrent that's sprayed on furniture or door frames, it's best to do a spot check before applying to ensure there'll be no damage. With that in mind, these are the best no-scratch sprays for cats that can help protect your home from destructive kitty claws.
1. The Overall Best Pheromone Spray
Pros
Scent-free spray
Calming for cats
Can be used on most surfaces
Cons
Use caution on delicate fabrics
This pheromone-based spray is an excellent option if your cat is acting out due to external stressors, such as a recent move. It's also a good choice for skittish kitties who might react negatively to sprays with sound. The odorless spray mimics a cat's natural pheromones, which may help them feel safe and calm. It's safe to use on fabrics, upholstery, hardwood, and doorframes. Also great: This spray can help reduce urine marking behavior.
One success story: "We got a new area rug and accent chair, both of which the cats instantly kept sinking their nails into. After trying another brand (which I swear made them want to scratch even more), this spray definitely made them stop. What's nice is that it's a deterrent and not a repellent, meaning they still walked on the rug and sat on the chair; they just didn't scratch them anymore. I applied the spray each evening for about a week and then stopped. It's been a couple of weeks now and no further scratching."
Deterrent: Pheromones | Surfaces: Can be used on most soft and hard surfaces
2. The Best Spray With Sound
Pros
Liquid-free deterrent
Will automatically go off when your cat goes near the target
Cons
Motion sensor could be set off by other animals or people
The most expensive option on the list
If you'd rather not spray directly onto leather furniture and other delicate materials, this sound-based cat deterrent is a great choice. It has a built-in motion sensor and sends out a hiss of compressed air when your cat is within 3 feet, helping to keep the kitty away from off-limits areas. Each can holds between 80 and 100 sprays and additional refills are available. You'll need four AAA batteries (not included).
One success story: "Before this deterrent, our cat would claw under the door at 5am, 6am; far before our usual wake time. We set up the PetSafe Spray Deterrent and heard it go off early in the morning one day. It's been about 3 months and that was the last time the cat has tried to beg for food before we were awake. Further, she SPRINTS past it when we leave the door open during the daytime, so she still has access to the room. Just not when the door is closed."
Deterrent: Sound | Surfaces: n/a
3. The Best On A Budget: A Eucalyptus-Based Spray
Pros
Safe to use on most fabrics
Leaves a fresh lemony scent
Cons
Not for use on leather, wood, or painted surfaces
If you've got a kitty that turns away every time you zest some citrus, this no-scratch spray may be a good option. The spray's formula contains diluted lemon and eucalyptus oils, two scents that some cats cannot stand. The spray is safe to use on upholstery, carpets, and drapes but it may damage leather, wood, and painted surfaces.
One success story: "We have 2 indoor outdoor rescue cats neither of which will use any kind of scratching post. One became fixated on using our very good, very expensive leather arm chair as his scratching site. No matter what we tried ( scat mat, blankets etc) that was his " go-to" site. bought this spray based on reviews and being safe for leather. FINALLY! EUREKA! Neither cat goes near the chair. They approached it, took a step back and moved away. I used the spray on the living room steps ( carpeted) to see if it would stop them from sneaking into our bedrooms Same response. So far I'm thrilled with the product., and I've seen no damage or change to the leather chair or carpet from the spray."
Deterrent: Scented spray | Surfaces: Can be used on most fabrics but many damage leather, wood, and paint
4. The Best Spray That Combines Pheromones & Sound
Pros
Uses both pheromones and sound to deter behavior
Has a chamomile/lavender scent
Cons
If your fur baby is a wild child, consider this deterrent spray that combines pheromones and sound to teach them better manners. You'll need to catch them in the act and spray in your cat's direction, about 12 to18 inches away (and never directly in their face). The hissing sound should help redirect their attention, and the instant release of pheromones may help them chill out. The spray has a pleasant chamomile and lavender scent that you might find relaxing, too.
One success story: "This stuff works like magic. My 6 year old cat had a habit of scratching the couches. After we got new living room furniture I needed to break the cycle. The combination of sound & scent from the can really works. (Scent is like a faint baby powder & fades after about 5 minutes.) She was startled but instantly calm. She hasn't acted out since. Even the sight of the can stops her in her tracks. Worth the money!"
Deterrent: Pheromones and sound | Surfaces: n/a
You May Also Like: A Catnip-Laced Scratching Pad
Pros
Gives cats a designated place to scratch
Comes with catnip
Cons
May need to be replaced periodically
According to the American Society for the Prevention of Cruelty to Animals (ASPCA), you'll increase your chance of success if you provide your cat with a scratching alternative, like this scratching pad. Made from sturdy, corrugated cardboard, the scratch pad also doubles as a comfy lounge spot for your cat. The criss-cross shape provides multiple scratching surfaces, so cats can choose their favorite scratching position. To help entice your kitty to use their new toy, the cat scratcher comes with catnip to sprinkle on top.
One success story: "I wanted to get something to distract my couch from my new couches and this was it! She chooses this over my couches to scratch and it doubles as a nice place to nap!"
Deterrent: Substitution | Surfaces: n/a
Study referenced:
Tynes, V. V., Beck, A., Jaeger, X. de, & Collin, J. F. (2018). Effect of a synthetic feline pheromone for managing unwanted scratching in domestic cats. Proceedings of the 11th International Veterinary Behaviour Meeting, 14-16th September 2017, Samorin, Slovakia, 45–47. https://doi.org/10.1079/9781786394583.0045
This article was originally published on