The 5 Best Vacuums For Cat Litter, According To Pet Owners
We only recommend products we love and that we think you will, too. We may receive a portion of sales from products purchased from this article, which was written by our Commerce team.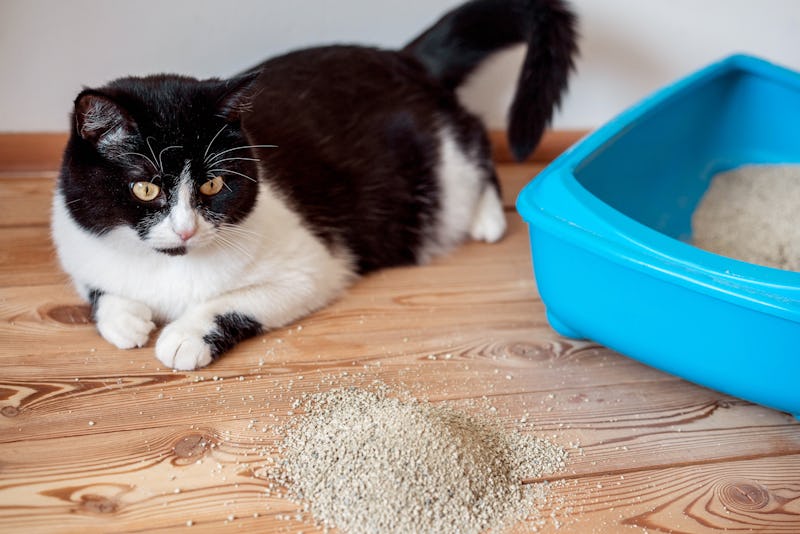 Shutterstock/Tanya Plotnikova
There are literally thousands of different vacuums on the market, and just because some of them have the word "pet" in the label doesn't mean they work well for cat litter. Available as handheld and upright models, the best vacuums for cat litter have a powerful filtration system that'll actually trap the litter inside the canister. Think of it this way: Litter is pretty dusty and smelly, so your vacuum needs to keep all of that dust — along with other potential allergens — tightly contained.
What To Consider When Shopping For A Vacuum For Cat Litter
The main points to think about will be budget, style of vacuum, and where you keep your litter box. For example, if you're looking for a wallet-conscious vacuum, a high-powered handheld model will do the trick, and the small size means it'll be able to reach into nooks and crannies — a plus if the box is tucked into a corner or small room. On the other hand, if your litter box is in a wide-open space, you may want to go with an upright or stick vacuum, so you can pick up litter with just a couple of passes. Upright and stick vacuums tend to be on the pricier side, so you'll have to be willing to spend a few bucks, but if you plan to use your vacuum for general cleaning of the rest of your home, it's well worth the cost.
Beyond all that, you'll want to consider battery life if you choose a rechargeable option, as well as upgrades like crevice or upholstery tools or an LED built into the head of the vacuum that virtually guarantees you won't miss any litter in dim areas.
With so many options, it's not always easy to pick out the best vacuums for cat litter. Here's a roundup of some of the most effective options out there to help you keep the floors crunch-free — so you and your feline can live in harmony.
Shop The Best Vacuums For Cat Litter
In a hurry? These are the best vacuums for cat litter:
1. The Best Handheld Vacuum
For easy cleanups on the fly, this handheld vacuum is a must. Weighing in at 4 pounds, it's super lightweight and simple to maneuver in hard to reach places. This vacuum also has a 14-volt lithium-ion battery powering its motor, making it one of the most effective handheld vacs on the market. It features a triple filtration system and comes with multiple handy tools, including a motorized brush and crevice tool. Even better? Reviewers have reported it does great with cat hair, too.
According to one reviewer: "I use this mainly for cat litter around the litter box. I had always bought the cheaper handheld vacuum for litter because it's just litter right? Well I am here to tell you spend the extra money to get this handheld vacuum!!! Suction is great and it's so easy to charge and empty when finished. The multiple nozzles that come with it also make it a breeze choosing what you need to do the job."
Weight: 4 pounds | Power source: rechargeable battery offering up to 17 minutes cleaning time | Included tools: motorized brush, upholstery tool, crevice tool
2. The Best Stick Vacuum
This convertible cordless stick vacuum is the perfect solution to litter boxes in the basement or the garage. Once it's charged, you can take this portable vacuum with you to quickly clean up without having to find an outlet. It runs for 40 minutes before it needs to be recharged, and it features a swivel head that can reach into every nook and cranny. This vacuum even works on any type of flooring, so whether your litter box is on carpet, wood, or cement, you can be sure it'll clean up every last speck. It also has upgraded specs, like an LED light that helps you clean dark spaces and corners, as well as an "easy rest" construction that allows you to rest the vacuum on tables or countertops, without risk of it tipping over.
According to one reviewer: "Great for hardwood floors. I have a cat that tracks a lot of kitty litter, and unlike other vacuums, this doesn't fling the litter around. It's ok for carpet or rugs, but it wouldn't be the main vaccum for that. Good battery life, easy maneuvering under furniture."
Weight: 5.3 pounds | Power source: rechargeable battery offering up to 40 minutes of cleaning time | Included attachments: dusting brush, crevice tool
3. The Best Budget Vacuum
If budget is a bigger concern than versatility, this BLACK+DECKER handheld vacuum is a good pick that'll get the job done. Super lightweight (just over 1 pound) and rechargeable, this simple vacuum can tackle small messes — and reviewers are pleased with how well it works when it comes to suctioning up litter. Of course, this vacuum is pared down — it doesn't come with an upholstery tool or motorized brush like the other handheld pick — and it only offers about 10 minutes of cleaning time on a single charge. That being said, this is a good bet if you don't want to spend much money, and the included wall-mounted holder means you can keep it right next to the litter box.
According to one reviewer: "We needed an easier way to keep the area around the litter box tidy, and this little hand held dust buster works great! Cats are happier and we are happier."
Weight: 1.4 pound | Power source: rechargeable battery offering about minutes of cleaning time, according to reviewers | Included attachments: crevice tool
4. The Best Upright Vacuum
When it comes to sucking up litter in a snap, you can't beat this pet-friendly upright vacuum. For one, it features a powerful brush roller that's excellent at picking up even the tiniest specks of litter, as well as a state-of-the-art HEPA filtration system and advanced seal technology to trap any dust particles and prevent them from floating in the air even after you're finished cleaning up. Plus, you can even remove the canister pod and use the hose directly to create an even more versatile, flexible vacuum that can reach into every corner. And if you're faced with sticky, wet litter clumps, you can just snap on the "Pet Power Brush" to easily lift debris. The upright vacuum is also convertible, so you can transform it into a handheld vacuum for stairs or quick cleanups, and the LED lights in the head help ensure you don't miss litter — or other debris — in dark areas.
According to one reviewer: "Perfect for us - with two dogs and four cats, keeping our floors clean is an endless battle. The Shark has multiple settings to clean our wood floors, rugs, plush rugs, and even the mats we use outside our litter box to catch stray litter. Love Shark!!"
Weight: 15.4 pounds | Power source: corded | Included attachments: pet power brush, upholstery tool, crevice tool
5. The Best Utility Vacuum
Cleanup is easier than ever with this heavy-duty utility vacuum. It features a huge 2.5-gallon tank, which is more than enough space for multiple clean-up sessions. It also comes with multiple tools, including a crevice tool to capture all the tiny piece of litter than end up crammed next to the box. On top of that, this vacuum can pick up both wet and dry litter, making it the perfect option for cats who tend to leave soiled litter behind.
According to one reviewer: "Awesome... Cleans up all the kitty litter my cat throws out of her box and gets my car looking like new after going to the beach!!!"
Weight: 7 pounds | Power source: corded | Included attachments: utility nozzle, detail brush, crevice tool, blower nozzle, deluxe car nozzle
Also Great: This Mat That Traps Cat Litter
On top of a great vacuum, this textured litter mat is a worthy addition to the cleaning arsenal. It comes in a variety of sizes and shapes so you can find the right fit for your cat's litter box. Each rug features deep grooves and coiled mesh, both of which are excellent at capturing litter on your cat's paws before they get too far from the box. You can use a vacuum to clean it up, take it outside to shake it, or deep clean it with soap and water.
According to one reviewer: "This mat is absolutely perfect for trapping the excess litter from our Ragdoll's feet. It's large size is great and I simply take it outside and give it a shake when it starts to accumulate. It really keeps the floor in the litterbox room much cleaner than without it. Highly recommended..."
Available shapes and sizes: 7
Available colors: 18
This article was originally published on