Here's How You Can Make A Difference In Honour Of Brianna Ghey
From campaigning on vital trans rights issues to fundraising initiatives.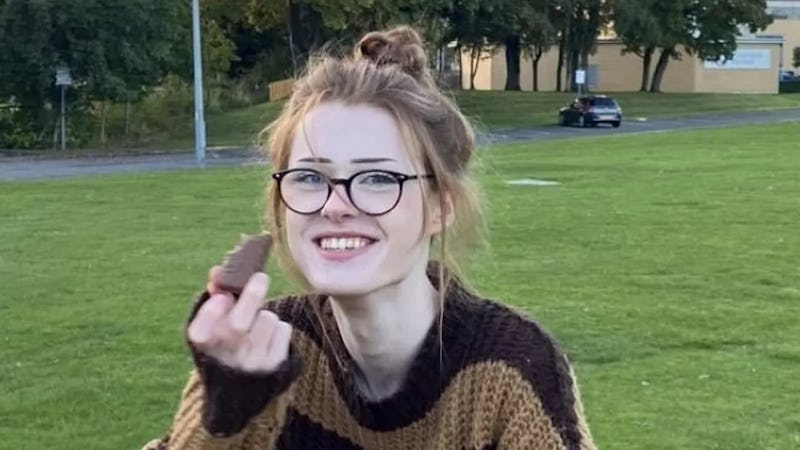 Press handout
Trigger warning: This post contains references to murder and transphobia
On February 11, Warrington teenager Brianna Ghey was murdered. The 16-year-old's family describe their daughter as "beautiful, witty, and hilarious," and wrote in a statement that "the loss of her young life has left a massive hole in our family." Ghey, who was transgender, had a large following on TikTok as gingerpuppyx (the account has now been deactivated). Several of her friends have since spoken to VICE about how their friendship with Ghey "changed their lives" and highlighted how she selflessly supported her trans sisters.
Two teenagers have been charged with Ghey's murder, and on Feb. 14, police began investigating the attack as a possible hate crime motivated by transphobia. "All lines of enquiry are being explored, including whether this was a hate crime," said Cheshire Police in a statement. "Please continue to avoid speculation online and be wary of sharing misinformation relating to this case."
Vigils have already taken place in a number of cities across the UK, with Ghey's funeral service taking place on Mar. 15. In solidarity with friends and family, hundreds of members of the public also came to pay their respects outside St Elphin's church in Warrington, and wore pink as requested by Ghey's family.
A GoFundMe campaign continues to raise money to assist Ghey's parents with her funeral costs, and has raised well over £100,000 so far. If you would like to support the efforts to honour Ghey's memory and legacy, see below for a few ways to help.
The Brianne Ghey Fundraiser
On Feb. 12, Victoria and Jacob Potter launched a GoFundMe fundraiser to help support Ghey's parents with her funeral costs. "We need your support to help them with funeral costs (we want to make this pink and colourful to match her personality) and ask if you can spare anything no matter how small to try to relieve their stress and allow them to grieve their beautiful daughter," they write. The fundraiser has already received over £113k in donations, and you can support it here.
Write to your MP
In the UK, trans people currently need to obtain a Gender Recognition Certificate in order to have their gender legally recognised on certain documents such as birth certificates, marriage and civil partnership documents, and death certificates. GRCs can only be obtained by trans men or women who are over the age of eighteen, and there is currently no route for non-binary people to have their identities legally recognised in a similar way.
As some campaigners have pointed out, Ghey was sixteen, and did not have a Gender Recognition Certificate. Over 13,000 people signed a petition calling for reform to the process of obtaining a GRC since her death, suggesting changes to the law that would allow families to submit posthumous applications on behalf of a trans person who has died. They also called for an amendment to the law which would allow trans individuals in other extenuating circumstances – such as people with a terminal illness – to simplify the process of having their gender legally recognised by using statutory declaration.
On Mar. 14 the government responded to the petition. "As announced in 2020, we believe the Gender Recognition Act 2004 is effective, strikes the right balance and allows for those who wish to legally change their sex. We have no plans to change it," they said. Ghey will be incorrectly gendered on her death certificate as a result of current laws.
Responding to the government's statement, campaigners criticised the lack of compassion of dignity afforded by the government's response. They also criticised the timing of the response, which came just a day before Ghey's funeral.
In 2020, the UK government held a public consultation and found widespread support for reform, including allowing minors to apply for a GRC, and making the process easier and more accessible. That same year, however, they dropped plans to change the process, as per The Guardian – and the UK government has now intervened in trying to block Scotland's own Gender Recognition Bill.
It's worth writing to your local MP about Gender Recognition Certificates to make your feelings known on the subject – and the UK Parliament's official website offers more information and guidance about tracking down your representative and getting in touch. TransActual have also put together a letter template, which is another useful place to start.
Back The Mindfulness In Schools Project
Ahead of her funeral, Ghey's family asked mourners to make a donation to the Mindfulness in Schools Project rather than sending flowers. The organisation delivers specialist training to teachers, and puts together lessons which help children to learn about and access mindfulness as they navigate challenging and difficult times.
On a tribute page, Ghey's mother Esther wrote that her daughter "struggled with her mental health" adding that she wished that "there were better resources to support her when she needed it. I'd like to sponsor a teacher in as many local schools as possible and raise awareness of the importance of taking care of mental health in our society," she wrote. "I believe that our children are struggling with their mental health more than ever. I hope that by supporting organisations such as MiSP, we can help children live healthy fulfilled lives."
"Mindfulness in Schools Project is a charity that brings mindfulness practice into schools. This is achieved by training teachers, so that they can pass their learnings onto the students. £775 will sponsor one teacher with no previous mindfulness experience to train from scratch to deliver our existing mindfulness curricula within a school via a supported place." The fundraiser has already raised over £12k.
You can donate to MiSP in Brianna's honour here, and learn more about how to fundraise for the charity.
For more information and support, head to Gendered Intelligence and Mermaids. If you have been affected by any of the issues raised in this story, you can call the LGBT+ helpline Switchboard.
This article was originally published on