23 Super Sweet Things To Write In A Valentine's Day Card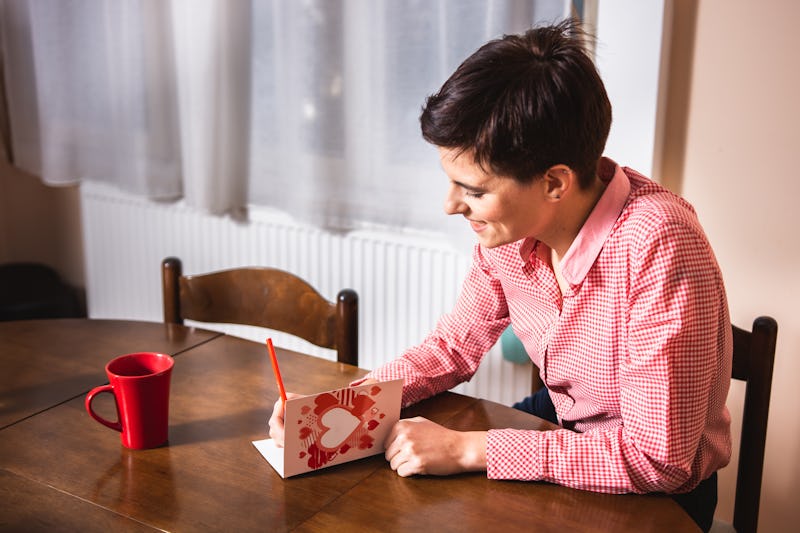 StockPlanets/E+/Getty Images
To some, Valentine's Day is incredible — to others, it's a bit of a chore. If your partner falls into the latter category, there's nothing better than a cute saying to write in a Valentine's Day card to remind them that the day doesn't necessarily need to be "commercial." Valentine's Day should be pretty simple — it's all about showing someone you love them. There's no right or wrong way to celebrate, but in general, being personal works best.
It might be hard for some people to really open up — if so, the love languages phenomenon wouldn't even exist. People express themselves differently, and once you learn to navigate that, effective communication turns into a breeze. Still, you might have trouble finding the perfect way to phrase terms of endearment — especially if you're writing a Valentine's Day card for a new relationship.
Even if you think it's a little too cheesy, trust me — the holiday is the one day that's all about cheese. Close your eyes and think about the last nice thing that your partner did for you, and how it made you feel. Now, summarize that into a sentence. And, voila — "I appreciate the fact that you're always so considerate" is now the closer you'll use for your card.
If you're still looking for some inspiration for Valentine's Day wishes, here are a few other cute things you can include in your card.
This article was originally published on