Here's Your Astrological Forecast For February
Some planetary alignments will make Valentine's Day particularly spicy.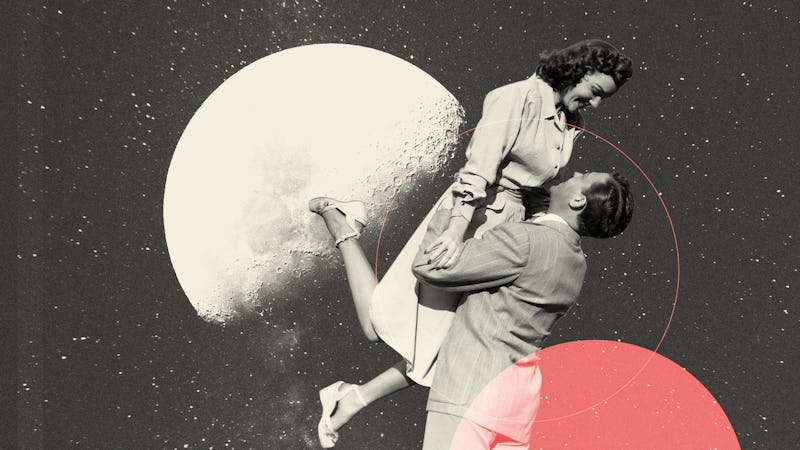 With a full calendar month under your belt, 2023 is officially kicking into high gear. January woke many people up on the wrong side of the bed thanks to both Mars and Mercury backspinning — but you'll be stepping into February feeling rested, refreshed, and fully retrograde-free. This may be the shortest month of the year, but there's no scarcity of cosmic action taking place. You'll want to be sure you're up-to-date on the major astrological events of February 2023.
The month begins during the sun's annual journey through cool and collectivist Aquarius, which puts all zodiac signs in a forward-thinking and innovative state of mind. A gorgeously glitzy full moon in Leo rises on Feb. 5, bringing unexpected inspiration and turning up the volume on your passions. By mid-month, a dreamy connection between love planet Venus and idealistic Neptune makes Valentine's Day feel especially romantic — and the rose-colored fantasy continues once the sun enters mystical water sign Pisces on Feb. 18. Just one day into Pisces season, February's new moon serves a hopeful burst of energy, while Venus' ingress into Aries heats things up in relationships.
The astrology of February 2023 is a time of visionary ideas, dreamlike emotions, and lots of mystical momentum and because Mars, Mercury, and Uranus all wrapped up their moonwalks last month, it's also officially one of only two months of the year that will be completely retrograde-free. Enjoy this forward-flowing magic while it lasts, and read on for the full scoop on February's astrological events.
Refreshing Air Of Aquarius Season
The first few weeks of the month make up the majority of Aquarius season 2023, and the forward-thinking vibe of this fixed air sign encourages all zodiac signs to get weird and march to the beat of their own drum. It's a good time to connect with your friends and communities while embracing the things that make you unique.
The sun in Aquarius is aligning with structure-focused Saturn — aka Aquarius' traditional planetary ruler — culminating in a conjunction on Feb. 16. This sun-Saturn connection will help you take your goals more seriously and create progressive new rules for yourself. Because Saturn leaves its traditional home sign in March for the first time since 2020, this is the last Aquarius season that'll be graced by the presence of its governing ringed planet until 2050.
Fiery Full Moon In Leo On Feb. 5
Less than a week into February, you'll be blessed by a fiery and electric full moon in Leo. Rising on Feb. 5, this lunation brings your passions to a boiling point, inspiring you to make moves toward your creative goals and follow your excitement toward new horizons. A lunar square to the unpredictable planet Uranus gives this full moon an especially eccentric flavor, so expect the unexpected and open your heart to change.
Think Outside The Box With Mercury In Aquarius
On Feb. 11, mental planet Mercury will join the sun and Saturn in airy Aquarius, where it'll power on through the rest of the month. This transit highlights unconventional ways of thinking and can prompt some out-of-the-box ideas — so quit limiting yourself based on what society deems "normal" and start embracing fresh possibilities. Collaboration is especially favored when Mercury is in Aquarius, so schedule some creative brainstorming sessions with your colleagues, up your communication within friendships, and try to embrace teamwork in your everyday life.
A Dreamy Valentine's Day Alignment
The astrology of Valentine's Day is set to be sexy and sweet, as the moon in happy-go-lucky Sagittarius is putting everyone in an adventurous and fun-loving mood. However, the real standout romantic aspect of this holiday is the conjunction of the love planet Venus and the dreamy planet Neptune, which will be embracing the poetic and sensitive sign of Pisces. While this annual planetary alignment technically perfects during the wee hours of Feb. 15, you'll feel its dreamlike magic building up to a rose-colored climax all throughout Valentine's Day. It's a beautiful time to lean into our fantasies, inject some idealism into relationships, and generally stay in that lavender haze.
Plunging Into Pisces Season
Prepare to feel your feelings and cleanse your spirits Pisces season-style because on Feb. 18, the sun leaves Aquarius and dives into the watery domain of the zodiac's fish. Equal parts emotional and ethereal, Pisces' dreamy energy makes the coming month a beautiful time for embracing your sensitive side, expressing your feelings through creativity, and tapping into your intuition and imagination. You've already gotten a sweet little preview of Piscean magic this month, as Venus has been swimming through these fantasy-laden waters since late January, so look forward to more of this enchanting cosmic vibe.
A Mystical New Moon To Ring In The Season
Pisces season is getting an especially mystical welcome this time around, as the new moon in Pisces rises on Feb. 19 PST and Feb. 20 EST. This lunation finds the sun and moon connecting in the sign of the fish, swimming side-by-side to help you catch the waves that'll sail you toward your heart's deepest desires. An out-of-sign conjunction with serious planet Saturn gives you the commitment and discipline you need to build your fantasies in reality. If you're willing to get real and work hard, this new moon can help you make your dreams come true.
Love Heats Up With Venus In Aries
On Feb. 19 PST and Feb. 20 EST — exactly 50 minutes after the February new moon peaks — romantic planet Venus will enter the fierce and fiery sign of Aries. With Venus in Aries, it's time to prioritize your own pleasure and brazenly chase after exactly what you want in love. Matters of the heart are heating up in a big way, which can make us bolder and more forward in relationships throughout the rest of the month. Don't be afraid to make the first move or follow your romantic impulses. Passion-filled flings and spontaneous quickies are likely!