Help! I Haven't Had Sex With My Partner For 3 Years. He Blames Porn.
I'm fine with my vibrator, but this can't be healthy, right?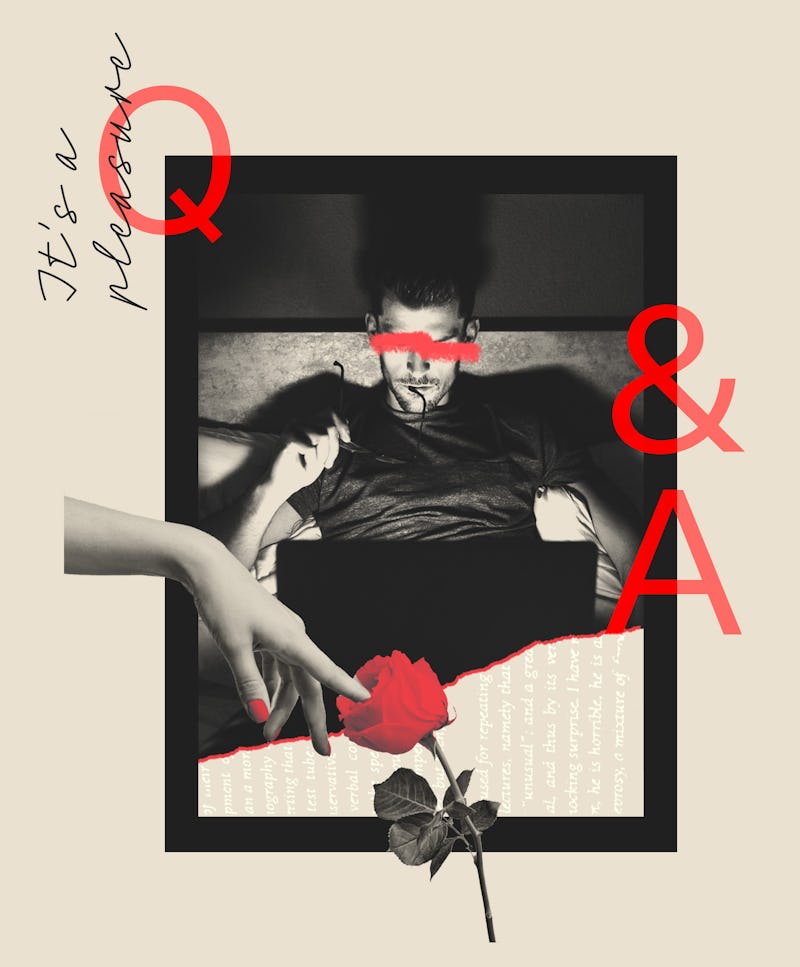 David Prado/Stocksy
Q: So where do I start? Let's go backwards. I caught my partner watching porn in the bathroom, right next to the bed during a staycation that I planned for our anniversary, and when I confronted him about it, he told me it wasn't any of my business. This all started when I caught him looking at girls on Facebook that we both knew and I called him out on that. He said he found them attractive and that I was the one who introduced them to him. Then every time I tried to have sex with him, he would either say no or he'd wait until I was out of the room and he'd watch porn. Finally, when I called him out on watching too much of it only because he's chosen to watch porn over having sex with me, he said he's addicted. We haven't had sex in almost three years. Now, I'm fine with my vibrator, but this can't be healthy. What do I do?
A: So often people write to me with what they believe is the biggest problem in their relationship, and in doing so, they accidentally reveal the actual problem in their relationship. Or problems. Right now, perhaps as a defense mechanism against the enormity of relationship issues you have, you believe that not having sex/your boyfriend watching porn and ignoring you is the issue. And it absolutely, 1,000% is an issue. But the issue is so much bigger than that. It's like having totaled your car and then being like, "Oh, and the gas tank is almost empty, too!"
I will absolutely get to the "smaller" issues of porn and no sex, which are only small in comparison to the Mega Issue — well, issues — which are that your partner does not respect you, and you two do not communicate well with one another. I am very, very sorry to report that I do not think that you two have a very good future ahead of you right now unless some massive changes take place. And I'm not just talking about going to couples therapy a few times to remind yourselves what you appreciate about each other. It's unfortunately rare to create a good, healthy relationship out of a disrespectful and dishonest one. It's just… super hard. Not because you two are bad people. Not because you're a fool for being with him. But because the patterns are set and are not working for either of you on a really deep level.
This isn't me trying to tell you that all hope is lost or that your life is doomed. In fact, I have so much hope for you beyond this relationship. Also, I want to be perfectly clear that leaving a years-long relationship is heartbreaking and excruciating and difficult on pretty much every level. It's very easy for me to prescribe it, since I'm not the one doing the work or experiencing the pain. That said, you are in pain now in this relationship — so much so that you wrote to someone about what to do. And if you don't do something, the pain will continue. Either you'll have to experience the anguish of a breakup or you'll have to do the uphill work to fix this. The thing is, that work can only happen if your partner is also committed to fixing your relationship. Based on what you've told me, his participation sounds… unlikely. I guarantee that there is better stuff on the other side of where you're at right now, though. I guarantee there is happiness and love and hot sex and steamy makeouts and respect and fun and trust on the other side.
Be curious about what got you to the point that you were willing to give up sex for three years in a relationship that wasn't making you happy.
So I urge you to start making moves to leave this relationship. Break these patterns. Then, work so hard on yourself — figuring out your boundaries and what makes you happy — that your next partner will meet your new standards. (Not right away. Give yourself time to heal first.) When you have a full life — a life with emotions, hobbies, friends, and sexuality — you naturally become less tolerant of people who don't respect you. If you leave, spend time on yourself and with yourself. Be curious about what got you to the point that you were willing to give up sex for three years in a relationship that wasn't making you happy (especially without good, healthy discussions about your sex life changing like that). Be curious about why you put up with this type of "love" from someone. Learn from this.
Now, if you choose not to leave, you're going to have to deal with the problems here both big and small. Let's start with the small and then work our way to the big stuff. Firstly, in a vacuum, watching porn is — to me — not only not a big deal but totally healthy. I love porn! Porn's great! However, your partner choosing to watch porn to the exclusion of paying any kind of attention to you on a trip is cruel. Furthermore, him suggesting that it's not your business is egregious! It's absolutely your business that the relationship is not working on a sexual level. Again, in a healthy, open, communicative relationship, watching porn on vacation isn't some red flag! Nor is it a behavior your partner needs to monitor! But during an anniversary celebration after you two haven't had sex in years, it's banana pancakes!!! I mean, my guy! What are you doing???
OK, let's say that the trip was a slip-up and his reaction then was bad-bad-bad, but unusual. Oh, wait! No! He's done this before! He was looking at people you both know on social media to jerk off to, which is really weird and uncomfortable for everyone involved. Yikes, yikes, yikes. And then he blamed you for this???? ARE YOU KIDDING ME? Sorry to use all caps, but we are all fuming right now reading what you wrote. If you were my best friend, I would be on the verge of stabbing my thigh with a fork out of frustration! Blaming someone for your poor treatment of them is classic abuser behavior. Imagine hitting a pedestrian with your car and then being like, "Your high-visibility wear was too bright, I couldn't see clearly so I just sped through the crosswalk." I mean, that's how ridiculous this man sounds.
And then, on top of this, you two aren't having any sex! No one ever owes anyone sex — not even their partner! No one owes anyone sex! Just saying it again so it's clear. But it's very reasonable to leave a relationship where your partner has no interest in having sex with you. I do not care if he's addicted to porn or not. If he were worried about the problem, if he cared about you, if he respected your feelings, if he wanted to change what was happening, he could have made any gesture towards getting help or changing his behavior. He could have tried individual and couples therapy with you. He could have sought help from a book or a Reddit thread or a therapy app. He could have had hard, vulnerable conversations about what's going on for him and why he doesn't seem interested in sex but does watch porn. He could have done anything other than blame you and ignore you.
I'll be honest. I don't see what either of you two are getting out of this relationship emotionally or sexually. I don't know your circumstances, so perhaps you're getting a lot financially or culturally or socially. And those things do matter. But I really don't see how either of you are happy in this situation. Love and happiness certainly aren't the same thing, and I'm not sure you two have either right now. I really hope you find a way out of this place because life can and will be so good without someone treating you like this. You deserve so much more.
It's A Pleasure appears here every other Thursday. If you have a sex, dating, or relationship question, email Sophia at BustleSexAdvice@gmail.com or fill out this form.