How To Celebrate Mother's Day If You Can't Be With Your Mom This Year
You can still make it meaningful.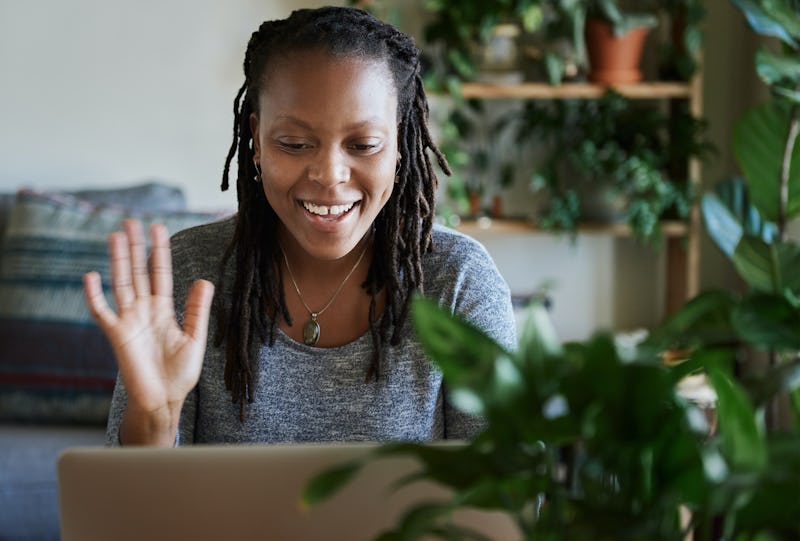 mapodile/E+/Getty Images
Now that we're coming up on a second Mother's Day in quarantine, the urge to visit home and hug your mom is going to be stronger than ever. So how do you celebrate Mother's Day without your mom if you still can't be by her side? Rest assured there are plenty of ways to make her feel special from afar.
By now you're well-versed in the art of the Zoom call, so you'll want to start there when it comes to connecting. Pretty much everything you'd do in person — brunch, a spa day, a walk in the park to check out all her favorite trees — can be enjoyed via video call.
Next, just like you would for any other in-person celebration, you'll need to pick the Mother's Day vibe based on your relationship and what she enjoys. Have you both been feeling nostalgic lately? Are you in need of a self-care sesh? Has she been feeling artsy? Zero in on the theme that speaks to your mom, and center the plans around that.
Of course, nothing will take the place of actually being with each other in person. And it's OK to acknowledge how much that sucks. Holidays, and particularly Mother's Day, can bring up a lot of emotions, especially when things aren't going as planned. But do your best to make it feel special, and you're bound to have a good day all the same. Here are 11 ways to honor your mom, or mom figure, if you can't be in the same place on Mother's Day.
1. Host A Spa Day On Zoom
Nothing says "treat yourself" quite like a spa day. And really, who deserves that more than your mom? (Answer: no one.) So plan a spa day by sending her an at-home kit, complete with face masks, nail polish, and a fuzzy robe. Join her via Zoom or FaceTime to chat as you give yourselves mani-pedis. (Bonus points if you play relaxing spa music in the background.)
2. Get Crafty
Send your mom a box that's chock full of art supplies, like paints, pencils, clay — whatever medium you think she'd enjoy — and have an arts and crafts day. Even if you aren't "good" at it, it'll be fun to tap into your artistic side for the day (and maybe laugh about your attempts at painting).
3. Watch A Movie Together
Choose a movie you both love, or something fun and new, and play it via a Watch Party. This service — where the movie plays for you both at the same time online — is offered through the likes of Amazon Prime and Netflix. Pop some popcorn, pour a few bubbly drinks, and kick back together.
You might also want to spend the entire day watching a favorite show. Again, use Watch Party and put on the first episode while you both eat breakfast in bed, then keep it streaming throughout the day. Knowing that you're having the same experience will help you feel close, even though you're far away.
4. Get Inspired Together
Use this Mother's Day to get inspired by fellow women. Choose an inspirational figure — whether it's a politician, singer, actor, author, etc. — and check out her work. Watch her documentary, listen to her music, or read up on her life history.
5. Recreate An Old Childhood Photo For Her
For the cutest gift ever, recreate an old childhood photo that your mom loves, like the one where you're holding a cat while wearing a '90s baseball hat. Or even cuter, choose a photo of her from when she was younger and copy the look entirely — hair, outfit, pose, etc. — then give her a frame with the two side by side.
6. Have A Cake Delivered
Even though you'd love to bake a cake and present it to her directly, it might be easier to have one delivered this year from her favorite local bakery. Call to ask about flavors, delivery options, and ask to have something written on top, like "Mom, You Are Simply The Best." Sending flowers will be a nice touch, too!
7. List All The Reasons Why You Love Her
Your mom is the coolest, strongest, most inspirational person you know. But when was the last time you let her know? Mother's Day is the day to list it all out, whether you do slam poetry style via Zoom or in a hand-written card. Or hey, why not both? Mother's Day is all about showering your favorite person with adoration.
8. Send Her A List Of Things She Was Right About
For a funny spin on the above suggestion, write a list of all the times your mom was right, even though you were so sure she was wrong. Include the moment she encouraged you to take that job you felt unqualified for, or the time she insisted you'd recover from a breakup, even though it felt like you'd be sad forever. Write it out in a card or recite it via Zoom as a way to honor her motherly wisdom.
9. Throw Her A Surprise Virtual Party
If you want to take your video call to the next level, plan a few surprise guest appearances. First, set up a time that works for her so she thinks it'll be a chat with just you two. Then, send the link around to her friends and other family members and ask them to log in one by one, every 20 minutes, so she gets a party that's full of surprises.
10. Do A Virtual Yoga Class
Pop onto YouTube, pull up a 30-minute video — Yoga with Adriene always has lots of fun options — and start the day by stretching and deep breathing. When the class is over, stay on Zoom or FaceTime and keep talking as you take a walk outside to see all the spring flowers.
11. Have Her Favorite Meal Together
Hop on GrubHub or Uber Eats and send your mom her favorite meal. Plan it as a virtual Mother's Day brunch complete with table settings, mimosas or orange juice, and the Zoom screen angled just right so it feels like you're dining together.
You could also send her favorite dinner and make a whole evening out of enjoying a fancy meal together — even if that fancy meal is pizza. Whatever you choose, there are so many ways to connect, celebrate, and make Mother's Day feel special from afar.
This article was originally published on