Here's Exactly How To Stitch A Video On TikTok
It's much more simple than you think.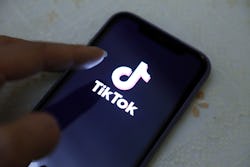 Barcroft Media/Barcroft Media/Getty Images
TikTok just keeps creating more reasons for creators to keep creating and viewers like us to keep opening it. The popular social media platform just released its latest app feature called Stitch — and it's now easier than ever for creators to collaborate with one another. But how do you stitch a video on TikTok you ask? You've come to the right place.
There's much to love about TikTok. It's a place for laughs, innovative ideas, and now with their new feature, Stitch, a place where users can easily collaborate. Much like the Duet feature, Stitch allows fellow TikTok users a chance to create fresh content with other users by taking clips from other users' TikToks and stitching them to your own original content.
How will you use Stitch? Check out the following for a tutorial on how to use this trendy tool and get some inspiration for your next viral TikTok video.
How To Stitch A Video On TikTok
Choose another user's video that you want to stitch
Select the Stitch icon that can be found by clicking the arrow in the bottom righthand corner to share TikToks
You'll then trim your favorite part using using any five seconds from the clip
Record the addition that you want to add to the end of the other video (up to 15 seconds)
Post!
‌
So now that you know how to stitch it's time to thread that creative needle and get to filming. The Stitch feature also allows older videos the chance to get revived and continuously recycled, inspiring other users to keep making content. These Tiktok's show the visionary genius from users all around the world, including celebrities.
The Everything Is Cake Trend Stitch
The everything is cake trend got a revival in this TikTok. Who remembers those days when you couldn't trust something as simple as your television remote control without fear of it really being sugary goodness?
Send Yourself Through A Time Warp
This Stitch video will make you want to try out of this world editing moves. Using TikTok's time warp scan feature, this user created an awesome astronaut's helment using their headphones.
Stitch Allows For Hilarious Commentary Too
While many would worry in general about having a world-famous chef critique their cooking, adding Gordon Ramsay of all the chefs is a bit panic-inducing. Still, no matter how much his commentary may hurt, you got to admit it would be pretty cool to say that he used one of your videos.