I Tried A Full Moon Ritual & Felt The Universe Listen To Me
Here's how I harnessed that intense lunar energy.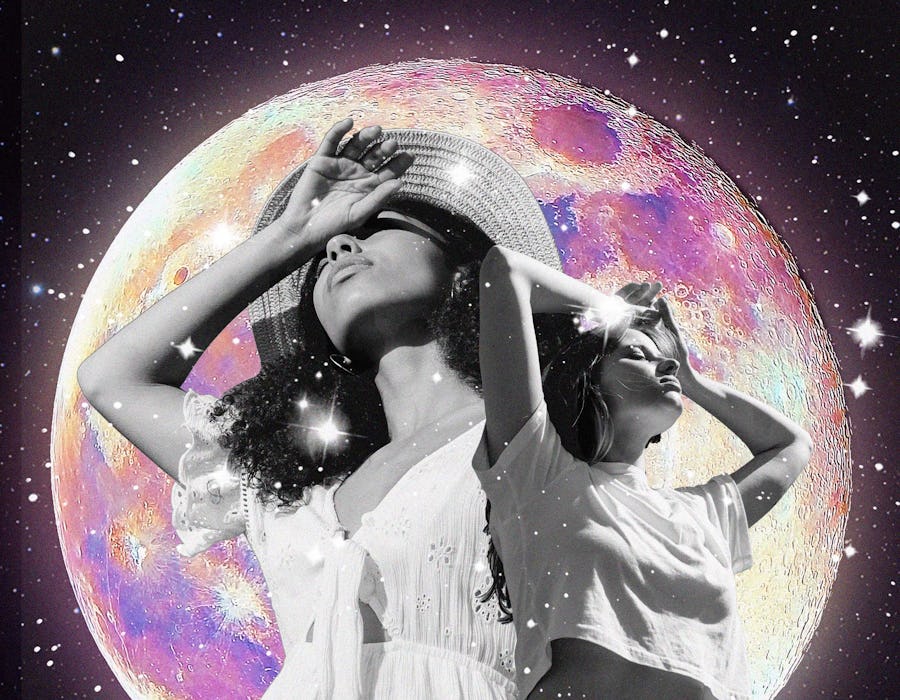 Getty/Stocksy
As someone who regularly speaks to the moon, lunar rituals are nothing new for me. But when Miraval Resorts in Austin, Texas invited me to explore their celestial offerings during the final supermoon of 2022, I was intrigued. I visited during the August full moon, which fell in my native sign of Aquarius after the lucky lion's gate portal (one of the luckiest days of the year). I knew this energy would provide a powerful opportunity for me to release what didn't serve me and embrace my authentic self. I arrived in Austin ready to elevate my full moon rituals during this intense lunation. Ultimately, I rang in the celestial event by journaling, moon-gazing, meditating with crystals, and taking a cathartic night swim.
For starters, absorbing all the luck that the lion's gate had to give, I furiously scribbled my manifestations and intentions for my stay. Among the jumbled mess were: being present, living to appease my desires, and being unapologetically me.
The day before the full moon, I attended a crystal meditation workshop, where I was called to a clear quartz, the crystal associated with clarity and spirituality. Attached, there was a mantra that read: "I am connected to the light."
The day of the full moon, I chatted with Lynn Caroll-Rivera, Miraval Austin's resident astrologer. She explained that the Aquarius full moon was about leaning on friendships and connecting with the community. "Full moons are always a good time to release something," she explained. "This [one] is a particular focus on things that we can share with others." She asked me to consider if I'm part of a social group or network that makes me feel good.
Caroll-Rivera, who has over 40 years of astrology experience, let me in on some of her personal full moon rituals. "I always want to spend a bit of time sitting and looking at the moon," she says. "I might write down some things that come from that, take something that occurs to me during that interaction while I'm sitting there, and take that when I go to sleep to dream with."
Inspired by our conversation, I began my ritual by sitting outside underneath the moon. I expressed my gratitude and hopes for the future. Once I was done moon-gazing, I jotted down my manifestations: "I'm abundant, I'm worthy, I no longer hold onto fear, and fully accept myself instead."
In keeping with the Aquarius vibe (the sign is represented by the water bearer), I followed my intuition down to the pool for a night swim. Under la Luna's illuminating elegance, I spoke out my desires again and recited the mantra from earlier: "I am connected to the light." While I floated starfish-style, I envisioned a reality in which I was in total alignment with my soul's purpose, and where I could foster a community-focused mindset. Funnily enough, the pool light's turned on a few times echoing my mantra, as if the Universe had heard me.
Although the results have been subtle, I can fully attest to the power of lunar energy. Since then, I've felt less self-conscious in social settings and have been rewriting my inner monologue. Surrendering my troubles, racing thoughts, and fully aligning myself with my soul's purpose is a lifelong journey, but at that moment under the August full moon, I knew the Universe was listening. After all, "We are made up of the same stuff as the planets," says Caroll-Rivera. "We're part of that consciousness."