I Tried An App That Demystifies Personal Finance For Millennials
It transformed my approach to money in just four weeks.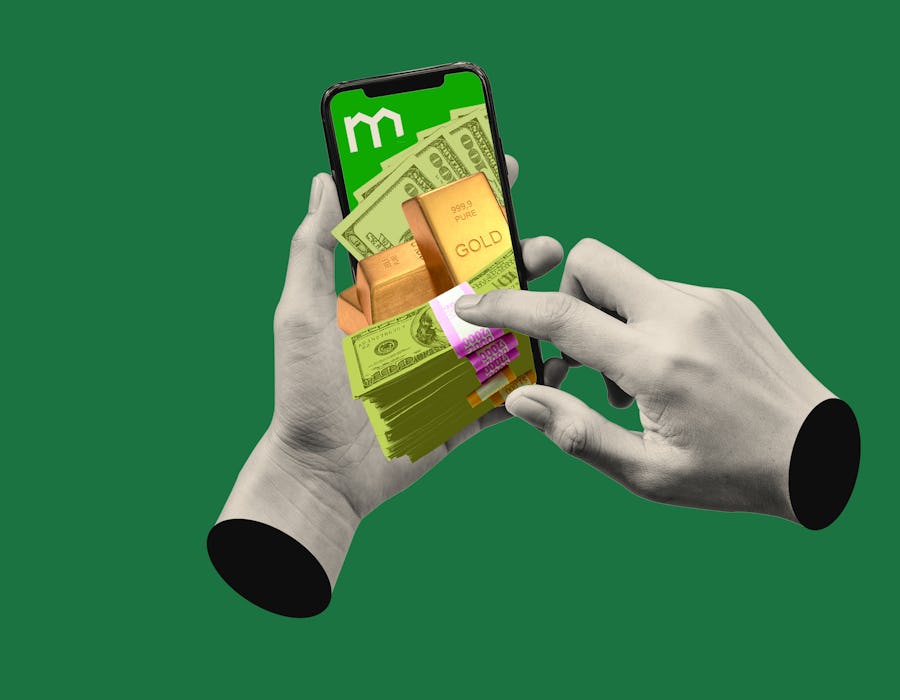 The conversation of wealth management is one that many Millennials and Gen Zers feel isn't for them, but what if a fintech app could change that? Domain Money has set out to do exactly that.
From being firmly priced out of the real estate market to barely affording student loan repayments, the cost of living crisis continues to keep young professionals far away from any real discussion of financial freedom. Wealth management and financial planning are often seen as stuck in a time gone by, dictated by outdated priorities and reserved for those who have so much money they struggle to keep track of it all.
I've never felt a financial planner was a resource I had either the exorbitant wealth or crippling debt to need. I'm a strong saver with a high-yield savings account, 401K, and Roth IRA; I don't have any credit card debt; and I've managed to do my own taxes in three different countries.
Well, I was wrong.
When I first heard of Domain Money, a wealth management app designed specifically to cater to the needs and priorities of Millennials, I was intrigued. I'd never seen an app or service that I felt truly spoke to my stage of life as a single middle-income woman in my early 30s, especially without attempting to push an out-of-touch agenda about where clients' lives supposedly should be at (marriage, home ownership, exactly 2.4 precocious children), as opposed to where they actually are (travel goals, overpriced rent, a rescue dog on anxiety meds).
I decided to try Domain, and honestly, I was blown away.
Fast Facts About Domain Money
Price (solo account): $79/month or $828/year
Price (joint account): $130/month or $1,374/year
Best for: Millennials and Gen Z, new investors, and anyone looking for a modern approach to wealth management and financial planning.
My rating: 4.5/5
Pros: Easy to navigate, and you get hands-on assistance from a certified financial planner (CFP), flexibility in customizing financial goals, and in-app tools to assist with understanding personal finance.
Cons: Quite pricey, unable to link Apple Card with Plaid.
What Is Domain Money?
Domain is a new wealth-management app, available on both iPhone and Android, designed to make accessing financial advice easier. After assigning you a certified financial planner (CFP), Domain manages your taxes, investments, savings, and more, regardless of where you hold them.
The app itself is pretty straightforward — you link in your existing bank and investment accounts using Plaid (a popular fintech network to verify and link assets), and it tracks your incoming and outgoing funds, facilitates chatting and setting up meetings with your CFP via a direct messaging feature, and generally lays out your entire financial situation in one place.
If you don't already have a high-yield savings account, IRA, or other account you'd like to have, Domain works with Georgia Banking Company (FDIC insured) to open those for you. For investment portfolios, Domain partners with Apex. These accounts and portfolios are facilitated solely through the Domain Money app — you won't have actual Georgia Banking Company or Apex log-ins to worry about.
The Experience
Getting Started
Before you pay a cent, you can set up a free onboarding call, where you meet your assigned CFP and go through whether a membership is right for you. Should you decide to move forward, you'll have another call a week later to fully dive into your financial situation, habits, priorities, and what you're looking to get out of the app. As my CFP, Adrianna Adams, put it, this doesn't necessarily mean focusing on the balances of your accounts, so much as what phase of your life you're in — what motivates you to spend money, and what worries you about your finances.
Domain's objective to cater to Millennials and Gen Z was really apparent during our second call. For example, suggested goals included "become a digital nomad," "achieve freedom from your 9 to 5," and "launch a side hustle." After discussing my current situation and associated costs, I identified buying a condo and paying off student debt as my top long-term priorities, with planning for retirement and growing my emergency fund as short-term goals.
I'd never seen an app or service that I felt truly spoke to my stage of life as a single middle-income woman in my early 30s.
A particular high point for me is that Domain works with your money and investments regardless of where they're held. It's not trying to convince you to move away from a bank or platform you already use and like, and because of that, the whole interaction felt very genuine — at no point did I feel like my CFP had an agenda to sell me on moving to Domain's banks or third-party affiliates.
My Game Plan
Once you've set your goals, your CFP will make a custom game plan for moving forward. When I met up again with Adrianna, she'd crunched all the numbers and presented a range of scenarios, allowing me to see how long each goal I'd identified would take to reach and what prioritizing each different path would look like.
First, she explained that because my student debt is in Australia and doesn't incur interest (Australian student debt is federally owned and only indexes for inflation each year), I would be far better to save the money in my high yield savings account than pay the debt down now. I was surprised by this — I'd always thought of all debt as terrible stains on my net worth that needs to be eliminated immediately, and having Adrianna lay out to me that this wouldn't be the smartest way forward was really eye-opening.
If I prioritize buying a condo, Adrianna showed that it was well within reach for me to have saved the down payment in just under three years, while still contributing the maximum annual amount to my Roth IRA each year and not touching my emergency fund.
When dreams like buying a condo feel insurmountable, it can be difficult to figure out where to even start.
Looking at my retirement, Adrianna recommended I roll over my 401K to a Traditional IRA in order to get more control over my investments, and walked me through the exact steps on how to correctly do so without incurring any tax or withdrawal penalties. She even showed me a prediction on how my retirement savings would accumulate over time in both my Roth IRA and Traditional IRA, and what I'd need to do from here on out to reach certain benchmarks.
In the past, I've often found big financial goals to be quite overwhelming. When dreams like buying a condo feel insurmountable, it can be difficult to figure out where to even start, and I find myself writing these goals off as impossibilities simply because of their long-term nature. Seeing the options laid out mathematically, complete with manageable steps to follow, broke those giant ideas into bite-sized pieces that I actually felt I could achieve. It was exciting rather than terrifying.
Keeping The Ball Rolling
Once you have a plan in place, you actually have to follow it.
The Domain app sets out your strategy and any action items you discussed, as well as your net worth, cash flow, accounts, and investments. A chat window at the bottom of your screen allows you to easily message your CFP with questions or concerns as they arise, and there's no limit to how often you can reach out.
I was far more motivated and successful in following my plan than I'd ever been in the past with other finance apps.
Adrianna checked in with me regularly (and even remembered my birthday). After I had my plan to follow, I was diligent about staying on track, getting my 401K rolled over to a Traditional IRA, meeting my weekly savings goals, and monitoring my spending. Now, is checking the app twice or more each day definitely more often than you need to? Sure, but I was keen! Sue me.
More than anything, I found that having a meeting with an actual person scheduled on my calendar really helped hold me accountable through the entire experience. I was far more motivated and successful in following my plan than I'd ever been in the past with other finance apps, and was genuinely excited to report my progress at each check-in call.
The Results
After just four weeks with Domain, I've never felt more in control of my finances. I've always been good at saving money, but working with my CFP allowed me to recognize the potential I have to reach financial freedom — and soon.
The idea that I could be in the market to buy a condo in under three years is both motivating and exciting, and because Adrianna set me up with clear goals for my Roth IRA (maximum contribution each year) and emergency fund, I know I'll be going into home ownership responsibly. That's a pretty incredible transformation in financial outlook from where I was a month ago.
After just four weeks with Domain, I've never felt more in control of my finances.
Having used a range of wealth management apps in the past, I can confidently say that what Domain is doing by genuinely focusing on Millennials and Gen Z is groundbreaking. The company's goal of lessening the emotional barriers and gatekeeping associated with accessing financial advice sets them apart. I can see this app being a game-changer for a lot of young and mid-level professionals.
So, Will I Keep Using Domain?
Yes, at least for a few more months.
The only holdback I have from saying I'll stay with Domain long-term (and I do mean the only holdback) is the cost. At $79/month for a solo account, it's definitely one of the more expensive wealth-management apps on the market, and even though I can easily justify the price by the comprehensive, hands-on assistance, it's a lot to invest in learning to invest. Considering the app's target demographic is young professionals, I worry the price point could be too high in the current economy to retain users past the first few months.
Having said that, you get what you pay for in this world, and if $79/month is within your reach, I truly believe Domain is the best wealth management app available. You're getting far more than an app — it's a tailored financial planning program with a dedicated advisor committed to making your money work for you, no matter your current situation or goals.
At the end of the day, it really shouldn't be difficult for young professionals to get reliable financial advice that actually suits where they're at in life, and now, Domain is making sure it isn't. It's fantastic to see a company leading real change in how we talk about and prioritize spending, and who knows? Maybe financial freedom is closer than you think.