12 LGBTQ+ Organizations To Support During Pride Month & Beyond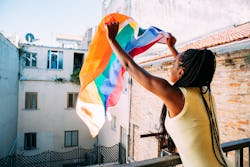 LeoPatrizi/E+/Getty Images
It's not really summer until you have your plan for Pride ready to roll. A month-long celebration of the LGBTQ+ community and its history, Pride is objectively the best party of the year. It's also, as you likely know, a commemoration of the fight for queer liberation, led by transgender women and femmes of color. Over 50 years after the Stonewall Riots, many activist groups and charities continue that work all year round, not just in June. Finding LGBTQ+ organizations to donate to this Pride is another way to celebrate these communities and ensure human rights for all.
Whatever kind of issue you're personally passionate about — whether that's accessible healthcare, prison abolition, or immigration reform — there's likely a queer-led nonprofit doing that work that could use your support. If you prefer to open your wallet for people directly, you can always search GoFundMe for campaigns looking to raise money for transition-related care or family-building or to offset the cost of job or housing discrimination — which LGBTQ+ folks didn't even have legal protections against until a 2020 Supreme Court ruling. If making donations isn't feasible right now, you could also see if your local mutual aid needs help reaching out to your LGBTQ+ neighbors.
Here are some LGBTQ+ organizations to donate to this Pride.
This article was originally published on