The 4 Zodiac Signs Most Likely To DTR This Holiday Season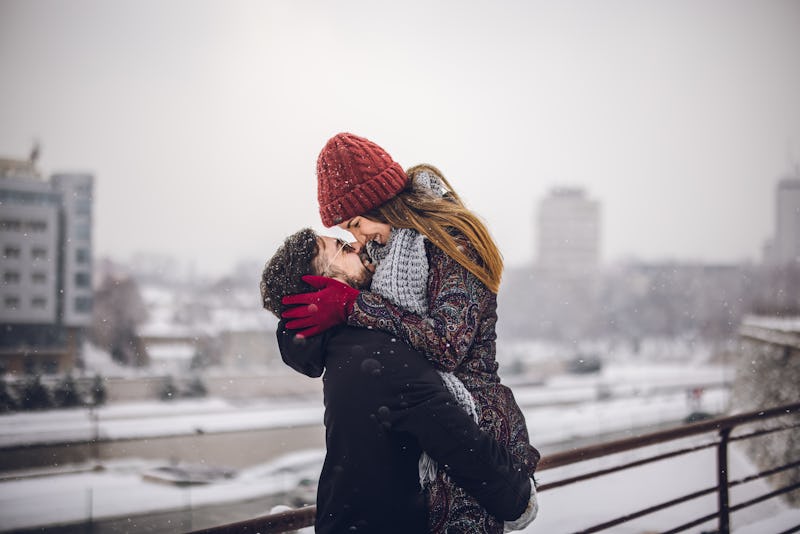 Jecapix/E+/Getty Images
The winter is a great time for pretty much anyone to get comfy with a partner. With all the holiday plans, traveling, and family time, it makes a lot of sense to take a relationship to the next level, and enjoy it all as a couple. Whether they're moving up from casually dating, or even taking their relationship a step further by becoming engaged, there are quite a few zodiac signs who are likely to make things official this holiday season.
When it comes to love and relationships over the next month or so, there are a couple of things to be aware of. On Thanksgiving eve, Mercury, the planet of communication, will join the Sun in truth-seeking Sagittarius. As astrologer Clarisse Monahan tells Bustle, Mercury will be influenced by Sagittarius and may cause some to be a little more unguarded when it comes to expressing themselves. If you're itching to tell someone how you feel over the Thanksgiving holiday, it's all due to Mercury in Sagittarius.
The fiery Sagittarius is also known for its optimism. "Accordingly, our outlooks on love and relationships will be glass half-full, as we down half-empty glasses of eggnog at company parties," Monahan says. If you're crushing on someone special, you may feel like you have a good chance at winning them over this holiday season.
Before you get too excited, Venus will go retrograde in Capricorn on Dec. 19. According to Monahan, "The buoyant vibes of Sag will be replaced by a serious Venus due to Cap's earth-heavy influence. Christmas is inherently nostalgic and the retrograde will have us looking back on past loves like old poems whose lines we only half-remember."
For some, this holiday season will be extra special. According to Monahan, these four zodiac signs are most likely to take their relationship to the next level.
Source
Clarisse Monahan, astrologer
This article was originally published on