May's Lunar Eclipse Will Breeze Right By These 3 Zodiac Signs
Chaos is coming, but certain signs will get to revel in relaxation.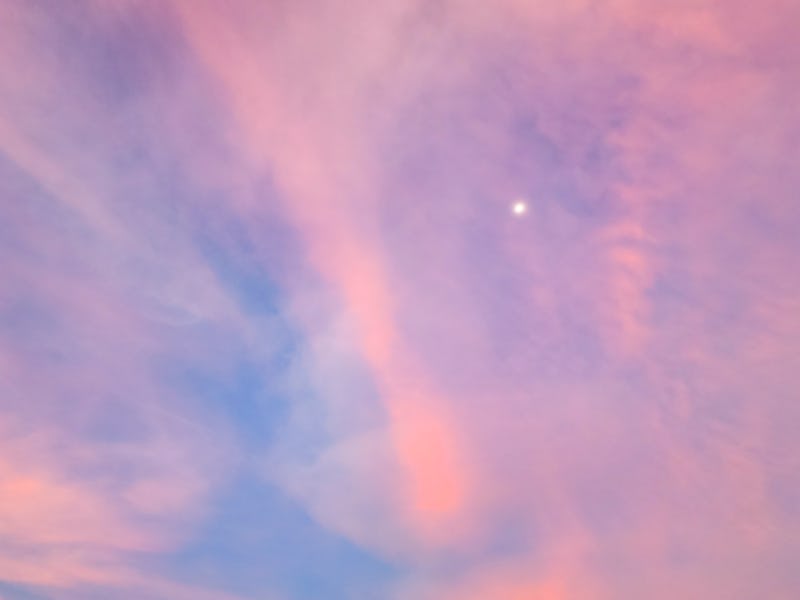 Kryssia Campos/Moment/Getty Images
On May 5, the May full flower moon eclipses the skies in mysterious Scorpio. It will be a powerful moment to reflect on our emotional state, focus on our passions, and speak what's on our heart. While full moons bring our hidden desires to the surface, lunar eclipses tend to throw shocking twists into our paths. However, some lucky folks will breeze through this lunar event with their feelings (and pride) spared. The three zodiac signs least affected by the May full flower moon's lunar eclipse will get to enjoy a moment of self-care.
"Eclipses are when we experience the ending of one era simultaneously with the beginning of another, making them bittersweet," Pix Wilder, an astrologer, tells Bustle. If you're one of the three signs least affected by this moon, put the emphasis on sweet.
Despite being an emotional water sign, Scorpio is fraught with fiery intensity and has a penchant for unlocking our deepest fears, wounds, and secrets — sounds rough, right? But for some, revelations under this lunation lean more toward TLC, pushing them to pour love into themselves and those around them. Scorpio is ruled by Pluto, the king of transformation and power, reminding those who are least impacted to surrender control and let emotions ebb and flow.
Are you among the few that will revel in all of Scorpio's eclipse glory? Read on to find out if you're one of the zodiac signs least affected by the May 2023 full flower moon lunar eclipse.
This eclipse is your cue to offer your advice and comfort to others, Aries. You might have some patterns that are ready to be broken, but for now, Wilder suggests directing your wisdom to others. "You could find yourself helping friends or family navigate their own dramatic changes or giving advice to someone going through a tough time," says Wilder, adding that setting boundaries is key.
Kick back and relax, Cancer. This eclipse will help you prioritize fun and let go of restraints that have been keeping you from enjoying your passions. "It's all about enjoying life, being creative, and even getting a little romantic," Wilder says. Whether you're finally finishing that poem or penciling in a steamy date night, this lunation is all about indulging in pleasure.
Rather than an overtly chaotic moment, this eclipse will let you retreat to your safe space and nurture your spiritual health, Sagittarius. This may highlight cycles that get in the way of achieving your spiritual goals. Wilder explains that you can fully embody this powerful energy through self-care, like, "meditation or journaling to help you process and gain clarity on any subconscious thoughts that might be surfacing."
Source:
Pix Wilder, astrologer