The May Full Flower Moon Will Transform These 4 Zodiac Signs The Most
You'll only blossom by facing your demons.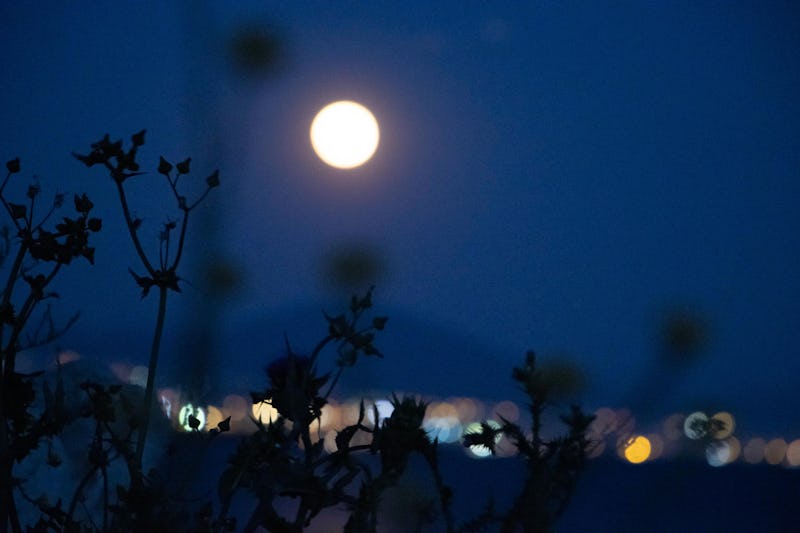 NurPhoto/NurPhoto/Getty Images
Have you sensed the recent planetary drama? Unless you've been spared by Mercury retrograde antics lately (must be nice), the past few weeks might have felt like a rollercoaster. The ups and downs don't stop here — welcome to the May 2023 full flower moon lunar eclipse. Arriving on May 5 in the elusive and sensual sign of Scorpio, this lunation helps us indulge in our passions and our emotions as we assess what truly matters to us. That's why, for the zodiac signs most affected by the May 2023 full flower moon lunar eclipse, this transformational period is a time to get real about matters most.
Scorpio has a way of turning our world upside down, and some people will feel extra urgency to make changes in their lives. The water sign owes much of its intensity to its ruling planet, Pluto, which rules the underbelly of the self — think, sex, control, and power. "Pluto promises a time of needed evolutionary transformations in reevaluating our life directions, healing of old wounds, and stepping up our game in order to empower us to achieve our dreams," Angel Dawn, an astrologer and spiritual advisor, tells Bustle. Since Pluto rules destruction, those impacted the most will have to face a lot of their lesser-loved traits and toxic patterns — then come out on the other side more aligned with who they want to be.
Even if you're one of the four zodiac signs who will get all the tough love this lunation, your transformation can usher in a bright new chapter. Keep reading to find out if you're among the zodiac signs who are most affected by the May 2023 full flower moon eclipse, plus, how to stay empowered through the changes.
Honesty is everything when it comes to your relationship, Taurus. Regardless of whether you're single or not, this eclipse is asking you to acknowledge the relationship patterns that just aren't cutting it. "This is a time for deep reflection and growth, so don't shy away from tough conversations or taking a hard look at the connections that matter most to you," explains Pix Wilder, an astrologer. If you aren't sure what you want, it's a powerful moment
This eclipse is orbiting one of the most private places in your chart, Leo. Per Wilder, your home life could dredge up some unresolved conflict that'll be hard to ignore — but stay the course and be fluid in how you express your concerns. "Keep in mind that this is an opportunity to grow, strengthen your foundations, and create a more nurturing environment for yourself and those you love," Wilder says.
Buckle up, Scorpio — this eclipse in your arena is pushing for a total transformation. "You might find yourself questioning your identity, values, and the way you present yourself to the world right now," says Wilder, but it's important to trust that these massive revelations will help you understand who you really want to be and let go of what's in your way.
This eclipse is prompting you to fully consider your professional path and legacy, Aquarius (no pressure). Wilder says this period is ideal for reevaluating your career goals and possibly take a leap of faith in your career. But regardless of where you land, "Stay true to your vision, trust your instincts, and don't be afraid to step into the spotlight — this is your moment to authentically shine," says Wilder.
Sources:
Angel Dawn, astrologer and spiritual advisor
Pix Wilder, astrologer