3 Zodiac Signs Will Feel Extra Stressed During September's New Moon
It's not all bad, though.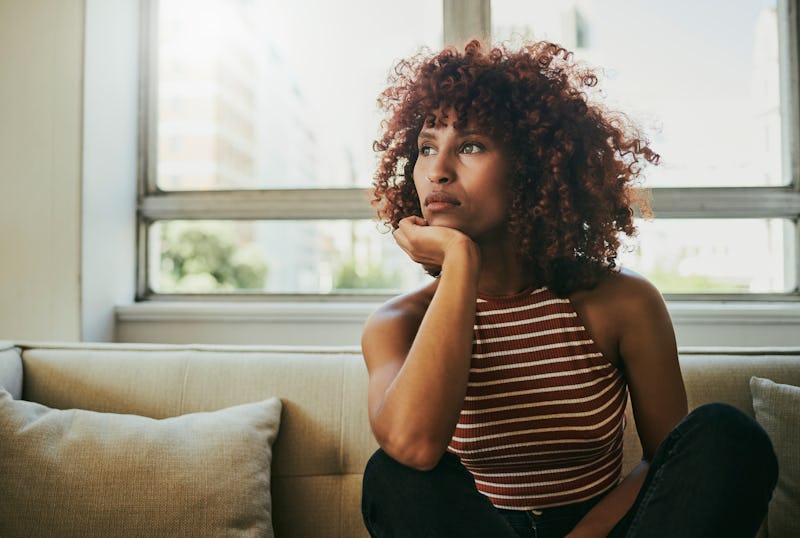 Delmaine Donson/E+/Getty Images
Whether you're soaking in the last warm days of summer or proudly breaking out your oversized sweater, we'll all be getting cosmic assistance adjusting to fall — especially with retrograde season dumping a heavy dose of déjà vu. Cue: a new moon on Sept. 14 at 9:40 p.m. ET (6:40 p.m PT) in altruistic Virgo. While this lunation helps us get our act together, the three zodiac signs most affected by the September 2023 new moon in Virgo will have a few obstacles in their way first. (Though, let's be real, getting your life together isn't always a seamless process anyway, no matter your sign.)
New moons restart the lunar cycle approximately every 29.5 days. From an astrology POV, they usher in fresh starts and new opportunities. Whenever one transits Virgo territory, it revitalizes us with a sense of control, specifically when it comes to our daily activities. (Think: fine-tuning your skincare routine, streamlining your commute, finally getting to the bottom of your inbox.)
Not only is Virgo an analytical earth sign, but the maiden is also a mutable sign, giving us an extra pep in our step. However, there's a limit to this bountiful productive energy. If you're one of the zodiac signs who will be hit hardest by this lunation, you might feel stressed out or off-kilter.
It's not all bad news, though. Because the new moon arrives in tandem with Mercury (Virgo's ruling planet) going direct on Sept. 15, the skies will reward you if you keep your head down. "Focus on your finances and the logistical aspects of your life," says astrologer Imani Quinn. Also, an auspicious trine alignment with Jupiter will lend a boost of optimism.
Read on to find out if you're one of the zodiac signs most affected by the September 2023 new moon — and if you are, how to get through it.
Think twice before going on that shopping spree, Leo. As a feisty fire sign, it's easy to be seduced into making hasty financial decisions. But as Quinn says, "The Virgo energy won't be forgiving of frivolous spending. Take this as your reminder to check in on (or set) your daily spending habits and long-term financial goals. Maybe give "No Spend September" a try. "Scale back and you will be rewarded for investments and smart spending choices," Quinn says.
You've had a lot on your mind lately, Libra, and this new moon may amp up the pressure. Virgo's meticulous energy is pushing you to unpack the mental burdens, so prepare for some tough love. This is your moment to clarify your needs and priorities. "The influence of your 12th house won't let you get away with illusions, so make sure you are moving through your shadow work," Quinn says.
What can you let go of, Aquarius? "This new moon is asking you to clear out [what you no longer need] so that you can experience the abundance of newness that is waiting for you," Quinn says. Turn inward to examine your deepest desires and reflect on how much you've evolved. It's not always comfortable to face what you've outgrown, but so much goodness lies on the other side.
Source:
Imani Quinn, astrologer, quantum mystic, and co-author of Astrology SOS