After 24 Years Of Disney Vacations, I Finally Took A Park Trip On My Own
Could the magic hold strong without my nearest and dearest by my side?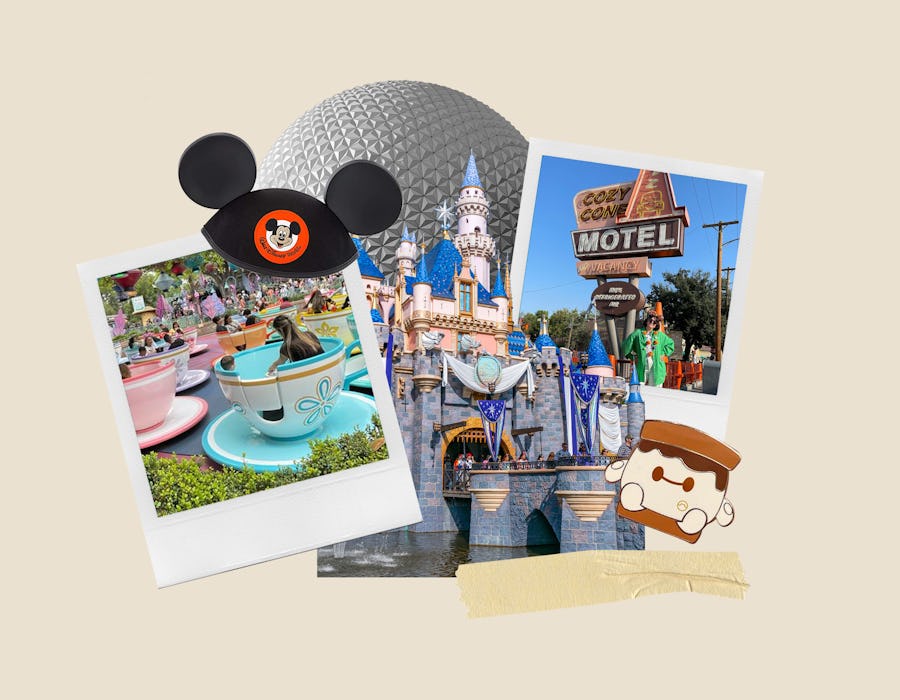 Growing up, I never found Disney vacations to be a divisive topic. What's not to like? You bask in the sun while meeting life-size versions of animated characters and punctuate your day with roller-coasters and delicious snacks. But by the time you near 30, people start to have opinions on the matter. "Again?" is the most frequent response I'm met with upon telling friends of an upcoming Mickey-adjacent trip. "Why?" being the close runner-up.
I've often struggled to come up with a water-tight retort to such questions; "because I like it" never seems to cut the mustard. Eyebrows are raised; guffaws are suppressed; vague words of mock-understanding are offered as I mumble something about escape and the "happiest place on Earth." It wasn't until a recent work trip left me solo in Anaheim that I began to put the pieces together.
Setting off into the foggy O.C. morning, Minnie ears ready, my childish excitement was mixed with a dose of anxiety. I had never visited California before and was agonizing over one detail: my first trip to Walt's original dreamland was to be completely alone. Who would receive my wild grin after that first glimpse of the castle? Who would stymie the boredom of a two-hour line for Space Mountain? Crucially, who would justify my third Dole Whip of the day?
Prior to this, every trip I had made to the parks had been with family, loved ones — the people who make these vacations what they are. It seemed improper, gauche even, to enjoy the magic unless it was shared. Was I being dramatic? Absolutely! But you don't get a re-do of your first visit to a Disney park, and when they mean as much to your nearest and dearest as they do mine, breaking the tradition of these experiences will be met with some hesitancy. Despite my status as a lifelong Disney loyalist, I was apprehensive as I left my hotel.
For most guests of Disneyland, a stay off-site means a short walk or shuttle before reaching the gates. I made the 15-minute journey on foot, congregating at crosswalks with kids and parents, couples and friends. Their closeness made me smile and reach for my phone: "Wish you were here!" I wrote to various group chats, selfie attached. If I concentrated hard enough, it felt almost as though the recipients were right there with me. Before I knew it, I was scanning my ticket in the shadow of Disneyland's railroad.
Walking into any Disney park comes with a bizarre sense of familiarity. City Hall, the Fire Station, and the Emporium are all present in slightly different configurations no matter which side of the world you're vacationing on. Echoes of 1940s swing and the buttery bouquet of popcorn hang in the air; close your eyes and you could be in any one of the Mouse's six resorts. Somewhere around the Refreshment Corner, as I swerved groups posing for photos with the castle, I realized what I had been worrying about was taking a family vacation without my family. Except this wasn't a family vacation — to make the most of it, I needed to stop thinking of it as one.
Throwing myself into the fantasy of it all was going to take a different shape on this trip. An introvert at heart, I wouldn't be dancing with Donald during the parade (though I did snag a selfie with Peter Pan). Instead, I thought about the quiet things that I love about Disney — the details, the atmosphere, the hidden gems. I ambled on a loop around the park, taking it all in. Both the marching band playing outside The Golden Horseshoe and the jazz septet soundtracking guests around New Orleans Square held me in place for song after song. The slow cruise around the Storybook Land Canal provided a welcome respite from the crowds.
Over in Disney's California Adventure, I listened to my favorite podcast and befriended the group behind me during a particularly tedious stretch waiting to ride Guardians of the Galaxy — Mission: Breakout. I also spent an egregious amount of time browsing merchandise stores in Downtown Disney, revisiting some multiple times each day to catalog items for later purchasing. And it was during this trip that I became a fully fledged pin trader, allowing myself to be guided around each park by boards of colorful enamel, swapping my finds with guests and cast members. No activity left me feeling lonely, nor did I succumb to a shred of self-consciousness.
It doesn't matter how many times I go back to Disney; each trip, without fail, is defined by something new. 1998 kick-started the love affair, and 2004 goes down as the first vacation I took with a friend. I'll remember 2008 for my most awkward teenage years and 2020 for surprising my family by flying in from the other side of the world. But 2022 will be unique for what it taught me about enjoying my own company. This solo trip was the first, I hope, of many.