Take Yourself On A Solo Honeymoon. You Deserve It.
More women are jetting off alone than ever before.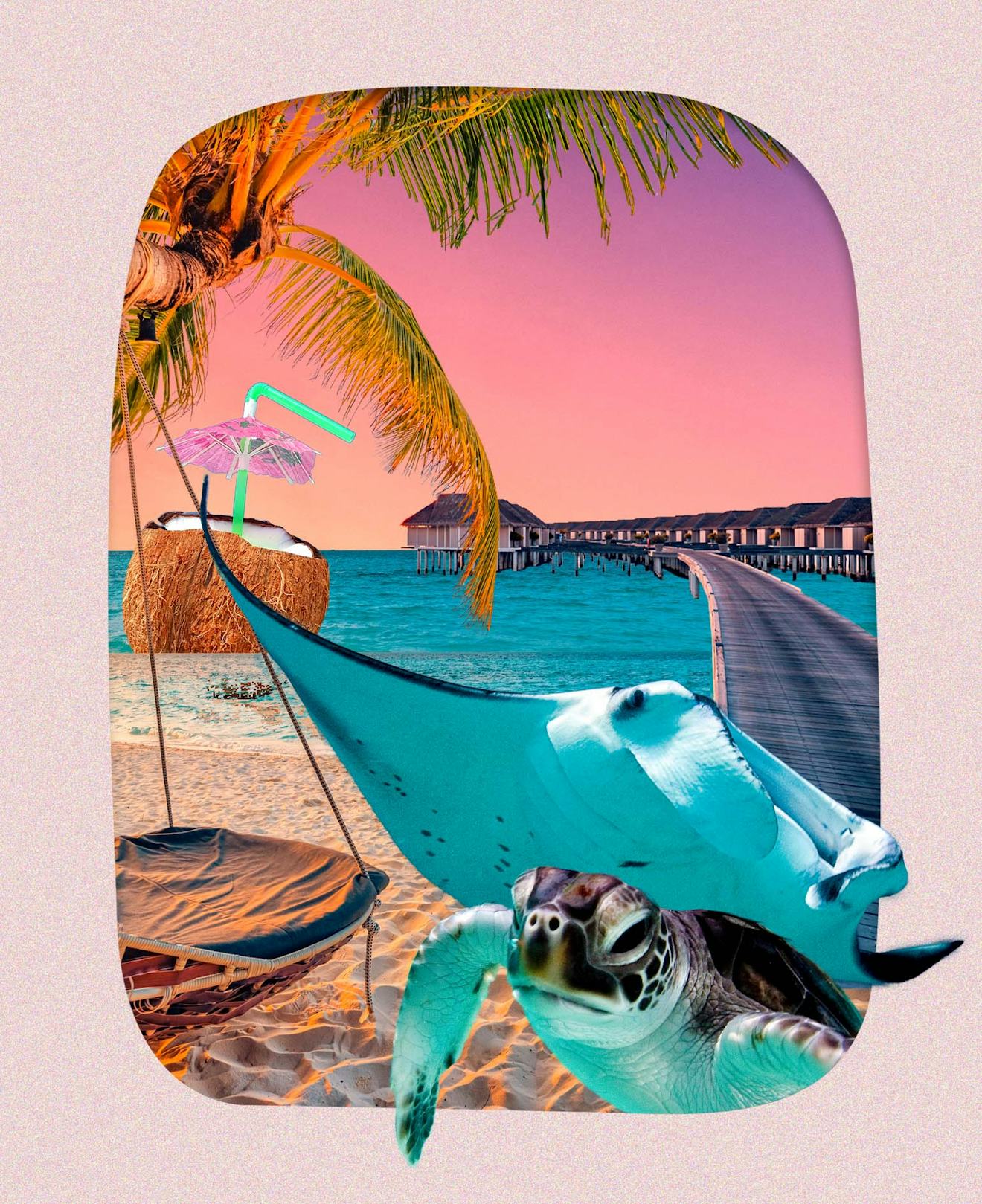 It's midnight in the Maldives. I'm in a private infinity pool overlooking the Arabian Sea, skinny-dipping and sipping champagne under a starry sky. I traveled nearly 9,000 miles to get here but I'm not tired — I'm euphoric. Steps away, my villa has a king-sized bed, a pair of luxe white bathrobes, double sinks, and a free-standing limestone soaking tub made for two. Though it's all outrageously romantic, I'm here on my own.
There's nothing new about single women traveling solo: Elizabeth Gilbert ate, prayed, and loved her way around the world in 2004; my grandmother called herself "a broad abroad" while touring Paris and Israel in 1950. However, according to the group Solo Female Travelers Club, women's interest in venturing out on their own is on the rise. In 2022, a representative survey of 4,095 women found that 53% now vacation alone because they prefer it that way — not because they have nobody to join them. In the previous year, 80% of surveyed women took solo trips while just 25% booked getaways with their partner.
In my case, my Maldives trip was a work opportunity. I was invited by Coco Collection, a boutique luxury hotel group with two resorts: Coco Bodu Hithi, my infinity pool paradise; and Coco Palm Dhuni Kolhu, which is also home to a turtle sanctuary. By coincidence, my flight took off the morning after my 30th birthday — an energizing way to kick off a new decade (not to mention, far more glamorous than entering my 20s amid twin extra-long mattresses and bottom-shelf gin). I once imagined I might be married by now, maybe with a baby. Instead, marking this occasion with a jaunt across the globe underscored how grateful I am that my life is turning out differently.
I'm not alone in feeling this way. Sixty-three percent of unmarried adult women say they can have a "happily ever after" with or without a partner, and 50% prioritize spending time alone or with friends over dating, according to a recent study of 2,000 women conducted by the publishing house Harlequin. Soulmates don't have to be romantic either: Bestie-moons are a thing, too.
Exploring a new place on your own — sometimes called a #memoon, a term coined by creator Brittany Allyn — can usher in radical transformations. "My ex-boyfriend, he didn't really want to travel or do anything," says Madison, 24, a tech writer in New York City. The day after their breakup, she bought a plane ticket to Florence. "I was like, 'I've wasted enough of my time not doing things that make me happy.'" She'd never flown by herself or dined out alone, and upon arrival, Madison thought, "Oh, my God, I've made a massive mistake." She was forced to confront why solitude made her apprehensive. While walking around the city, she noticed just how many people ate by themselves — and more importantly, how nobody cared. "I had no other choice but to start enjoying my own company," she says. "It changed my life."
Obviously vacations aren't cheap. But for some, the experience is priceless.
Maybe Skip Santorini
When I returned from my Maldives trip, I reached out to other solo travelers to better understand the growing trend and gather tips for my next jaunt. Melissa Byron, a life coach who guides female travelers through the emotional and logistical roadblocks of jet-setting alone, recommends exploring locally first. Start with a weekend trip to a nearby city to test how it feels. Alternatively, if you're comfortable being alone, go straight for classic honeymoon destinations. With gorgeous scenery and plenty to do, they're classics for a reason. "People say, 'I'm going to save the south of France for my honeymoon,'" Byron says. Why not just book the damn trip anyway?
The ability to pick up and go safely is an enormous privilege. Travel can be dangerous or difficult for people of color, LGBTQ+ people, and people living with disabilities, though some places are better than others. Travel agency Black Travelers International recommends South Africa, Brazil, and Accra, Ghana, as welcoming places. For LGBTQ+ people, Out Travel names Costa Rica, Sweden, and Norway as the best vacation spots. And according to the travel blogger behind World on Wheels, Kristen, who has muscular dystrophy, Hawaii, Alaska, and U.S. National Parks are particularly accessible destinations.
Find A Way To Reframe Loneliness
For many, the nonstop alone time is the toughest part of solo travel. Byron recommends, when eating alone, you bring a project, like editing photos or researching the next day's itinerary. Skip secluded spots for bustling sightseeing spots and hotels in vibrant cities, she says; staying busy is key to keeping loneliness at bay. (Byron's visit to the Amalfi Coast was tainted by self-conscious sadness. Surrounded by honeymooners, she thought, "They think I've been left at the altar.")
During Emma Dixon's monthlong trip through southeast Asia in 2018, loneliness crept in particularly during meals and while admiring architecture. The British high school teacher spent three days on a boat in Vietnam's Hạ Long Bay, then another four in a rickshaw around Angkor Wat, Cambodia, to see centuries-old temples. The trip was both in celebration of her 40th birthday and also a chance to reset after the end of a decadelong relationship. "Seeing these beautiful places, it's hard not to be like, 'It would be lovely to share that with someone,'" she says.
On days when she felt particularly down, she planned out her itinerary instead of winging it. "It took the fear out of walking into a restaurant by myself because it was like, no, I already decided that's where I'm going," Dixon says. Reading was a pleasurable way to savor her alone time, and she made a point of staying in touch with friends, sharing photos and planning video calls. Despite occasional blues, she calls the experience "the best thing I've ever done." It showed her how capable she is on her own.
Lauryn Chamberlain had a similar experience. After the 2016 election and the simultaneous breakdown of her five-year relationship, she planned a six-week trip through Bordeaux, St. Tropez, and Cannes to explore and work on her first novel. (Her second, Who We Are Now, came out this month.) Without travel buddies, each day felt too long and quiet. She'd tell herself, "I'm in silence right now but sometimes you're in silence with a friend or partner or family member, too. That's OK." Ultimately, she found joy in the solitude."Being in the Riviera, renting the chaise on the beach and having rosé, I felt like I was on a honeymoon by myself," says the 31-year-old.
Embrace Surprises
Before Byron became a life coach, she was a property manager in Seattle. To mark her 30th birthday, she planned a trip to Rome and Athens but spent much of the first week killing time in Internet cafes, feeling sorry for herself that she couldn't sightsee with a partner. As she made friends, her spirits lifted, kicking off years of globe-trotting. "I never thought of myself as brave, but it kind of left me feeling like 'I can do anything now,'" she says of having to problem-solve and navigate by herself. It inspired her to relocate to Berlin and later Athens, get certified as a life coach, and open her company, A Solo Woman Traveling.
Similarly, Chamberlain's 2017 trip transformed her life in unexpected ways. In Bordeaux, considered the wine capital of the world, she tasted rare bottles, which prompted her to seek out education back at home, where she earned a certificate from the Wine & Spirit Education Trust. And serendipitously, her childhood friend James knew she was in Europe and invited her to crash on his couch in Germany, where he was doing his master's degree. In Germany, their chemistry bloomed. They tied the knot in 2021. "I like to think we maybe would've gotten together someday [without this trip], but I don't know if we'd be married," Chamberlain says.
Use Points & Travel Hacks To Cut Costs
Adding up the cost of transportation, lodging, meals, and sightseeing can quickly stretch into four digits or beyond. Sojourner White, a 29-year-old travel influencer from Wisconsin, recommends Mexico City, Guatemala, and Antigua as particularly budget-friendly destinations because they're highly walkable. When not on foot, scout out bus and train passes, and book tours that include transportation. As for lodging, your dollars will stretch further at hostels than at hotels, and many of the former run free walking tours. (At some, nonguests can join.) For sightseeing and activities, compare prices on Get Your Guide, Viator, and Airbnb Experiences. According to White, you can get cash for better rates at ATMs than currency exchanges, street art tours can be a good substitute for pricey museums, and you shouldn't sleep on street food.
As for the flight itself, your credit card can make a difference. Alli, who goes by @travelhackingwithalli on Instagram, says she's saved $65,000 on travel in the past year by using points from hers. To get the most bang for your buck, research which credit cards make the most sense for your lifestyle and travel goals. For example, the Virginia-based expert, 27, recommends Chase Sapphire Preferred because it offers three points for every dollar spent on dining. (Many others give one point per dollar or prioritize rewards for categories like groceries and gas.) Opening a new card often includes receiving a signup bonus, though you should read the fine print — some require that you spend a minimum amount over a fixed timeframe. According to Alli, you can often find better deals when booking through an airline or hotel's site than through your credit card's travel portal, international flights sometimes cost fewer points than domestic ones, and bank cards typically have better rates than airline cards do.
If solo travel still sounds iffy to you, take it from Byron, the life coach. "Go sit next to some couples on vacation and listen to them b*tch. It's like, you know what? This is much better on my own."