Here's The Spiritual Meaning Of September's New Moon
It rises the same night Mercury retrograde says goodbye.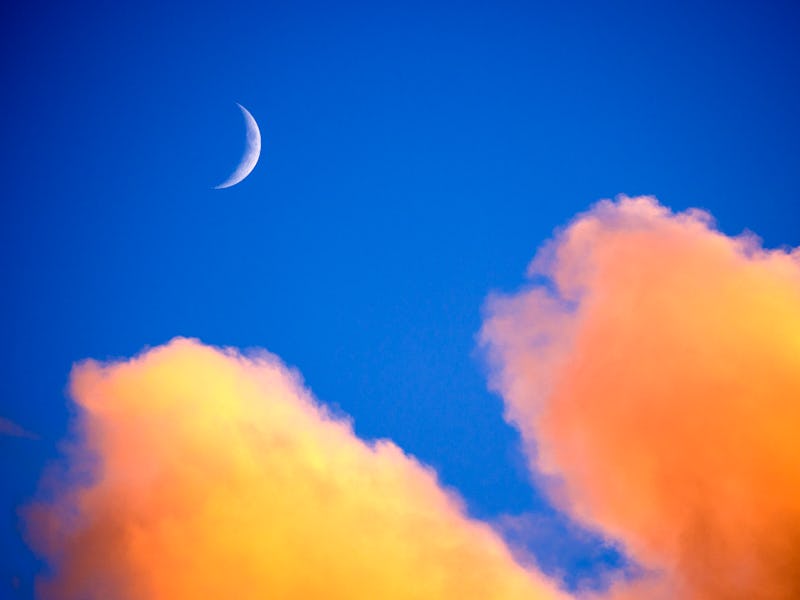 Ashley Cooper/Corbis/Getty Images
Are you ready for a fresh start? On Sept. 14 at 9:40 p.m. ET (6:40 p.m PT), the September 2023 new moon peaks in dutiful Virgo, helping us roll with the punches — and there will be plenty of those, BTW. This date also marks the end of Mercury retrograde. Luckily, the moon is here to support us through the last-minute backspin mayhem as we get our act together post-retrograde drama.
Per astrology, new moons signify a fresh start. They're a particularly restful time, perfect for manifesting and planning out your next moves — something that pragmatic Virgo knows all about. "When a new moon occurs in an earth sign, it brings an energy of realness and practicality," says astrologer Tamerri Ater. They're also a great time to focus on your health and wellness, so if you were on the fence about signing up for a new workout class or trying your hand at therapy, this new moon might be the perfect opportunity.
To channel this new moon's productive energy, learn more about its spiritual meaning. Ready to be inspired by Virgo's Type A energy?
What's The Spiritual Meaning Of The New Moon in Virgo?
Spiritually, new moons bring a sense of hope and beginnings. With the new moon moving into ultra-organized Virgo, the urge to prep and organize will definitely be felt, so get your planner and colored highlighters ready to map out the final months of 2023 — specifically, buttoning up the next three weeks, Ater says.
If Virgo appears anywhere in your natal chart, pay attention. "[The house it appears in] is where you want to be helpful, but also where you are most critical. A good mantra for this new moon is, 'How can I be my best?'" she says. But that doesn't necessarily mean perfection. Instead, she says, "It means you are optimizing and capitalizing on opportunities around you." Reflect on your inner dialogue and practice self-compassion. Self-criticism only gets you so far.
However, you don't need to have Virgo placements in your birth chart to feel the go-getter energy of September's new moon in Virgo. Everyone can benefit from this moment.
How To Work With The New Moon Energy
This earth sign tends to be logical and practical, but that shouldn't be your only mode. With this new moon, get out of your head by spending time outdoors. "The earthy nature of the planets in Virgo coupled with idea-generating Mercury will help us be more innovative," Ater explains. Try making a moodboard (Pinterest, anyone?) to get your ideas flowing. Plus, having a visual blueprint can make manifestation more effective.
Because of the Mercurial energy, it's a good idea to keep a journal to document your ideas and emotions. "A grounding ritual where you journal outside in nature, or simply walk outside barefoot can be helpful," Ater says. Whether you're taking a jaunt barefoot in the grass or cutting inspiring images out of magazines, Virgo's support is on your side.
Source:
Tamerri Ater, astrologer and founder of the wellness brand Gift of the Nile