25 Valentine's Day Drinks You Can Order Off Starbucks' Secret Menu
#22 tastes like a chocolate-covered strawberry.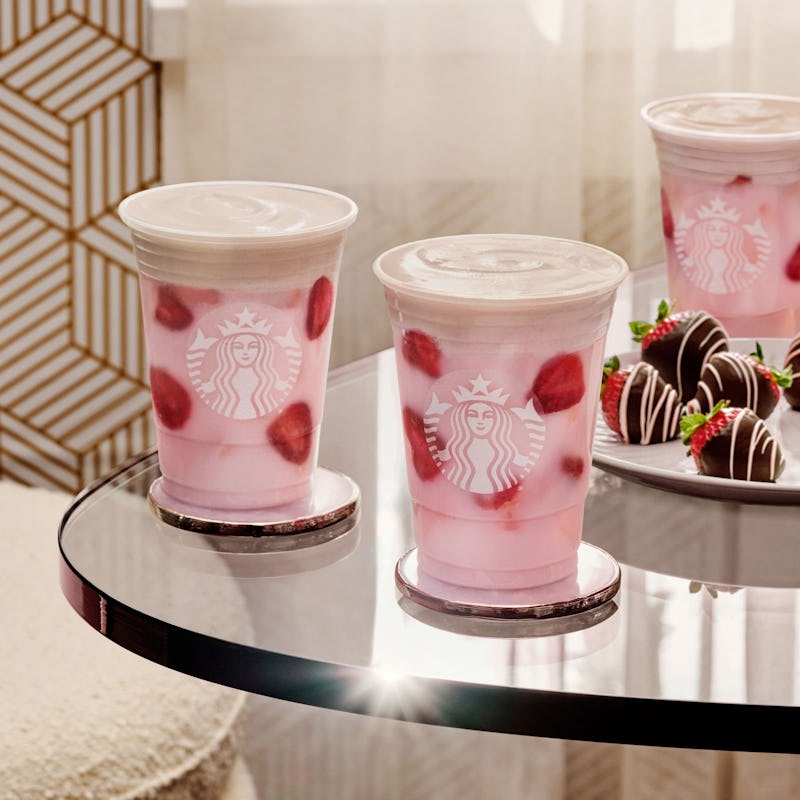 Starbucks
Valentine's Day is, if nothing else, an excuse to consume all things pink, sugary, and sweet. Thankfully, there are plenty of ways to customize your Starbucks order to fit the bill – you just need to know how to order them. From a White Chocolate Strawberry Iced Latte to a Strawberry Shortcake Frappuccino, here's a rundown of the Starbucks Valentine's Day secret menu drinks you need to know about to make your sip extra special. They're pink! They're sweet! They will be the delicious Valentine you deserve.
Not every V-Day themed drink on this list is a secret menu item exclusive. On Feb. 6, Starbucks announced that customers will be able to order a Pink With A Wink Drink (aka a Pink Drink with chocolate cream cold foam) in-stores and on the app just in time for the lovey-dovey holiday. The drink is available to order through Feb. 14, but like most secret menu items, you'll be able to hack the app to reorder the sweet sip long after V-Day has passed. The brand is also offering 50% off Starbucks Uber Eats orders up to $10 on Feb. 14, in case you want to surprise your valentine with a discounted drink.
Starbucks' secret menu drinks are available all year, but don't forget: the secret menu is not an official Starbucks menu, but rather a collection of Starbucks concoctions that social media has dreamed up. That's why if you order a "Raspberry Cheesecake Frappe," your barista will have no idea what you're talking about until you explain the step-by-step process behind the drink. (Also, be nice to your barista. Tip generously. Apologize a few times if you feel inclined.) It's also worth noting that you're not able to order some secret menu items on the Starbucks app — if, for instance, they require a step like blending strawberry purée into cold foam.
Now that that's settled, here are 25 Starbucks secret Valentine's Day menu drinks you'll want to try. Whether you prefer your drinks with a hearty caffeine kick or just want something pink and gorgeous, you're sure to find your perfect match on this list.
This article was originally published on