The 7 Best Knee Sleeves, According To An Expert
We only recommend products we love and that we think you will, too. We may receive a portion of sales from products purchased from this article, which was written by our Commerce team.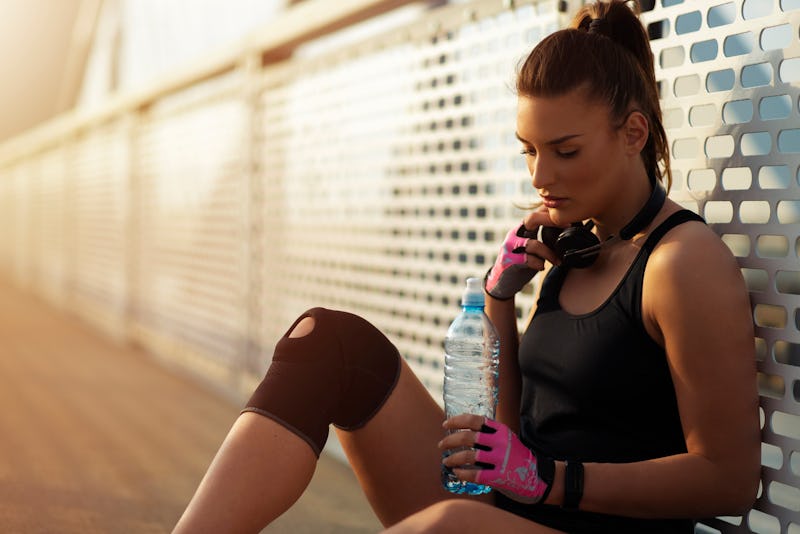 Shutterstock/DexonDee
Whether you're dealing with an injury or trying to protect your joints from long-term damage, a really great knee sleeve is a must. In fact, the best knee sleeves can keep you healthy, active, and pain-free for a long time to come.
Sports chiropractor and former performance therapist for the Chinese Olympic Committee Dr. Ian Shaw agrees. "Having a sleeve around the knee can help secure the knee in correct alignment and also provide support when the knee is placed in compromising positions." Before you invest in one, though, Dr. Shaw emphasizes that it's really important to look for an adjustable knee sleeve that's tight enough to stay put, yet won't cut off circulation.
Another thing to consider is the type of activities you tend to participate in most. For example, if you're playing football, volleyball, or another high-impact sport, you may want to opt for a padded knee sleeve to prevent injury. On the other hand, you'll definitely want a thinner, more flexible option for running or walking. Whichever way you go, Dr. Shaw advises that the "material should be breathable and robust enough to provide decent support."
It's not exactly easy to find a high-quality knee sleeve that's just right for you. Here's a round-up of some excellent options to help you get started.
The Expert
Dr. Ian Shaw is based in Hong Kong and has a background as a chiropractor and strength and conditioning specialist. He earned a Doctor of Chiropractic degree from Canadian Memorial Chiropractic College and has a bachelor's degree in Kinesiology & Health Sciences from Canada's York University.
Study referenced:
Hansrani, V.; Khanbhai, M.; Bhandari, S.; Pillai, A.; McCollum, Charles N. (2015) The role of compression in the management of soft tissue ankle injuries: a systematic review, https://pubmed.ncbi.nlm.nih.gov/25649317/
Expert:
Dr. Ian Shaw, sports chiropractor at Hong Kong Sports Chiropractic, and former performance therapist for the Chinese Olympic Committee
This article was originally published on