Here's The Zodiac Sign You're Most Compatible With
Dive into the cosmic dating game.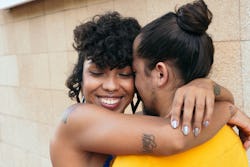 Addictive Stock / Hector Pertuz/Addictive Stock/Getty Images
When it comes to having success in relationships, it's important to be able to relate to your partner and see eye-to-eye. Compatibility is based on many factors, but looking at the signs that are compatible with your zodiac sign is a fun and easy way to get an idea of whether you'll click or clash with someone on a surface level. The astrological compatibility between zodiac signs could even serve as an indicator for a deeper kind of connection — whether it's romantic or platonic.
But there's a lot more to both astrology and relationships than zodiac signs alone. Every person has an entirely unique astrological birth chart full of planets and signs that govern all different parts of their lives, which means using astrological compatibility in your love life goes deeper than just comparing sun signs. That said, a simple compatibility check can certainly give you a basic idea of some strengths and weaknesses that you should look out for between your signs.
If you want a cheat sheet to astrological compatibility between zodiac signs, knowing the element and duality of your sign can help. The elements in astrology represent the way we express ourselves and act on things, so we're often highly compatible with signs who share our same element, as this connection makes it easier to relate to each other and understand each other's motives. We also tend to be compatible with people who share the same duality as our own sign in astrology, even if they're of a different element, as signs of the same duality tend to direct their energies in a similar way.
Ready to dive into the cosmic dating game? Here are the most compatible astrological signs for you, along with the least compatible ones, based on your zodiac sign.
Even if you're skeptical about astrological sign compatibility in love, it's 2022, so what do you have to lose? It might be time to take your zodiac sign to heart and seek a more cosmic match. But remember, if you meet a cutie whose zodiac sign is incompatible with yours, don't worry — you can always find creative ways to make it work.
Sources:
Tess Lee, professional astrologer
Arriana Fox, astrologer
Clarisse Monahan, astrologer
Stina Garbis, professional astrologer and psychic
Jeanine Duval, astrologer and co-founder at Edwlwyn
This article was originally published on