People On TikTok Are Eating Oranges In The Shower — Here's Why
Run, don't walk, to the fruit and veg aisle.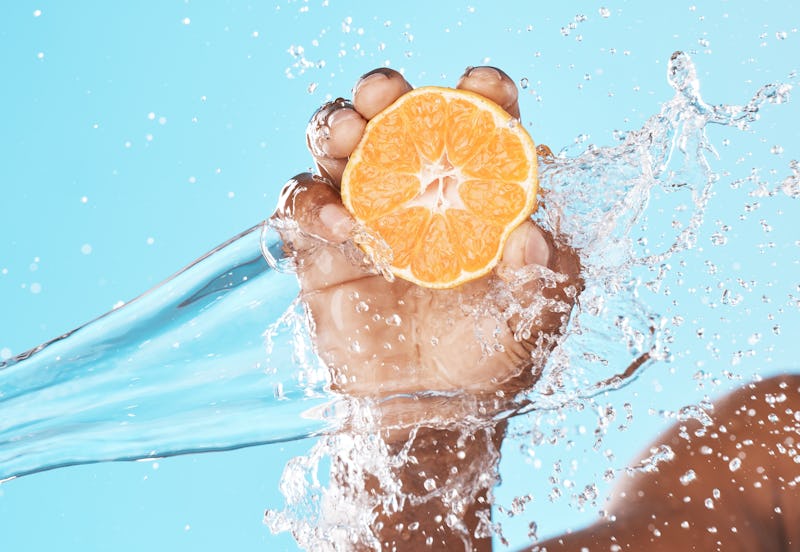 Shutterstock
Another day, another new trend. Among the flood of TikToks "de-influencing" people from buying products and showing off food-shaped home decor comes this viral lifestyle trend that claims to lift spirits and improve moods. Enter the shower orange. As the name implies, this life hack involves bringing an orange into the shower with you. But why on earth would you want to do that? Well, the answer is twofold.
Firstly, it will make the bathroom smell delightful. According to adopters of the trend, the hot steam does something to release the oils in the citrus peel, bringing out the orange's scent and filling the room with it. Heaven. TikToker Charlsie (@aleagueofherhome) explained, "The orange oils release into the air creating this aromatic experience — it feels very spa-like and awakens your senses."
Secondly, you get to enjoy a bathtime snack. That's right – this is a multi-sensory experience. And because you're already standing under running water, you won't even have to deal with sticky hands, or orange pith under your fingernails, or orange juice getting everywhere.
Creator Makenzy Smith (@makenzyksmith) delved into why a shower orange is so appealing, saying, "It's like something primal when you just rip into an orange and you can just eat it and it gets all over you and it smells delicious." Additionally, some people claim that eating the cool orange which contrasts with the hot shower is very refreshing and just makes the fruit taste better as well.
Interestingly, though, the shower orange isn't even a new concept. According to The Cut, its cult popularity started in 2015, when a Reddit user commented how he eats an orange in the shower everyday, under a post asking for unconventional recommendations that everyone should try out.
Since then, this citric ritual has evolved into its own subreddit r/ShowerOrange, which has more than 80,000 members and claims it is an "enlightenment of the soul." Dramatic, but we definitely get the gist.
You're tempted, aren't you?