I Took A Solo Trip To The World's Bachelorette Capital — Turns Out, It's Relaxing As Heck
From soothing spas to stunning scenery, this city has it all.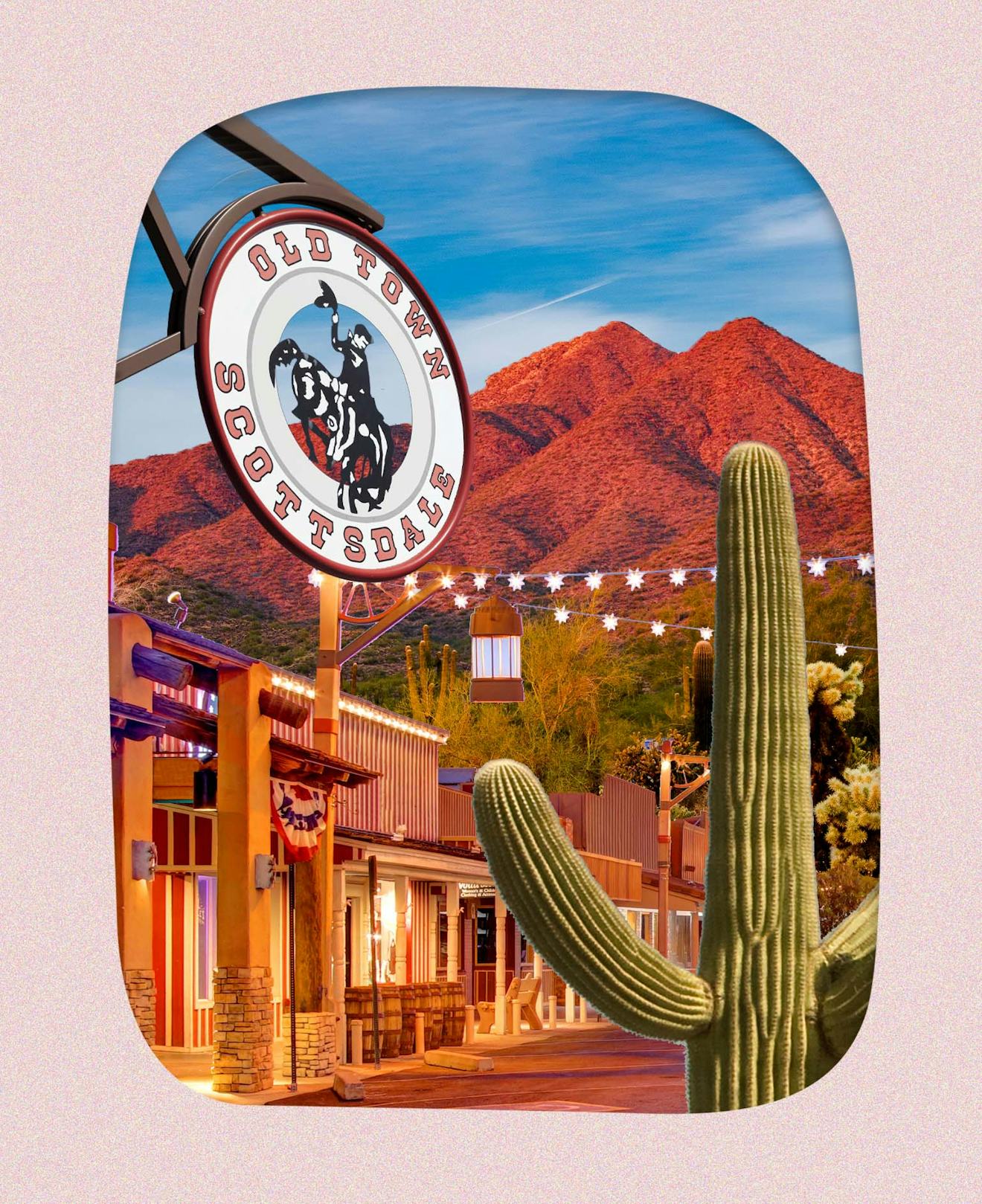 Within an hour of arriving in Scottsdale, Arizona, last month, I'd already tallied up at least a half-dozen bachelorette parties. One particularly glitzy group, outfitted in sashes and sequins, rode by on Segways. The sightings felt fitting: In the last few years, the southwestern town has built a reputation for these types of bachelor and bachelorette shindigs, and was even dubbed "the new Nashville" by The New York Times. But I was visiting solo, on a four-day trip to taste the city's rodeo culture and local eateries — all while soaking up the scenery. As an East Coast girl, I'd never seen mountains and cacti like this.
Arizona is one of the fastest-growing states, and nestled just northeast of Phoenix is Scottsdale, which is currently home to about 250,000 people. The city is full of Western charm, influenced by the local original Indigenous population, and later, late 19th-century Midwestern settlers and turn-of-the-century Mexican immigrants. The region is also shaped by its heat, which can sizzle up past 120 degrees during peak summer, so the architecture is mostly low-slung with spaces designed for escaping the sun's glare.
Whether you're planning a solo trip like mine or a bachelorette party, here are my recommendations.
Where To Stay In Scottsdale
I traveled out West courtesy of the tourism organization Experience Scottsdale, which suggested I stay in a pueblo-style casita at the JW Marriott Scottsdale Camelback Inn Resort & Spa, 20 minutes from the airport and 10 minutes from downtown.
The locale dates back to the 1930s, and the rooms are decked out with earthy tones and rustic wooden beams. I spent mornings on the private back patio with unobstructed views of Camelback Mountain and downtime at the pool, which shares the same impressive panorama. The property sits on a slight hill at the base of Mummy Mountain, and the friendly staff offered golf cart rides up to my room, day or night. Groups can request interconnected suites, which could be great for family trips and bachelorette weekends.
To unwind, I had a body wrap at the hotel's spa, then relaxed by the pool. Throughout my trip, I spent plenty of time poolside, slurping down frozen drinks — practically a necessity in the raging heat.
What To Do In Scottsdale
You can't miss the city's Old Town, 1 square mile packed with storefronts, galleries, and the historic district. For shopping, several boutiques offer locally made turquoise jewelry and cowboy boots (my favorite was Golden Bear). Vintage by Misty, which is frequently named one of the best vintage shops in the world, carries designer clothes and accessories (Chanel bags, Missoni sweaters, Alaia dresses, and more). Make sure to hit up The Merchantile, a marketplace of artisanal goods that had everything from handmade bikinis to cheeky posters, and the Native Art Market, a Navajo-owned shop that also holds cultural events like dance expos and live music. After tasting a few flavors at Outrageous Olive Oils & Vinegars, I took home a yummy oil infused with Milanese gremolata and was tempted to pour my own custom candle at Light + Bark Candle Co.
The cowboy vibes are strong in Scottsdale, and that holds true at the Rodeo Museum, a one-room collection of memorabilia housed in a former livery stable. A tour guide walked me through a collection of antique saddles and other memorabilia, before convincing me to don a cowboy hat and hop on a taxidermied rodeo bull.
As for art and architecture, the Museum of Contemporary Art hosts a rotating collection of colorful, thought-provoking exhibits. Nearby in Fashion Square Mall, I explored Wonderspaces, a trippy, interactive digital art experience practically begging to be Instagrammed. A short drive away from the city's center, I toured Taliesin West, architect Frank Lloyd Wright's winter home that doubled as an architecture school. Built in 1937, the design takes inspiration from the scenery, and today, it's a UNESCO World Heritage Site. I wish I'd been in town for the weekly "ArtWalk," which Old Town galleries host every Thursday night.
I'm no great outdoorswoman, but for those with sportier tendencies, I'd recommend a trail ride on horseback at Saguaro Lake Ranch in Mesa. The wrangler leading the excursion had plenty of tips, and it was perfect for novice riders like myself. I also enjoyed a guided trek through Lost Dog Wash Trailhead, where I learned a few things about cacti and critters.
Where To Eat & Drink In Scottsdale
I loved my brunch at Prep & Pastry, where the menu is packed with creative flavor combos like duck confit with cabernet-braised cherries, cherry goat cheese mousse, and spinach. The restaurant also offers eight twists on the classic mimosa. For lunch, I liked Farm & Craft, an airy fast-casual spot known for its global flavors and sustainable ingredients. I ordered Thai lettuce cups and a green juice — totally refreshing. And my favorite dinner was at The Mission, a romantic Latin American restaurant two blocks away from the contemporary art museum. I'd heard the prickly pear margarita and battered mahi mahi tacos were the way to go, and it was a perfect meal.
For another brunch spot, try The Thumb. In addition to a barbecue smokehouse and cafe, the restaurant — which appeared on Guy Fieri's Diners, Drive-Ins, and Dives in 2015 — also features a gas station, car wash, and boutique. I ordered The Hangover, a monster of a meal that drizzles cheese sauce over sweet potato fries and sliced brisket, topped with a sunny-side up egg, bacon, pico de gallo, green onions, and sour cream. (For the first time in my life, I wished I'd had another cocktail the night before at at Rita's Cantina & Bar so I could appreciate this magical dish as intended.)
I never thought of the Southwest as a wine region, but a visit to Arizona Stronghold's tasting room proved me wrong. I sampled a flight and learned that some of the world's oldest wine came from Iran, where the climate is similar to Arizona's. The vineyard plays with grapes you don't often see in American liquor stores, like malvasia bianca, and interesting varietal combos. My favorite was the white blend.
And no trip to Scottsdale would be complete without a drink (or two) at the the city's oldest bar, Rusty Spur Saloon. With its nightly live country music and plenty of Western flair, bring your cowboy boots for a rollicking good time.
Tips For Visiting Scottsdale
It's Hot... Like, Really Hot.
The average winter high is an easy 68 degrees, but during the summer, it's legitimately 105. But as I was told by pretty much every single waiter, Uber driver, tour guide, and local, "it's a dry heat," which makes those eye-popping numbers a bit more bearable. Wear sunglasses, smear on sunscreen, and keep refilling that water bottle.
Some restaurants and bars have misting systems installed for a more comfortable experience, but if you're visiting during one of the warmer months, plan your days around the weather. My hike and horseback ride both started at 8 a.m. to beat the midday temps. (For similar reasons, summer weddings in Arizona are sometimes planned around brunch.)
Consider A Fall Or Winter Trip.
Parada del Sol, a weeklong tradition dating back to 1953, takes place in late January or early February. Thirty-thousand people come for a festival, a parade in cowboy-inspired clothing, live entertainment, and an epic block party.
Rodeo buffs, take note: Rodeo Scottsdale is a major attraction held every March, featuring performances, bull-riding, live music, a pageant, and more.
If you wilt in hot weather, consider a trip during the cooler months. As a heads up, March and April can be packed thanks to baseball's spring training. Two million people descend on the city in just 30 days, so unless you're a fan, you might want to steer clear.
Transportation 101
Scottsdale doesn't have its own airport, so visitors will need to fly into Phoenix (PHX), which is a short 15- or 20-minute drive away.
I got around Old Town and the surrounding areas by foot, and the rest of the city by Uber. It was pretty seamless, although I was advised to reserved a car in advance to get back from Saguaro Lake since rideshares aren't common there. I wish I'd done the same for Lost Dog Wash Trailhead. I found one driver 20 minutes away, who canceled 19 minutes later. The next car took another 20 minutes to arrive.