What Is A "DINK"? The Relationship Term, Explained
The acronym defines a way of life.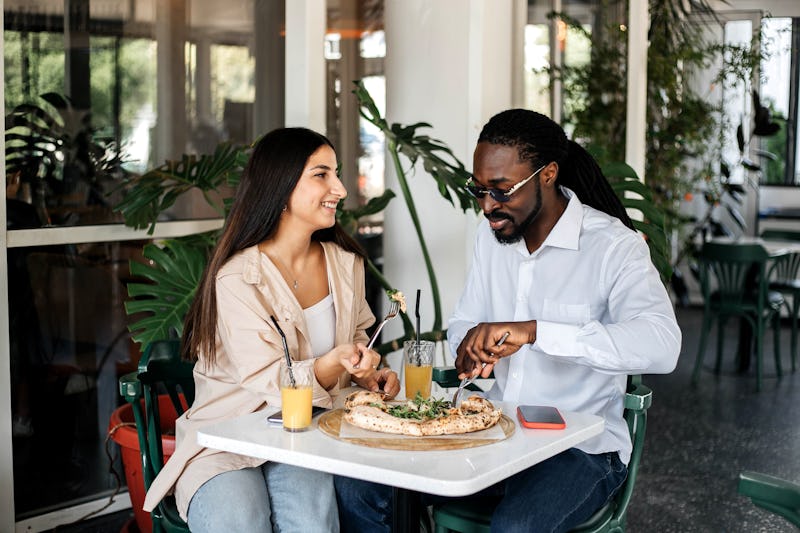 Evgeniia Siiankovskaia/Moment/Getty Images
When you're in a long-term relationship, there's an inescapable question that follows you no matter where you go: "When are you going to have kids?" Friends, family, distant relatives, neighbors, —everyone you've ever met — wants to know about your plans for the future. But the fact of the matter is, not everyone wants to raise children. Some people aspire to live a lifestyle that allows them to live comfortably with their partner without having to plan their day around carpooling to soccer practice. These folks are called "DINKs," and the way of life is quickly becoming an aspirational relationship goal.
If you've ever heard someone refer to themselves as a "DINK," they weren't just calling themselves a weird nickname. The phrase stands for "dual (or double) income, no kids," and childless partners are classifying themselves as such to signify where they are in their lives. Though it seems to be gaining popularity amongst young people today, DINK has been around since the 80s. The acronym was popularized when Nikki Finke investigated the rise of the term for the Los Angeles Times in 1987, but according to the article, the phrase had already been used in New York magazine a month prior.
Finke credited the ability to "beat inflation and income stagnation" as one of the reasons baby boomers felt the need to be DINKs in the 80s. Today, inflation continues to be an ongoing issue (despite the fact that it's slowly easing up), so it's no wonder why Gen X, millennial, and even Gen Z couples would feel similarly.
While there's no single explanation as to why couples today aren't expanding their families, findings from the Pew Research Center in 2021 suggest this way of life might be the norm soon. At the time of the study, 44% of non-parents between the ages of 18 to 49 shared it was "not too or not at all likely" that they would have kids someday, up from 37% in 2018. On top of that, 56% of non-parents under the age of 50 who voted this way said it was simply because they "just don't want to have kids." Per the report, there are a host of other reasons why people are choosing to remain childless, including medical or financial concerns and climate change, and as long as these areas continue to be a source of apprehension, it's fair to assume these numbers won't be increasing anytime soon.
In 1987, the phrase "DINK" was met with gasps of disgust. But these days, couples wear the label proudly and unabashedly. In fact, there are plenty of partners romanticizing their DINK lives on TikTok, like the pair behind the account @thatvancouvercouple. The couple asserts they're in "the thick of their DINK era," and as a childless household, they were able to travel to 10 countries in three months at the end of 2022.
Not only does being a DINK allow folks to travel at the drop of a hat, but they can also do pretty much whatever they want, whenever they want. TikTok couple @jadenandandy, for example, use this stage of life to cozy up and watch movies, while @rosie.piper and their partner get to treat themselves to a mix of homemade and takeout meals during the week."Tuesdays I can do whatever I want because my husband's at golf league," says the creator. Sounds like dinner seems to be a lot less stressful when you're a DINK.
Everyone has their own reasons for why they may not have kids. Whether your reason is financial, logistical, or just personal, just know you're not alone in your aspirations to live a DINK lifestyle.