These 3 Signs Are Most Likely To Be In A Love Triangle — Here's Why
These might find themselves with relationship drama.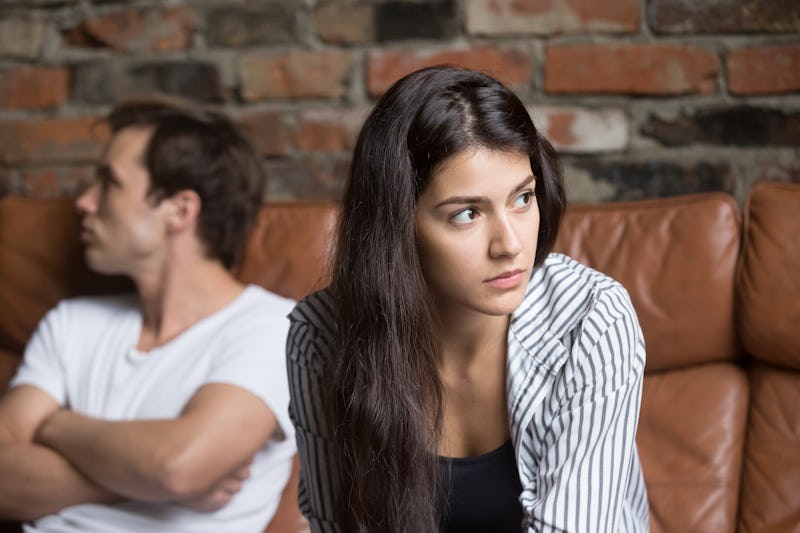 Shutterstock
A juicy love triangle may be fun to watch on The Bachelor it can be a complicated and messy dynamic to deal with in real life. Hopefully, most people won't have to deal with that kind of relationship drama, but some people might naturally find themselves in these situations due to their zodiac sign. According to Theresa Reed, astrologer and author of Twist Your Fate: Manifest Success with Astrology and Tarot, there are three zodiac signs most likely to be in a love triangle.
In astrology, each zodiac sign's personality is influenced by its ruling planet, modality, and element. If you want to see who's likely to be in a love triangle, you want to look at the sign's element, which is the foundation of a sign's personality. For example, earth signs are very stable and grounded, while fire signs are very passionate, aggressive, and fast-moving.
Out of all four elements, air signs would be the ones most likely to be in a love triangle. According to Reed, just like air these people can't stand being contained. "Air signs need breathing room, especially in their relationships," she says. "If they don't get that, they become restless and start to search for other, exciting experiences. So they are most often the ones in the middle of triangles or other complicated situations."
While air signs as a whole may find themselves in love triangles more often than the rest of the zodiac, they all have different reasons for getting in the middle of one. With that said, here are the three zodiac signs most likely to be in a love triangle.
Source
Theresa Reed, astrologer and author of Twist Your Fate: Manifest Success with Astrology and Tarot