13 Fun Games That Are Perfect For Virtual Surprise Parties
Prepare to laugh out loud.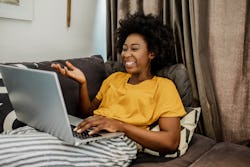 blackCAT/E+/Getty Images
While going to a boozy birthday brunch or meeting up at a bar for happy hour hasn't been an option for most people in the last year, virtually getting together with friends has been the highlight of quarantine. And by now you're no stranger to Zoom parties and have probably even hosted one or two yourself. Of course, having fun games, ice-breakers, and activities to do virtual parties is a must — and it's especially true when you're planning a Zoom surprise party.
If the crew at the virtual party doesn't all know each other, games like Mystery Talk and Psych! are great for breaking the ice and getting everyone feeling comfortable. And brainy games like Two Truths And A Lie, Celebrity Names, and How Do You Doo are all great when you want to liven the party up. And you'll want to throw in games like the Surprise Matching Game and the Press Conference Game to shine a light on the guest(s)of honor.
Ready to make this virtual surprise as good as one IRL? Whether you're throwing a virtual surprise birthday party or just a surprise celebration, these 13 games are sure to get the Zoom party started.