Heartwarming Stories Shared By Immigrants Online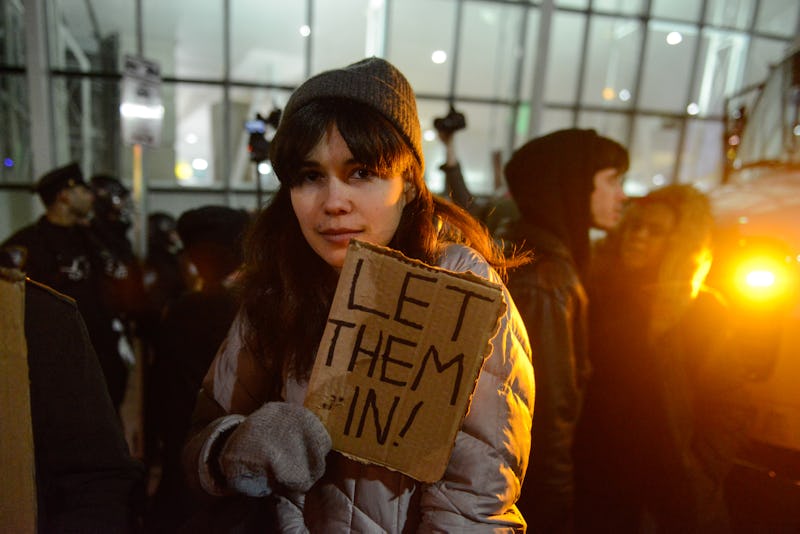 Stephanie Keith/Getty Images News/Getty Images
On Friday, President Donald Trump signed an executive order he claimed was designed to prevent domestic terror attacks. But as stories shared by immigrants on Twitter show, the travel ban has proved to be a mess of confusion, with some travelers detained at airports despite having obtained visas or being legal residents. Protests have erupted at airports around the country, beginning on Saturday and continuing into Sunday afternoon.
You can read the full text of the executive order on CNN, but here's the general idea. The ban places an indefinite hold on entry of refugees from Syria, instates a four-month hold on refugees from all other countries, and bars all travelers from seven majority-Muslim countries (Iraq, Syria, Iran, Libya, Somalia, Sudan and Yemen) from entering the United States over the next 90 days. As the Washington Post points out, the order also affects U.S. residents with dual citizenship and green-card holders from these countries who were abroad when the order was signed. It's also worth noting that Trump has made clear his intentions to build a wall between the U.S. and Mexico, further shutting the country's borders.
On Saturday night, a federal judge in New York blocked part of the ban, and similar actions have begun in federal courts in Virginia and Washington state. But just to drive home that the U.S. should welcome all immigrants — after all, the Pilgrims came to North America fleeing religious persecution — here are 13 stories from immigrants on Twitter showing what the country is truly about.