14 Women Who Made Us Proud To Be Feminists In 2016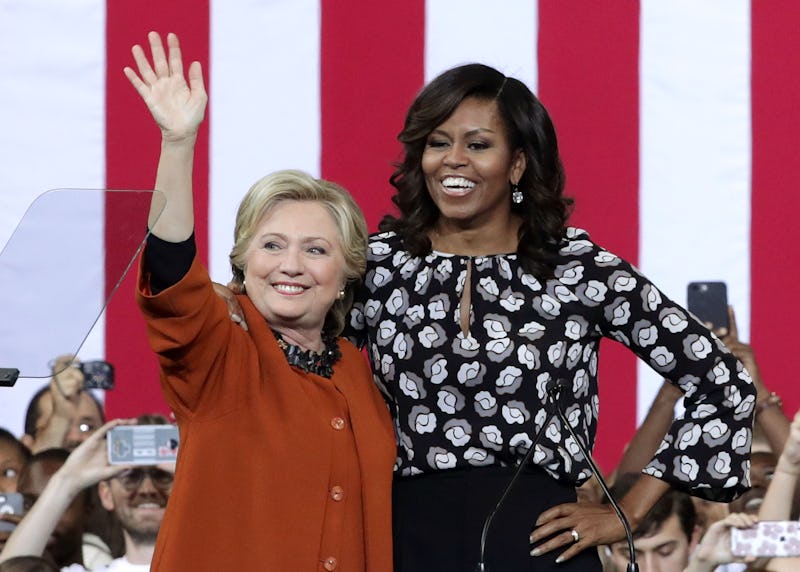 Alex Wong/Getty Images News/Getty Images
The year is finally over and I can't help but say, good riddance. Between a slew of restrictive anti-abortion bills and the election victory of a man who openly bragged about grabbing women by their genitals, I can hardly blame anyone who thinks 2016 turned out to be one giant disaster of a year for women. However, a look back on the year's events shows there were plenty of moments that proved it wasn't all a complete for women's rights. In fact, there were dozens of women who's actions and words made feminists proud the world over.
From athletes to celebrities, politicians to activists, women in a multitude of industries remained resolute in their fight for women's rights and feminist causes. As one American presidential candidate fueled his campaign with a hateful and sexist rhetoric, more women spoke out against sexual assault and harassment. Others demanded equal pay, access to affordable health care, and control over their own bodies. While 2016 certainly gave women's rights activists around the world more than a few setbacks to overcome, there were dozens of women who proved that feminism isn't going anywhere.
While this list is in no way a complete round up of the year's inspiring feminist champions, here are 14 women who made us proud to be feminists in 2016. Presented in no particular order.
1. Emma Watson
Emma Watson pushed a subject long considered taboo into the national spotlight when she endorsed the sexual pleasure research site OMGYes in a February talk with Gloria Steinem. "It's a pretty cool website," Watson said. "I wish it had been around longer."
2. Chimamanda Ngozi Adichie
It's been a busy year for leading feminist author Chimamanda Ngozi Adichie. In the last 12 months she's given birth and challenged cultural preconceptions on makeup and a women's duty to "perform pregnancy." And few could forget her refusal to allow a white male – Editor-In-Chief of American Spectator R. Emmett Tyrrell, to be specific – define what racism is.
3. Beyoncé
When Beyonce dropped Lemonade, her sixth studio album, in April she also dropped a few political truths. The singer continued to use her platform to advocate for feminism and political causes like equal pay and police violence. "I don't understand the negative connotation of the word [feminism]," she said in an interview with Elle. "If you are a man who believes your daughter should have the same opportunities and rights as your son, then you're a feminist. We need men and women to understand the double standards that still exist in this world, and we need to have a real conversation so we can begin to make changes."
4. Leslie Jones
When racist and sexist internet trolls attacked actress Leslie Jones for her success in the Ghostbusters reboot, she fired back. Jones outed many of those who sent rude and prejudiced tweets her way in a powerful message on the importance of confronting sexist and racist attitudes head on. "Everybody knows an a**hole," Jones tweeted. "Check them for their hate."
5 & 6. Elena Favilli & Francesca Cavallo
In an effort to provide young girls with better role models, Elena Favilli and Francesca Cavallo used kickstarter to crowdfund a feminist children's book in April. The book, set to be titled Goodnight Stories For Rebel Girls, will tell the inspiring stories of 100 strong and capable women.
7. Fu Yuanhui
Chinese Olympic swimmer Fu Yuanhui helped stomp out the stigma associated with talking about menstruation when she spoke candidly with reporters about getting her period during the Olympic Games.
8. Kelly Oxford
Canadian writer Kelly Oxford turned Donald Trump's deplorable comments about grabbing women's genitals into a teachable moment when she used them to start a global conversation about sexual assault. More than a million women responded to Oxford's call to share their stories of harrassement and assault under the hashtag #NotOk.
9 (& 10 & 11) The Three Women Who Quadrupled The Number Of Minority Women Serving In The U.S. Senate
While America didn't elect its first female president on Nov. 8, the three women still made history. The election wins of Tammy Duckworth in Illinois, Kamala Harris in California, and Catherine Cortez Masto in Nevada quadrupled the number of minority women in the U.S. Senate. All three women have built their political career pushing for feminist causes like equal pay and domestic violence services.
12. Michelle Obama
First Lady Michelle Obama has long been a champion for women and girls and 2016 was no exception. Not only did the first lady continue to advocate for girls' access to education through her Let Girls Learn program, but she provided some of the best rebukes to Trump's sexist remarks. In October, she gave an impassioned speech against the sexist and misogynistic rhetoric employed by Trump's campaign. "This is not something that we can ignore," Obama said in reference to comments Trump had made while filming for Access Hollywood. "Let's be very clear: strong men, strong men, men who are truly role models, don't need to put down women to make themselves feel powerful."
13. Sarah McBride
When Human Rights Campaign National Press Secretary Sarah McBride spoke about the importance of continuing to advance LGBTQ rights at the Democratic National Convention in July she became the first transgender American to ever address a major-party convention. While McBride's DNC address was a historic moment in the fight for transgender rights it wasn't the first time McBride had broken down barriers. In 20120, McBride was one of the first openly transgender people to serve in the White House.
14. Hillary Clinton
While she may not have managed to win the presidential election and smash through America's highest glass ceiling, Hillary Clinton was undoubtedly one of the year's most inspiring figures. Even in defeat she served as an inspiration to women and girls everywhere. "To all of the little girls who are watching this, never doubt that you are valuable and powerful and deserving of every chance and opportunity in the world to pursue and achieve your own dreams," Clinton said in her concession speech.
Perhaps one of the year's biggest impacts is, as Twitter user Radhika Vaz pointed out, that it rallied a significant number of women to political and feminist causes. "A lot of a women who were not sure if they were feminists are now definitely feminists," Vaz tweeted. Here's to 2017 and continuing the fight for equality.