Carry These LGBT Signs To The Women's March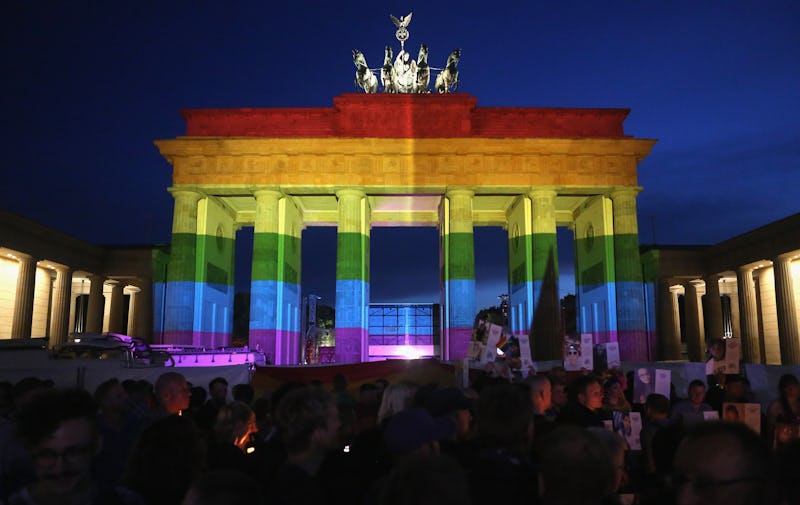 Adam Berry/Getty Images News/Getty Images
The Women's March on Washington is expected to be a huge event where people from across the country will stand up for equal rights for women, immigrants, and the LGBT community. While there will be rallies and speakers during the event who will spread the message of equality for all, you may be interested in making your own sign so that your personal views can be heard. And if you want to demonstrate your solidarity for the LGBT community, you have lots of Women's March sign ideas to choose from.
The views of President Donald Trump's administration are scary for many members of society. And Vice President Mike Pence's history with the LGBT community is pretty horrible too. For example, he signed a religious freedom bill as governor of Indiana that would have essentially allowed businesses to discriminate against people based on their religious beliefs. He was also an opponent of gay marriage. Then there are Housing and Urban Development nominee Ben Carson's previous comments about homosexuality and marriage. Overall, it's a pretty scary climate for some of America's most vulnerable communities. And the Women's March is the perfect opportunity to stand up for these people.
Showing up for a march is of course a great way to show your support. But carrying a sign is also a powerful message to send to the Trump administration, which includes people whose views on the LGBT community are not acceptable.
1. We Can Build A Wall, Too
2. Love Is The Greatest Act Of Resistance
3. I Do Not Like Your Hate For Gays
4. We Are Better Than This
5. Carry A Pride Flag
6. Donald Trump, Sashay Away
7. Love Trumps Hate
8. We Will Not Live In Fear
9. Love Is Love Is Love Is Love
Take a page out of Hamilton creator Lin-Manuel Miranda's book by using part of his tribute to the Orlando shooting victims from his Tony acceptance speech. Miranda said, "Love is love is love is love is love is love is love is love cannot be killed or swept aside." It was a powerful message then and would be a powerful tribute to those lost in the shooting.
No matter what you chose to carry with you on Saturday, the most important thing is showing up and standing up for equal rights for all. In the next four years, we have to be paying attention to what is happening and when the Trump administration's actions are not aligned with our values, we must speak up in protest. It starts with the Women's March, but it continues until we gain the rights afforded to men.