Ariana Grande Has Baby Bangs Now & Her Fans Have A Lot Of Feelings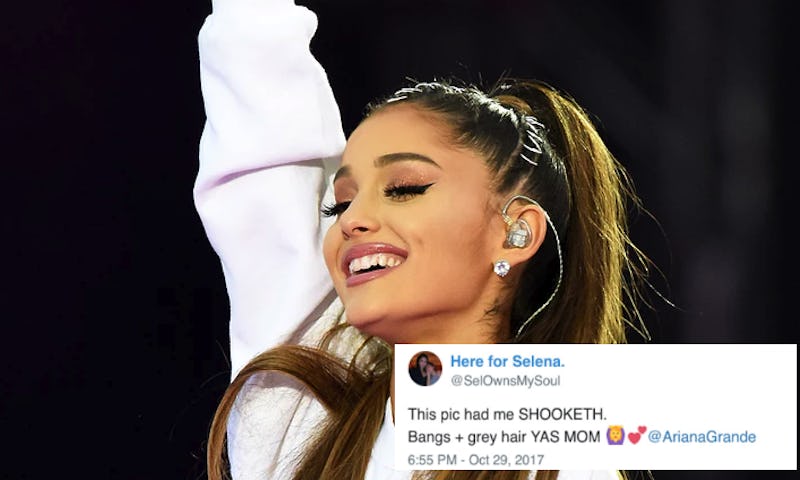 Getty Images/Getty Images Entertainment
There's probably more iconic hairstyles than you think. From Marilyn Monroe's curled platinum bob to Farrah Fawcett's swept back bangs, some styles will go down in history. A modern one that may make the cut? Ariana Grande's ponytail — but the singer may be straying from her signature 'do. Ariana Grande has baby bangs now, but are they real? The star debuted a new look that was definitely not her signature pony over the weekend, and let's just say that fans are shook.
The change is pretty shocking because in the world of celebrity hair, Grande's brunette pony is already iconic. The actress and singer has been slaying the game in her high pony for years now, but recently she switched up her hair color to a gorgeous gray. Now, she's made another change. Ariana Grande's baby bangs have given her hair a totally different look that fans are hoping stays around for awhile.
Of course, this isn't the first time that Grande has rocked bangs. She had a longer and much thicker style back in 2016. Now, though, she's transitioned to some seriously chic, wispy baby bangs.
The cut is apparently courtesy of celebrity hairstylist Chris Appleton who seems to be coming off of a busy weekend constructing Kim Kardashian West's incredible hair looks for her Halloween costumes. Obviously, he had time to work in a session for Grande, and based on his Instagram image, the bangs could just be the real deal.
He captioned the image with a few pairs of scissors. Of course, that could mean absolutely nothing, but considering that Grande's hair game is impeccable, does it really matter how she achieved it? Answer: Not one bit, especially when her fans are so stoked for the new look.
Some fans feel unworthy of the new look. It is seriously that instantly iconic.
Others are feeling personally blessed by the change in her hairstyle.
As to be expected, there are some slightly shady, but still absolutely hilarious reactions to the cut.
The consensus, however, definitely seems to be that fans are in love with the look. And how could you not be? Ariana looks so sassy and so confident.
People are legitimately slayed by her look. It's straight fire.
Actual tears may have been shed. Actual hair appointments may have been booked.
Plus, considering that Grande's gray locks just appeared on her social media three weeks ago, her fans are basically getting two switch-ups in one month. The blessings from the Ariana Grande hair angels just keep coming.
While fans are questioning whether the hair change is real, the biggest sign comes back to the color. The tone of her baby bang hair style seems to match her newest gray look, which is a sign the hair could be legit. But the quaff could also be a killer lace front doing the damn work to trick us all.
Until Grande or Appleton chooses to reveal the origin of her hair, fans will be guessing.
It wouldn't be the first time Grande has rocked a wig. She donned a purple one while in Tokyo and looked just as stunning as she does now with grey hair.
Then there are the moments when Grande literally lets her hair down, and it basically changes her entire face. Who is that girl?
While Grande may not be reaching Kylie Jenner levels of hair changes, it's not all ponytails all the time anymore — even if they are iconic. Grande's baby bangs are just the latest in her recent hair changes. If fans are lucky, hopefully the changes will keep on coming.