What Happens When A Bride Actually Tries To Give Her Maid Of Honor A Dress She WON'T Hate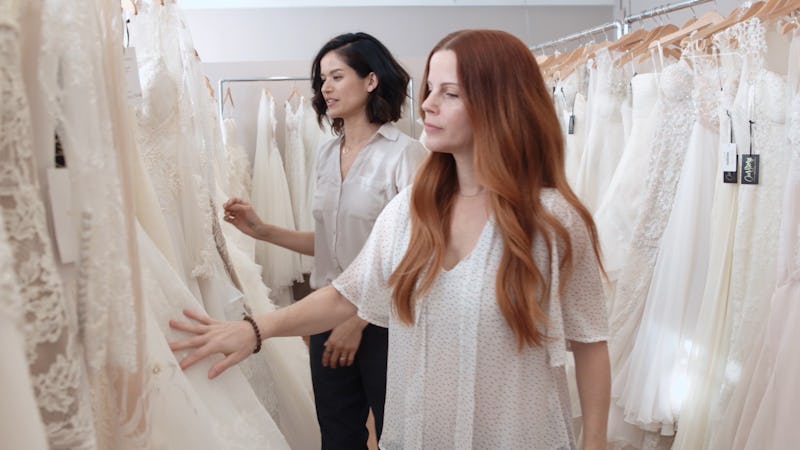 Even if you're the best of friends, being someone's Maid of Honor at their wedding can cause some tension — particularly when it comes to the dress. The fourth episode of Bustle's Bridesmaid Upgrade, a show that helps brides and their bridesmaids find a dress they're both happy with, follows Lauren (the MoH) and Taralê (the bride-to-be), who've been friends for over 18 years. Lauren is the only person Taralê has asked to be in the bridal party, so finding the perfect look to complement her wedding dress is crucial.
Over nearly two decades of friendship, the pair has seen their share of style choices many of us made in the early '90s: brows that'd been plucked nearly into oblivion, halter tops paired with enormous hoop earrings, two tiny strands of hair pulled out in the front of an updo... and beyond. "Being 5'10," I'd often have clothing made," Taralê tells Bustle, talking about her style back then. "I designed a two-piece number. Halter top and tapered pants. Both made of a black patent leather. It didn't breathe very well!" Now they've settled into their own senses of personal style — so when Taralê whips out a dress she wants Lauren to wear at her wedding that doesn't particular suit Lauren's fancy, tensions start to mount.
In particular, Lauren is concerned that the gown — which is strapless with a long, gauzy skirt — doesn't really match up with the more modest and laid-back style she's come to adopt after having four children. "I definitely wanted a little more coverage," she says in the video. Plus, the sweetheart bodice of this dress doesn't exactly lend itself to easy breastfeeding. Lauren tells Bustle that her personal style these days is "all about comfort."
At first, Lauren is down to grin and bear it as her friend walks down the aisle, but when the duo goes wedding dress shopping a few days later, Taralê asks for Lauren's honest opinion on the dress... and Lauren doesn't hold back about her feelings, but still agrees to wear it if it'll make her best friend happy. After all, Taralê had worn the dress Lauren picked when she was her Maid of Honor.
Taralê, determined not to leave Lauren upset, decides to team up with New York-based dress designer Nikki Chasin to do some major alterations to Lauren's Maid of Honor look. While Chasin doesn't typically make dresses specifically with weddings in mind, she tells Bustle, "my design aesthetic tends to be on the fancier side, so there's not a big difference." Taralê knew she wanted to keep Lauren in white, because "I didn't want her to blend away as a guest," she explains. "There's something bold about wearing white [to a wedding]!" So, the pair work to keep parts of the dress the same, while focusing on adding some of the elements Lauren expressed wanting earlier on in the episode.
"I want customers who wear my garments everyday to be special, whether it's a wedding or a trip to the grocery store!" Chasin tells Bustle, and for this dress, that meant adding more comfort. "I wanted comfort to be a key component of the dress — not only a comfortable shape, but easy access and comfort breast feeding," Chasin says.
A few days later, Taralê invites Lauren to what Lauren thinks is Taralê's final wedding dress fitting — but it's really a chance to give Lauren a brand new Maid of Honor look. To see the final product, check out the fourth episode of Bridesmaid Upgrade below.
Will their friendship pass the bridesmaid dress test? Watch Bustle's new show, Bridesmaid Upgrade, to find out. Episodes 1 - 4 are available now on Facebook, with new episodes airing every Tuesday!