Busy Philipps' Daughter Has A Halloween Costume That'll Make You Laugh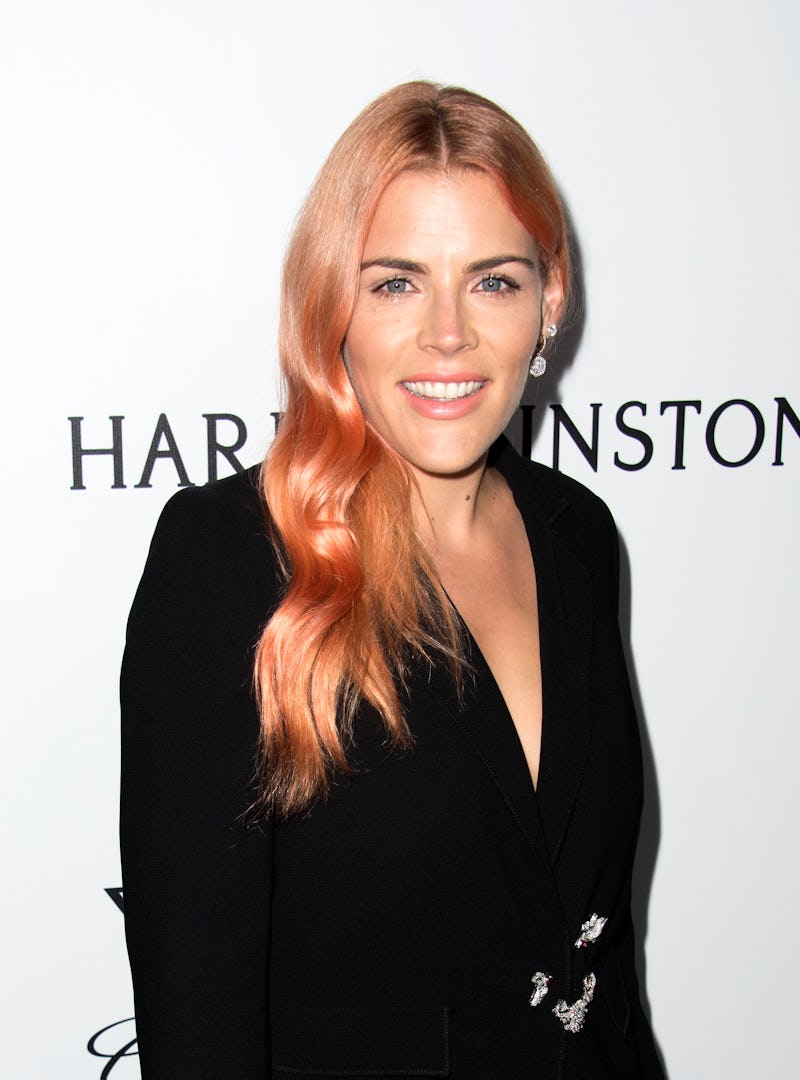 VALERIE MACON/AFP/Getty Images
It's Halloweekend, and stars are already sharing their looks. In a post on Instagram, Busy Philipps' revealed that daughter dressed up as her for Halloween, and the hilarious costume shows that their sense of humor runs in the family. The actor, who is best known for her roles in Judd Apatow's '90s cult favorite Freaks and Geeks and Cougar Town, often posts funny moments to her social media accounts. Philipp's Instagram stories, which document the ups and downs of her Hollywood life, are an unexpected viral hit. In September, the New Yorker published an entire feature on how well Philipps uses Instagram Stories, writing that the star "turned her life into a sitcom." Her daughter Birdie's uncanny Halloween costume shows that the two clearly share the comedy gene.
In the Instagram picture, Birdie wears a long floral dress, sneakers, sunglasses, red pom pom earrings, and Philipp's trademark high ponytail. She's also clutching a half-full glass of coffee, and looking at her iPhone with a less-than impressed expression. Her hair has the faint tint of pink dye in it, and she even borrowed her mother's "Chill Pill" phone case. It's a spot-on impression, and some commenters on the account didn't even realize that it wasn't Philipps herself. The post clearly shows that, like her mother, Birdie shares a dry and ironic sense of humor, and might have the potential for future Instagram-stardom as well.
The actor was also amused by her 9-year old daughter's costume choice, writing, "I'm dead" as the caption. In her Instagram story, she also commented on the look. "You guys, I just looked at Birdie's Halloween photo that I posted I'm gonna start to cry it's so sweet," Philipps said in a video. "I know she's making fun of me. I mean, she's just being silly, she's not making fun of me. She's kind of making fun of me but she's just her own person and I really respect that." Apparently her daughter asked Philipp's to bring a large Starbucks coffee to school to complete the look, as that's what the star always has on hand.
It was a true Freaks and Geeks moment for Birdie, whose whole friend group chose unique looks for the dress-up day. In another picture on Philipp's account, Birdie's two friends are dressed as Skrillex and Evan Hansen. They look super adorable, but the costumes are definitely niche references. It's not surprising that other kids at school thought her daughter's costume choice was odd, but Birdie ultimately decided against buying a store-bought look to fit in.
"Birdie was questioning whether she should just get a store bought costume because a girl at school was like, 'You're gonna be your mom? That's so weird,' and Birdie was feeling insecure about it, but then yesterday she was just like, 'No, I wanna do it. That's what I wanna be,'" Philipps also shared, according to People. "That's what I feel like I was growing up. We had our little group of creative weirdo friends, but the other kids kind of were like, 'What? I don't get it.'" Her daughter clearly marches to beat of her own drummer, and since Philipps is a unique star, this was likely her teaching.
Birdie's elementary school peers might not have understood the funny costume, but fans online were living for it. In a later post, Philipp's revealed that she went to meet her daughter at the Halloween carnival wearing a matching outfit. Meanwhile, the actor put together a well-detailed costume of her own. On Saturday, she went as Hansel Schmidt, a character from the film and musical Hedwig and the Angry Inch, a story which follows the lead singer of the fictional rock band by the same name. While not a humorous costume, Philipps clearly put tons of effort into the look and it turned out great.
Her daughter's hilarious costume shows that comedy, and a love for Halloween, runs in the Philipps family. These Halloweekend posts are just another reason to follow the star's legendary Instagram account, which is full of candid stories, insight into the entertainment industry, and her kids telling jokes. It's only a matter of time before Birdie and Cricket are old enough to start a hit web series on their own Instagram accounts as well.