Cardi B Dressed Like Lisa Left Eye Lopez At Coachella & Fans Are Loving The Tribute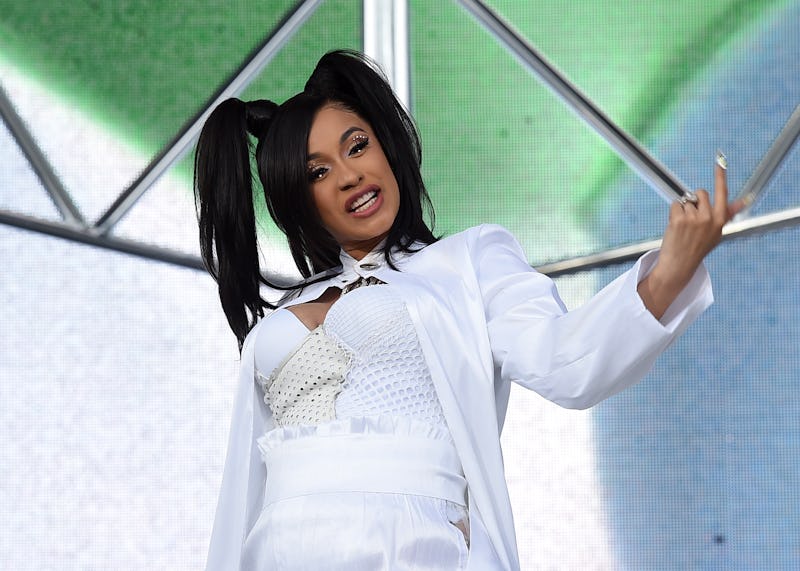 Kevin Winter/Getty Images Entertainment/Getty Images
It's been an incredible few weeks for Cardi B. The artist has not only dropped a smash of an album that lit up social media, but she has also appeared on Saturday Night Live and announced that she's pregnant. As if she couldn't make Twitter any happier, Cardi B's Lisa 'Left Eye' Lopes tribute at Coachella has fans of the Bodak Yellow rapper celebrating the greatness of Bardi.
Of course, it's hard to even speak about Coachella without mentioning that epic Beyoncé performance, and during the weekend, #Beychella began trending on the social media site. Now, though, there's another Coachella inspired hashtag, and it's all about Cardi B. #Boachella is the Cardi equivalent, and given that Cardi is open about her admiration for Bey, there's no reason these hashtags can't exist in harmony with one another.
This one, though, is all to praise Cardi who's performance during the annual music festival had Twitter users stunned. From her next level twerking abilities (while pregnant) to her guest stars to her style, she's charmed pretty much every Coachella viewer.
While every part of her performance honestly deserves a standing ovation, it was her style tribute to TLC and former member Lisa 'Left Eye' Lopes that had the world spinning. During her set, Cardi paid homage to the iconic band and its members with both her beauty look and her clothes.
One Twitter user spelled out how Cardi B was paying homage to the iconic TLC.
He is totally spot on. The all-white outfit Cardi wore with her dancers is definitely a clear throwback to the band's 1996 Grammy appearance where they won Best R&B Album and Best R&B Performance for CrazySexyCool and 'Creep' respectively.
Even the sheer paneling on the side of Cardi's pants seem to be a direct link to the band and their outfits from their winning year. Plus, according to Allure, Cardi even posted an image of the band from the 1996 Grammy Awards to her Instagram account before the show.
As for her ponytails, those certainly seem to have been inspired directly by Lisa 'Left Eye' Lopes and her look in the "Dear Lie" music video.
The look is almost a perfect duplicate.
It's hard to deny that the look was great on Cardi.
Finally, there are the rhinestones on her eyes to honor Tboz's iconic makeup look from the "No Scrubs" music video.
The look was perfection then just like it is on Cardi now.
Just stare at how amazing she looks.
With all the TLC references, Twitter was immediately shook. From those loving that Cardi paid tribute to female musicians who came before her to others just loving see Cardi embody the band, Twitter was lit with reactions to her performance.
Every single part, including the Left Eye tribute, was perfect to some.
The TLC inspiration certainly did not go unrecognized.
The Left Eye homage definitely seems to have been the favorite, though.
While some may have only noticed the all-white outfit, people were quick to remind users that the hair was also part of the tribute.
Could pigtails become the next big thing? According to this Twitter user, they certainly could.
That doesn't mean users dismissed the ensemble, though.
Whether you're a fan of Cardi B, TLC, or both, the homage to the famous band is near perfect. From the all-white outfits to the pigtails and the rhinestone eye makeup, Cardi paid tribute flawless right alongside slaying her own music and bringing guests on stage. If you aren't on team Bardi yet, now may be the time to start paying attention. If social media is any indication, Cardi B's already meteoric star is going to keep soaring even higher.