Christine Blasey Ford's Lawyer Suggests The Scheduled Hearing Still Isn't Cutting It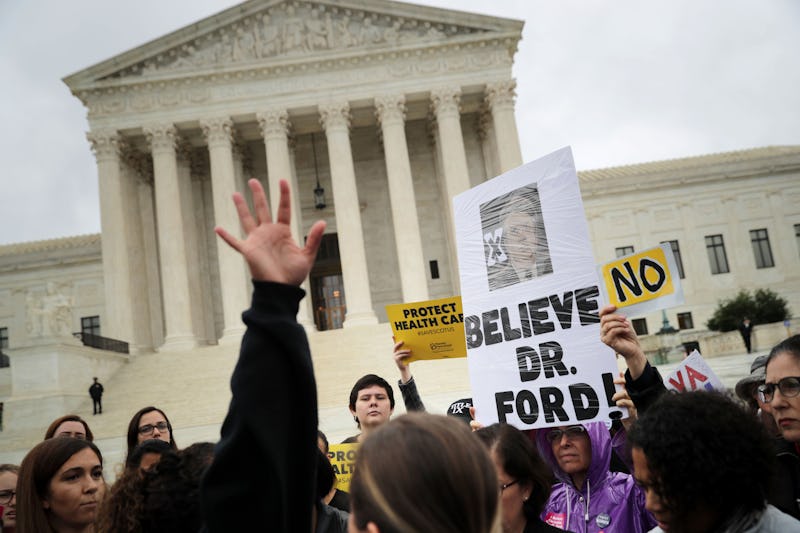 Chip Somodevilla/Getty Images News/Getty Images
With the Senate Judiciary Hearing coming up on Thursday, Christine Blasey Ford's lawyer, Michael Bromwich, has warned that the hearing could turn into a "circus," according to a letter he sent to Senate Judiciary Committee Chairman Chuck Grassley. Bromwich is one of several lawyers representing Ford. In the letter to Grassley, he advised Republican senators against hiring an outside sex crimes prosecutor for counsel, reminding the chairman that the hearing is not a criminal trial.
In the letter (via The Hill), Bromwich wrote:
[It] is contrary to the Majority's repeated emphasis on the need for the Senate and this Committee's members to fulfill their constitutional obligations. It is also inconsistent with your stated wish to avoid a "circus," as well as Dr. Blasey Ford's repeated requests through counsel that senators conduct the questioning.
This is not a criminal trial for which the involvement of an experienced sex crimes prosecutor would be appropriate. Neither Dr. Blasey Ford nor Judge Kavanaugh is on trial. The goal should be to develop the relevant facts, not try a case.
Grassley has not clarified whether or not an outside prosecutor will be hired to question Ford, or whether the senators themselves will do the asking. In a statement last Friday, Grassley said, "We reserve the option to have female staff attorneys, who are sensitive to the particulars of Dr. Blasey's allegations and are experienced investigators, question both witnesses."
HuffPost reports that the Republican senators on the Senate Judiciary Committee have been so concerned about the "optics" of their questioning of Ford that they've considered several options. These options include hiring special counsel, as discussed above, or even using female staffers to ask their questions for them. Some female Senate aides are reportedly "appalled" at this idea.
This isn't the first time one of Ford's lawyers has pointed out issues with the upcoming hearing process. About a week prior, both Debra Katz and Lisa Banks sent a letter to Grassley asking for an FBI investigation to take place prior to the hearing. They wrote:
An FBI investigation of the incident should be the first step in addressing [Ford's] allegations ... [to] ensure that the crucial facts and witnesses in this matter are assessed in a non-partisan manner, and that the Committee is fully informed before conducting any hearing or making any decisions.
A couple of days later, Katz emailed the committee, letting them know her client would testify, but only if "we can agree on terms that are fair and which ensure her safety." Though the committee bumped Ford's hearing from Monday to Thursday, the White House has yet to call for a formal FBI investigation into the allegations.
Still, both Kavanaugh and Ford are set to testify on Thursday. It's unclear who, specifically, will ask questions from each witness, if not the senators on the Senate Judicial Committee. But one thing is clear: If the all-male, all-white sect of Republican representation on the committee does not choose to question Ford directly, it's likely going to be a controversy.