Danny Is Back On 'The Mindy Project' & He Actually Doesn't Suck This Time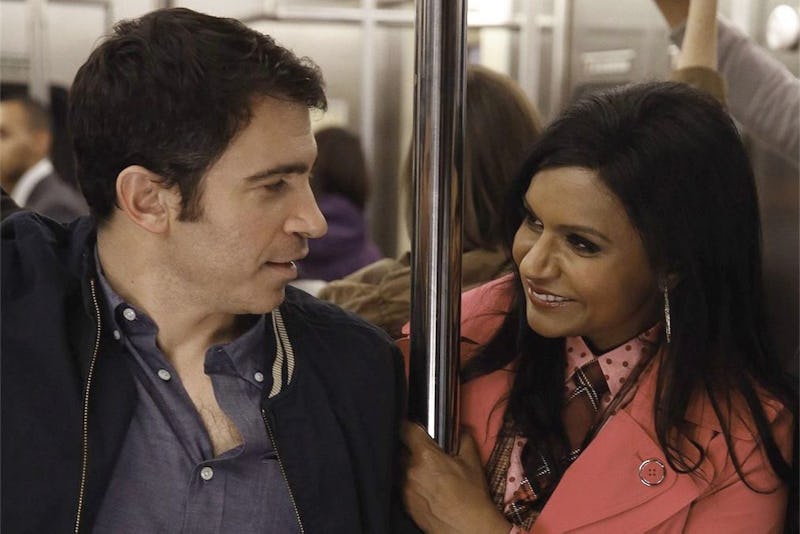 Hulu
Danny Castellano went from being a dream boyfriend with reading glasses, gingerbread houses, and stripteases to spare on The Mindy Project to an Italian stereotype who was kind of the worst. Thankfully, the former is back for the final season. Not only did Danny return to The Mindy Project but he defended Mindy as a working mom. It's nice to know that someone is on her side — especially given Danny's problematic history with Mindy's working mother choices. He didn't want her to start her own practice, and tried to impregnate her so that she'd stay home again. After his actions in the latest episode, Danny may finally be turning a new leaf, or five.
Sure, the two still bickered and goaded each other about their respective marriages breaking up. But at the end of the day, Danny was there for Mindy. When a group of parents low-key bullied and shamed Mindy's parenting skills and she ended up in the principal's office, Danny pointed out the demands of her job and all of the ways that she is an excellent mother to their son, Leo. He also said she was a great role model. Take note, dads of the world! The principal actually dared to call Mindy an absent mother. "I think you're being unfair here," Danny said in Mindy's defense. He pointed out that while Danny and Mindy were both doctors with busy schedules, "this woman here still makes time to make breakfast for her son every morning and sing him to sleep at night." Then they left, because they both had to get back to work.
It's nice to know that even though Danny hasn't been seen on the show for a while, he's still aware of how much Mindy is doing for their kid. Sure, Dr. Lahiri may not read every email blast that her school sends out or volunteer for events and bring snacks that fit every dietary need — but she's there for her son at home and that's far more important. Danny may be more involved at school, but if his afore-mentioned gingerbread house making skills are any indication, that is no surprise. He was always going to be more involved.
They're an excellent model of working parents — a "modern family" if you will, considering that Modern Family star Julie Bowen guest-starred in the episode as the antagonizing mother in question. Raising a child is difficult for everyone. Nobody is perfect, and everyone prioritizes differently. That's fine! The Mindy Project is a workplace comedy with some romance thrown in, but the workplace is an OB-GYN and the show does a great job representing many kinds of families.
At the end of the episode, Danny showed up in Mindy's apartment unannounced with a pizza to share after a particularly stressful day. They finally talked honestly about their divorces without any cutting humor, and enjoyed a quiet evening together. For longtime fans of the show, this is the kind of scene we've been waiting for.
However, don't start swooning and updating your Danny/Mindy OTP playlist just yet. While the final scene between the two of them had a mature ease to it that was both refreshing and realistic, it still doesn't seem like Mindy and Danny will necessarily get back together in a romantic way. They're co-parents and partners, but there wasn't any kind of flirtatious spark or longing look — maybe. Shrewder fans might think otherwise. Then again, they've known each other for so long and have such a complicated history that they might be past the type of flirting we're used to seeing on television.
Is this return foreshadowing the future? It still sort of seems like The Mindy Project is heading towards a "marriage isn't for everyone" type of conclusion in the final season. What started off as a show about romantic comedy conventions is breaking down what all of that schmaltzy wish fulfillment looks like in real life. Marriage is not the ultimate goal of life, and the story never ends there. Danny and Mindy have both been married now. They also still care about each other and love one another. They're a family. Maybe that's all they need. The important thing is that Danny is back, and it looks like he isn't going anywhere.