Why Demi Lovato's Honesty About Her Eating Disorder Relapse In Her New Doc Is So Damn Necessary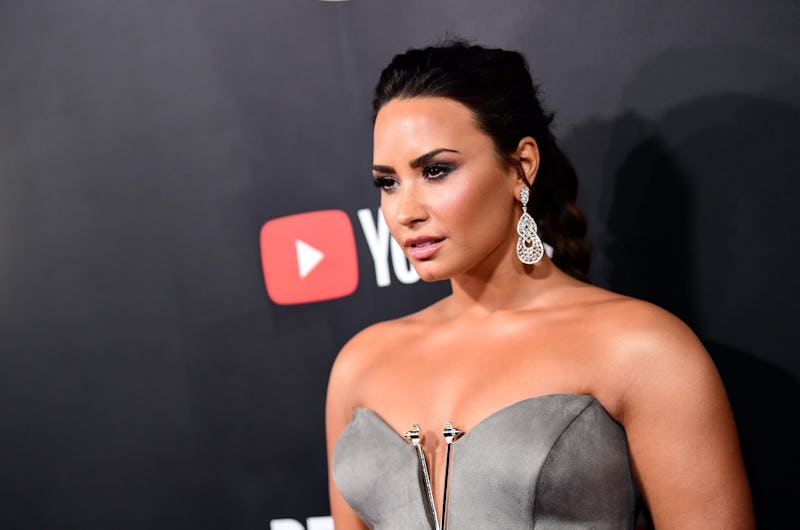 Emma McIntyre/Getty Images Entertainment/Getty Images
Demi Lovato has a big voice, and she's not afraid to use it. When she sings, she belts, and when she's off stage, she doesn't keep her opinions to herself. Needless to say, Lovato does not back down in her new YouTube documentary, Demi Lovato: Simply Complicated. Currently streaming for free, the doc features in-depth interviews with Lovato's longtime manager Phil McIntyre, sober coach Mike Bayer, as well as close family and friends. But most importantly, Simply Complicated continues Lovato's mission to make it easier to talk about mental health. When she opens the documentary by saying "I'm learning how to be a voice and not a victim," she means it, and proves this throughout the moving film by talking openly about her eating disorder and former drug abuse.
Simply Complicated isn't the first documentary by Lovato to focus on her struggles with mental illness and drug addiction; in 2012, MTV aired a film titled Demi Lovato: Stay Strong, recounting the singer's experiences and struggles with her bipolar disorder, eating disorders, and self-harm. At the time, she was touring with her third studio album, Unbroken, viewed as somewhat of a comeback vehicle for the former Disney star. But while Lovato's honesty in that documentary and her rawness on tour inspired many people, there was a truth she wasn't saying: all throughout that period, she was using drugs. "I was either craving drugs or on drugs," she admits now, in Simply Complicated.
At the same time as she was helping fans struggling with depression to keep going with "Skyscraper" and talking to the press about her new sober lifestyle, Lovato was doing cocaine. It's one of the major revelations the singer finally comes clean about in the new documentary, and one of the most important.
Simply Complicated painfully reinforces the point that one is never fully cured or rid of mental illness. Getting better is a constant, ever-evolving battle that requires a lot of help and determination to even hope to win. "I wasn't ready to get sober," Lovato recalls in the new doc of her life while filming Stay Strong. "I needed to get high to go through what I was going through at that point." As she says in the documentary, it wasn't until 2012 that she really got sober, and though the singer proudly declares herself five and a half years sober from drugs and alcohol, she's also incredibly honest about how much work has yet to be done. And that's also true about her eating disorder, as Lovato reveals in the doc that she recently relapsed after several years.
It would be easy for Lovato to use Simply Complicated as a way of celebrating her sobriety and health without sharing other intimate parts of herself with the world. If she wanted to, she could follow in the (completely justified) footsteps of her contemporaries Selena Gomez and Taylor Swift, revealing hints at her personal struggles while keeping some things to herself. Instead, the singer goes in the opposite direction. She's not interested in declaring victory or participating in creating a perfect image for herself, and that much is clear when she opens up about her still constant battle with her eating disorder.
By getting real about her continued struggles and relapses with bingeing and purging in Simply Complicated, Lovato helps take away some of the stigma surrounding eating disorders. Speaking of her early struggles with food, the singer recalls seeing it as a kind of "medicine," something that could make her feel better and less alone. "When I feel lonely, like, my heart feels lonely, and then I end up bingeing. And I don't know how to figure out how to be alone," she says. And, in one of the more heartbreakingly relatable moments she admits how much food can control her, even today. "I don't want to give it the power to say it controls my every thought, but it's something that I'm constantly thinking about," she says. "Body image, what I think I'm going to eat next, what I wish I could be eating, what I wish I didn't eat... It's just constant."
Lovato may be a celebrity, but she doesn't owe us anything, especially when it comes to her own personal demons. By continuing to open herself up and make herself vulnerable in interviews and projects like Simply Complicated, Lovato is giving her fans an incredible gift. She's making it OK to talk about mental illness, but more than that, she's making it OK to admit when you're not OK. I know, because that's exactly what she did and continues to do for me. I went through a depression at the same time as Lovato was being diagnosed with bipolar disorder. When she abruptly announced she would be going to rehab in 2010 for addiction and emotional issues, I was crying my days away in my dorm room. And when she came back in 2011 with "Skyscraper," I was six months into getting treatment for my depression.
For me, it felt like Lovato and I were going through this thing together, like if she could survive and turn her horrible experience into a positive for millions of fans, then I could certainly keep going. More than that, however, it gave me a way to talk about my own depression to family and friends. I could explain what my depression was like by pointing at interviews of Lovato or explaining why "Skyscraper" made me cry. Her honesty all those years ago made it easier for me to talk about my own struggles and express my mental illness, and her new documentary continues to carve a path for those of us struggling to talk open and honestly about mental illness and mental health.