Register For The Women's March & Join Thousands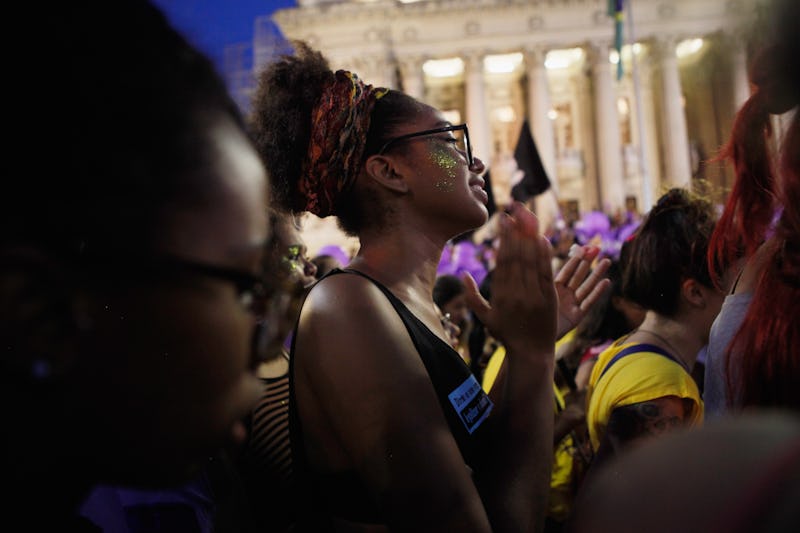 Mario Tama/Getty Images News/Getty Images
The Women's March on Washington, scheduled for Jan. 21, is set to be one of the largest protests in recent U.S. history. Organizers expect hundreds of thousands to march nearby Capitol Hill next week, while nearly 600,000 people are expected to attend domestic and international sister marches held in over 280 cities across the globe, according to the march's official website. Do you have to register for the Women's March on Washington? Although it's not a ticketed event, organizers do want attendees to register.
Women's March organizers are urging those interested in attending the Washington, D.C. march to fill out this Google Doc questionnaire. The questionnaire will help organizers with logistics and understanding who is attending the march. The document only includes several questions, including how are you arriving at the march and if you plan on using the D.C. metro.
For attendees who plan on traveling to Washington, D.C. in a big group, Women's March organizers encourage registering a bus. The organizers want all local bus coordinators to fill out a separate Google Doc questionnaire to register their buses. This questionnaire is quite a bit longer than the simple registration.
In addition to the Google Doc questionnaire, people can register for the Women's March on Washington through EventBrite. No ticket for the march is required, and the event is totally free.
A number of national and international organizations have signed on to partner with the Women's March, including Planned Parenthood, EMILY'S List, the National Organization for Women, AFL-CIO, Amnesty International, Center for Reproductive Rights, Greenpeace USA, NARAL Pro-Choice America, the NAACP, Catholics for Choice, and the National Partnership for Women and Families. On Saturday morning, Planned Parenthood President Cecile Richards tweeted a photo of her learning how to knit a pink hat for the march.
The Women's March on Washington released its decidedly progressive platform earlier this week. Among its planks are ratifying the Equal Rights Amendment, racial justice and ending police brutality, LGBTQ rights, gender inequities in the criminal justice system and among women who are incarcerated, equal pay, and reproductive freedom.
"We believe in Gender Justice. We must have the power to control our bodies and be free from gender norms, expectations and stereotypes," the platform states. "We must free ourselves and our society from the institution of awarding power, agency and resources disproportionately to masculinity to the exclusion of others."
The platform also places a great importance on rights for women of color, who face more discriminatory barriers. "We recognize that women of color carry the heaviest burden in the global and domestic economic landscape, particularly in the care economy," the platform states.
As of now, the Women's March on Washington is expected to be an event — or 282 events, to be exact — that male politicians, including Donald Trump, cannot ignore.