RFK Jr. Has Claimed Vaccines Cause Autism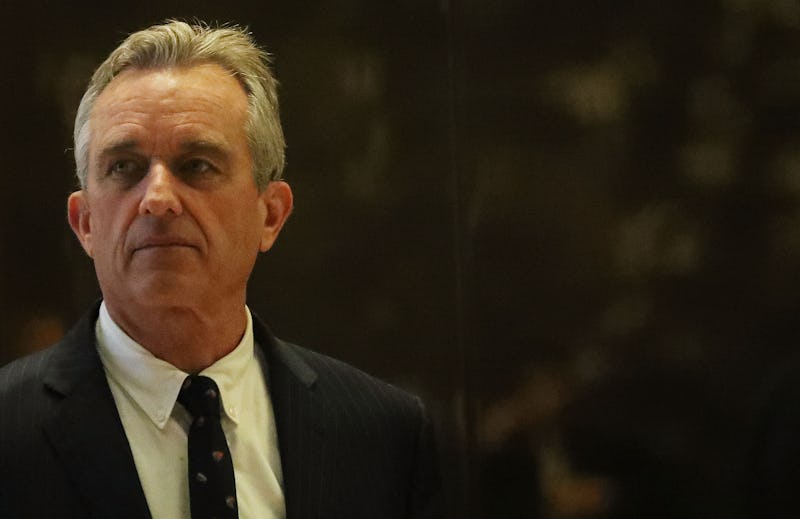 Spencer Platt/Getty Images News/Getty Images
Before even stepping into the presidency, Donald Trump has made some interesting choices in regard to the people he has chosen to surround himself with in his administration. He's tapped ExxonMobil CEO Rex Tillerson for secretary of State, Rick Perry for secretary of Energy, and fossil-fuel industry ally Scott Pruitt as EPA Administrator. So it really shouldn't come as that much of a surprise that he's reportedly picked vaccine skeptic Robert Kennedy Jr. to chair a presidential committee on vaccine safety, according to USA Today.
Despite these reports, Trump said in a statement that he's looking to build a " committee on Autism," but clarified that he hasn't made a decision yet.
As someone with a reputation as a vaccine skeptic, it's a little unclear if RFK Jr. still believes they lead to autism. In 2014, Kennedy wrote a book called Thimerosal: Let The Science Speak about a mercury compound in vaccines which he claims is linked to autism, and he has advocated for parents to have the ability to keep their children from being vaccinated. However, his own children have been vaccinated, according to CNN. Kennedy claims that he isn't anti-vaxx. He says he is actually pro-vaccines, but that he wants to make sure they are safe. So it's all a little contradictory.
Trump made his opinions on autism and vaccines clear in 2014, when he tweeted out a story about a kid getting a vaccine and then developing the disease. "Healthy young child goes to doctor, gets pumped with massive shot of many vaccines, doesn't feel good and changes - AUTISM. Many such cases," he wrote. However, we don't know where this story comes from, or if it's real.
Trump also claimed that vaccines are linked to Autism at a 2015 GOP debate. He told the story of an unnamed two-year-old child who had received a vaccine and became autistic. During the same debate, he said he wasn't against vaccines, but that he was against the dosage given in vaccines, and that they should be spread out more.
According to BuzzFeed, Kennedy wrote articles for Rolling Stone and Salon in 2005 saying the government was suppressing information about the dangers of vaccinations. Salon later retracted the article.
Kennedy said that Trump is interested in gathering more information about the safety of vaccines. "President-elect Trump has some doubts about the current vaccine policies and he has questions about it," he told CNN. "His opinion doesn't matter but the science does matter and we ought to be reading the science and we ought to be debating the science."
To be clear, the science does say that vaccines do not lead to autism, so hopefully this committee will not waste any time debating about that.