Lifetime's New Movie Tells The Incredible Story Of The Women Who Discovered The Flint Water Crisis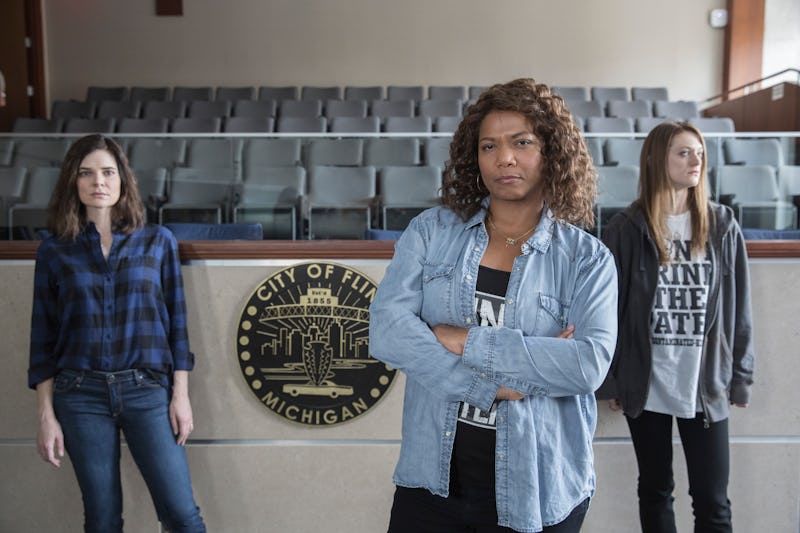 Christelle De Castro/Lifetime
The American public was never supposed to know about the contaminated water in Flint, Michigan. And if it wasn't for a group of concerned mothers and dedicated activists, it's possible that the city would still be drinking poisonous water. Their crusade is now the basis for the new Lifetime movie Flint, a true story about four women who helped expose the Flint water crisis and the government cover up. Based on the Time magazine article "The Toxic Tap" by Josh Sanburn, who served as a consultant, Flint aims to celebrate the heroes who brought the town to the national stage.
Lifetime's original movie Flint is based on a totally true story, and most of the film's leads play real people known for their activism during the Flint Water Crisis. Queen Latifah, who also worked as an executive producer on the project, plays the only fictional lead, Flint resident Iza Banks, in the film. Her co-stars, Betsy Brandt, Jill Scott, and Marin Ireland all play real women who are still advocating for Flint today. And real Flint resident Melissa Mays (played by Ireland in the film) has been helping promote the movie since the summer of 2017. In July, Mays joined Scott, Brandt, and Ireland to promote the film at the Television Critics' Association press tour, where she offered bottles of Flint tap water to members of the press. (According to a report from The Associated Press, via US News, they all declined.) "One of the things we hope come out of this is to let people know it's still not over. It's not even close to over," Mays told the critics.
Mays is one of three real-life heroes represented in Flint. Brandt plays LeeAnne Walters, a stay at home mom who was crucial in taking the fight for clean water beyond local and state government. After learning that one of her sons had lead poisoning and seeing what she saw as mismanagement by local authorities, Walters reached out to the EPA's Midwest water division in March of 2015. This one connection resulted in city-wide testing led by Marc Edwards, a Virginia Tech expert in lead corrosion played by Rob Morrow in the film, and eventually paved the way for some government action. Jill Scott plays activist and organizer Nayyirah Shariff of the Flint Democracy Defense League. Other key players in the Flint Water Crisis, such as Dr. Mona Hanna-Attisha, a pediatrician who tested children's lead levels in the area, and Miguel Del Toral, the EPA employee who helped Walters get in touch with Edwards, also appear in the film.
As for Latifah's Iza Banks, the actor describes her as an amalgamation of many women and Flint residents who joined local protests and became activists during the Water Crisis. "Although [my character] is a composite, it took a lot of people to make a lot of noise to get the word to the right people," Latifah said in an interview with the AP, via BET.
A few fictional characters or details aside, Flint is very much the true story of a community coming together to effect change. "This film served a double role. It shows you can be a citizen. You can be an average person and you can still try to effect change," said the Vice President of original movies at Lifetime, Lisa Hamilton, via MLive. "We know the problem in Flint is ongoing, but we think that what these women did in really bringing it to the forefront and trying to get the process started to fix it is of incredible importance." Filmmakers see Flint as, in many ways, a celebration of the city's residents. In fact, the film recently held a special red carpet premiere and screening of the film in Flint, "I just want Flint residents to know that everyone stands with them," Brandt told the crowd at the premiere.
As the crisis in Flint continues, hopefully Flint will bring some attention back on the city that is still lacking in clean water, as well as inspire other women to organize and fight injustices in their own cities. It's truly a #Resist movie if there ever was one.