Trump Won't Attend Many Inauguration Balls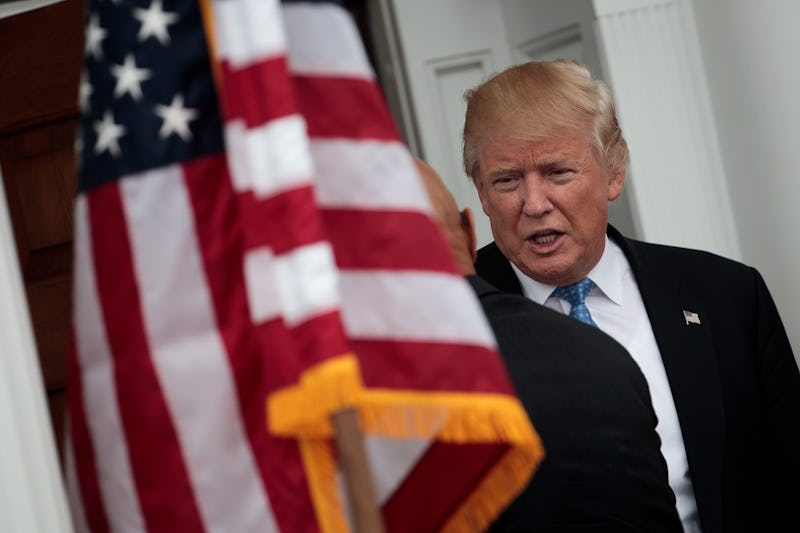 Drew Angerer/Getty Images News/Getty Images
Despite his tweet on Saturday stating that "Inauguration Day is turning out to be even bigger than expected," Donald Trump will attend only three inauguration balls, according to The Washington Post, a low number compared to his predecessors. President Obama attended nine in 2008, George W. Bush attended 10 after taking the presidential oath, and Bill Clinton went to 14 after his first win.
Trump's low number of appearances at balls isn't the only detail that seemingly contradicts his Saturday tweet. At a scheduled duration of 90 minutes, his inauguration parade is set to be one of the shortest on record.
There is also a notable lack of star power in the list of confirmed attendants and performers. Numerous celebrities, whether asked to perform or not, have publicly announced their refusal to show up to the ceremony regardless. The B-Street Band, a Bruce Springsteen tribute act, became the latest to reject association with the event after they backed out of performing. So far, confirmed performers include Jackie Evancho from America's Got Talent, the Rockettes, and the Mormon Tabernacle choir.
In December, the President-elect posted a tweet suggesting that it was the A-list celebrities who were being rejected on his part. "The so-called 'A' list celebrities are all wanting tixs to the inauguration, but look what they did for Hillary, NOTHING," he wrote. "I want the PEOPLE!"
Inaugural committee spokesman Boris Epshteyn said Trump's low-key affair reflects his desire to focus on the important things. "This is a workman-like inaugural. This is not a coronation," he said. "And you've seen some inaugurals in the past that maybe did seem like a coronation. Again, it's every president's choice. This president wants to get to work."
In addition to Hollywood skipping the ceremony, scores of politicians will be spending Inauguration Day somewhere else. So far, dozens of Democratic legislators have announced their intention to boycott the swearing in of Trump. While his brother George W. Bush will be in the crowd, Trump's former opponent Jeb Bush will not be. It is unknown if Mitt Romney, one of the future president's first Republican critics, will witness the confirmation of America's new leader.
Two notable people who will be in attendance are Hillary and Bill Clinton.
Considering the list of promises Trump has vowed to honor within the first 100 days of his administration, it might be in his best interest to enjoy as many inauguration ceremonies as possible. He won't have many free days for the next four years.