Here's How To Get Your Hands On The Moschino x H&M Collection Before It Sells Out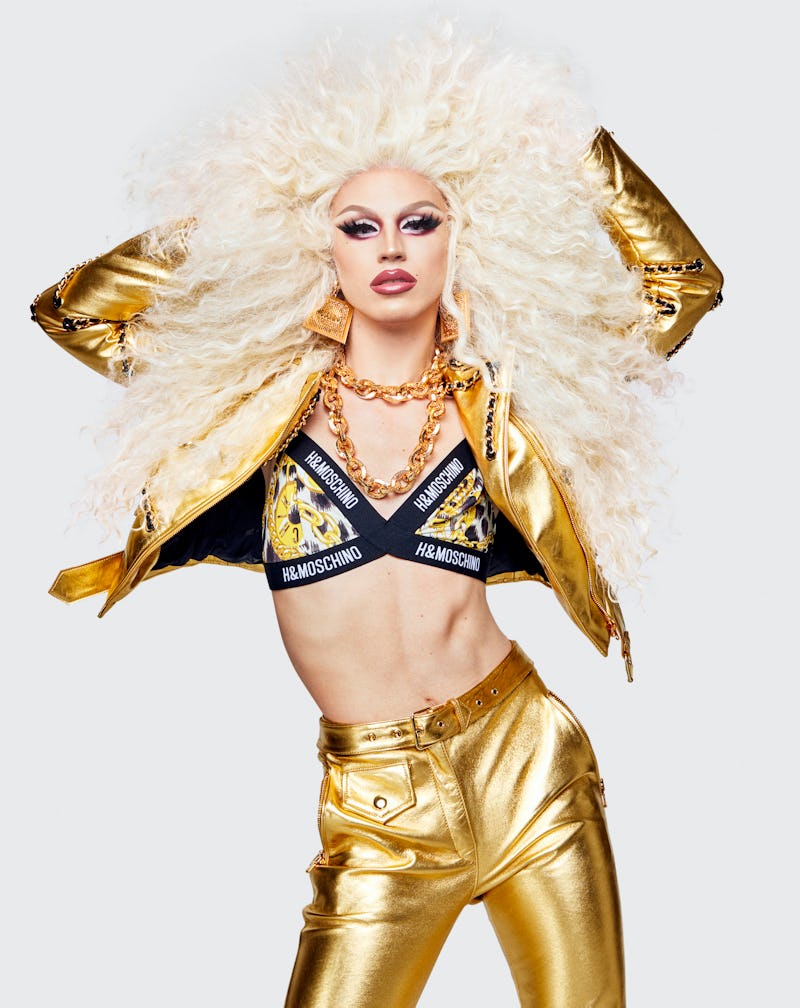 H&M
It seems as if the fashion world has been banging on about H&M's partnership with Moschino for months. But the release day has finally arrived. So if you're wondering how to get the Moschino x H&M collection without breaking down in tears or getting up before it's even light outside, here's everything you need to know.
The highly nostalgic and super OTT range, which includes pieces starting at £9.99 and going all the way up to £299.99, is set to hit H&M stores and the brand's website on November 8. Thanks to previous collections (like last year's Erdem extravaganza that I sadly missed out on), we already know that there's no point trying to be clever and staying up until midnight.
H&M will only release the collection online at 9 a.m. Brace yourselves for a whole lot of refreshing as the site often crashes due to the influx of customers. If you have patience, you may end up walking away with a glitzy winter coat, a snazzy leather look, or one of the Disney-slash-MTV items. Celebrities including model Gigi Hadid and the one and only Madonna have already proven to be fans.
If you're not a fan of online shopping, you could always try a store. According to the Independent, only select stores across the UK will carry the range. The paper reports that the following London stores will sell the Moschino x H&M collection from 9 a.m.: Oxford Circus, Tottenham Court Road, Regent Street, High Street Kensington, and Westfield Stratford. Birmingham New Street and Manchester Market Street will also have the range in stock.
Every year, H&M stores have huge queues waiting outside for the doors to open. You're more than welcome to try this method (it does allow you to try things on, after all) but the website is likely to cater for more size ranges and obviously have more stock. Standard H&M sizes are available in a UK 4 to 18. It's likely that the Moschino collab will offer the same.
Once the items are sold out, they won't be restocked. So no pressure but you've only got one chance. Or alternatively, head to eBay to pick up items at three or four times the price.
Moschino's creative director Jeremy Scott has been doing all he can to drum up excitement. He's admitted that he "hates the idea of exclusivity in fashion," telling the Guardian: "I'm all about the democratisation, about reaching people who can't normally afford this stuff."
And he's been more than open about the impracticality of some items, revealing his humorous side that will no doubt appeal to those wanting to pick up a piece of fashion history. "It's not really keeping you warm," he told Vogue Australia, referring to the cropped padded jacket available in the collection.
H&M's designer collaborations have been ongoing for more than a decade. First starting in 2004 with a collection by Karl Lagerfeld that sold out in an hour, previous names have included Stella McCartney, Versace, Alexander Wang, and Balmain. 2017's Erdem range "was all about beauty and romance which was totally right for the time," H&M's creative advisor Ann-Sofie Johansson told Vogue. "Now it's about boldness and energy, and Moschino is the perfect brand for it."
Too right.