How To Help Victims Of The Ft. Lauderdale Shooting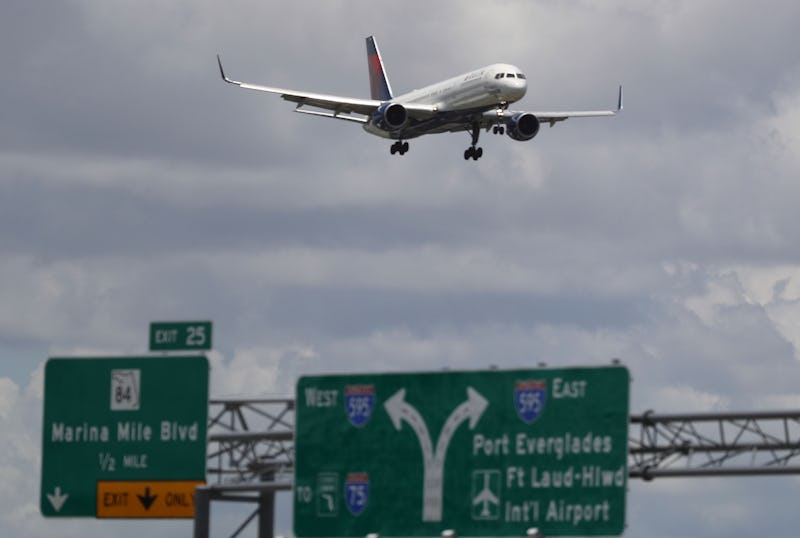 Joe Raedle/Getty Images News/Getty Images
Police in Fort Lauderdale, Florida, have confirmed that on Jan. 6, a gunman opened fire inside the baggage claim area of terminal 2 at Fort Lauderdale-Hollywood International Airport, killing five people and wounding multiple others, according to the Broward County Sheriff's Office. The gunman, who has not been identified, is reportedly in custody, and a suspected motive has not yet been announced.
But even without all the information about who committed this crime, why, and how deadly the attack turns out to be, there are ways you can help those impacted in what may prove to be the first mass shooting of 2017.
Donate Blood
If you live near Fort Lauderdale or in Southern Florida, consider donating blood to the nearest blood bank, as victims of the shooting will likely need transfusions. A Florida-based organization called OneBlood has donation centers throughout the state, including a major hub in Fort Lauderdale. The organization also offers a useful guide to determining if you are eligible to donate blood, and breaks down the types of blood most needed.
As always, the American Red Cross hosts blood drives around the country, and has a user-friendly blood drive finder that will locate your nearest donation place based on your zip code.
Help Fund Victims' Recovery
Unfortunately, Americans are highly familiar with the extensive medical and financial needs that follow each victim of gun violence. In this tragedy, as in countless others, family members, friends, and loved ones of victims frequently launch crowdfunding campaigns to cover medical costs for those victims who cannot afford to pay for what often amounts to lifelong care. GoFundMe and YouCaring are two prominent sites that host online fundraisers where recipients are able to keep all donations given, regardless of the total amount raised. At press time, fundraisers for victims of the Fort Lauderdale shooting were not yet created, but they will likely appear.
Donate To And Volunteer For Gun Control Groups
Contact your elected officials and tell them you want meaningful gun control reform. Join local and national organizations committed to ending America's deadly gun violence epidemic. Not sure where to start? Here's just a sampling of the reputable groups that are already organizing for a safer country (that still respects the Second Amendment):
Everytown for Gun Safety bills itself as "the movement to end gun violence," and has active chapters in all 50 states. The group has than 3 million members nationwide, and has a straightforward four-step action plan that anyone concerned about gun violence in America can embark on right now.
The Coalition to Stop Gun Violence is a nonprofit organization comprised of 47 other groups that aim to "secure freedom from gun violence through research, strategic engagement and effective policy advocacy." Coalition members include faith-based groups, legislative organizations, corporations, and nonprofits, who have all committed to the Coalition's founding principle that all Americans deserve to live in communities free from gun violence.
The Brady Campaign to Prevent Gun Violence has a specific numeric goal at its heart: It aims to cut the number of American gun-related deaths in half by 2025 through lobbying, education, and policy reform. The campaign advocates for universal background checks, stricter regulations on "bad apple" gun sellers, and a shift in the national conversation around gun violence in the home, hoping to reduce the number of suicides, homicides and fatal accidental discharges that occur each year.
These are just a few ways to help the victims of the Florida airport shooting. Donating time, money, or even condolences on social media will go a long way in this trying time.