Trump's Inaugural Parade Lineup Has Been Released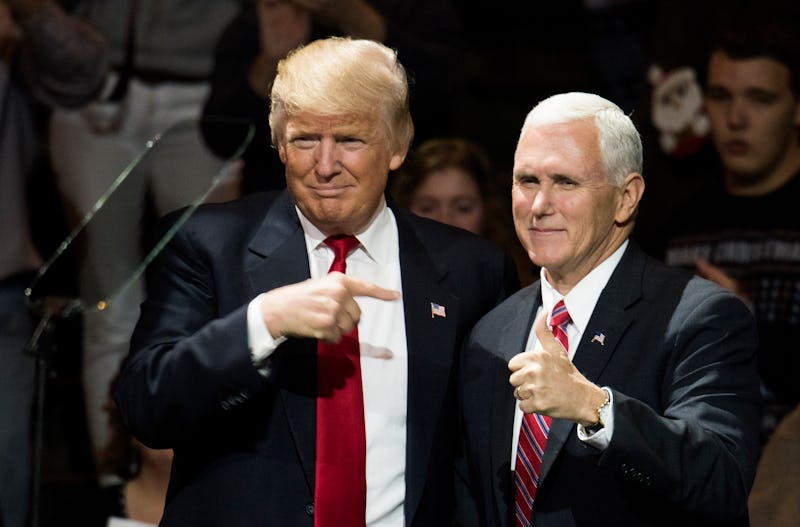 Ty Wright/Getty Images News/Getty Images
On Dec. 30, the Presidential Inaugural Committee for Donald Trump revealed the 2017 inauguration parade line-up that will take place on Jan. 20. The parade is one part of nine essential events that take place on Inauguration Day, but will Donald Trump be at the inaugural parade? While there is no way to tell for sure what Trump will do just yet, history indicates that the answer is probably yes.
According to the Joint Congressional Committee on Inaugural Ceremonies, it's long been tradition for the new President and Vice President to lead a parade back to the White House following the swearing-in ceremony and luncheon on Inauguration Day. The celebratory practice traces its roots all the way back to George Washington's inauguration, only back then, his parade took him through New York City to Federal Hall, instead of through Washington D.C. With that kind of historic company, it seems likely that Trump will want to take part in his parade, as well.
That being said, the line-up for the President-elect's inauguration parade has been a difficult one to land. Numerous celebrities have refused to participate with the inauguration, many of the Radio City Rockettes protested their performance, and even high school marching bands in the Washington D.C. area reportedly refused to participate (which has been a tradition until now).
The parade will take place after Donald Trump swears into office in front of the U.S. Capitol. This is proceeding a traditional morning worship service (usually a private service that takes place at St. John's Episcopal, but other former presidents have held prayer services in other locations), the processional of the President- and Vice President-elects, and then the oath of office for the new Vice President. After the President-elect takes his oath and gives an inaugural address, there will be a departing ceremony for the now former President and First Lady, a luncheon for the new President, and then finally the inaugural parade down Pennsylvania Avenue.
Some news sources are saying that Trump's parade will be shorter than most (Dwight D. Eisenhower's being the longest standing parade at four hours 32 minutes), and that Trump will be heading straight into the White House to do some work before going to his inaugural balls. He will only be hosting three, compared to the 10 President Obama hosted in 2009.
At any rate, here's what to expect from Trump's parade, according to a press release put out by the Presidential Inaugural Committee:
2017 Inauguration Parade Line-up
1st Cavalry Division Horse Cavalry Detachment – Fort Hood, Texas
1st Infantry Commanding General's Mounted Color – Ft. Riley, Kansas
Boone County Elite 4-H Equestrian Drill Team – Burlington, Kentucky
Caisson Platoon, Fort Myer – Fort Myer, Virginia
Cleveland Police Mounted Unit – Cleveland
Coastal Florida Police & Fire Pipes & Drums – Palm Coast, Florida
Columbus North High School Band – Columbus, Indiana
Culver Academy Equestrian – Culver, Indiana
First Troop Philadelphia City Cavalry – Philadelphia
Fishburne Military School Army JROTC Caissons Battalion – Fishburne, Virginia
Frankfort High School Band – Ridgeley, West Virginia
Franklin Regional High School Panther Marching Band – Murrysville, Pennsylvania
Indianapolis Metro Police Motorcycle Drill Team – Indianapolis
Kids Overseas – Richmond Hill, Georgia
Lil Wranglers – College Station, Texas
Marist College Band – Poughkeepsie, New York
Merced County Sheriff's Posse – Hilmar, California
Michigan Multi-Jurisdictional Mounted Police Drill Team & Color Guard – Ann Arbor, Michigan
Mid America Cowgirls Rodeo Drill Team – New Buffalo, Michigan
Nassau County Firefighters Pipes & Drums – East Meadow, New York
North Carolina Vietnam Helicopter Pilots Association – Hillsborough, North Carolina
NYPD Emerald Society Pipes & Drums – East Moriches, New York
Olivet Nazarene University – Bourbonnais, Illinois
Palmetto Ridge High School Band – Naples, Florida
Russellville High School Band – Russellville, Arkansas
Talladega College Band – Talladega, Alabama
Texas State University Strutters – San Marcos, Texas
The Citadel Regimental Band & Pipes and Summerall Guards – Charleston, South Carolina
The Freedom Riders – Kersey, Colorado
Tragedy Assistance Marching Unit – Arlington, Virginia
Tupelo High School Band – Tupelo, Mississippi
University of Tennessee Marching Band – Knoxville, Tennessee
VMI Corps of Cadets – Lexington, Virginia
West Monroe High School Marching Band – West Monroe, Louisiana
American Veterans – National
Boy Scouts of America – National
U.S. Customs and Border Protection Office of Field Operations – National
Disabled American Veterans – National
U.S. Border Patrol Pipes & Drums – National
Wounded Warriors – National
One thing is for certain — Inauguration Day is going to be historic, no matter who shows up.