These Shows Are Basically Real Life Versions Of 'The Manny'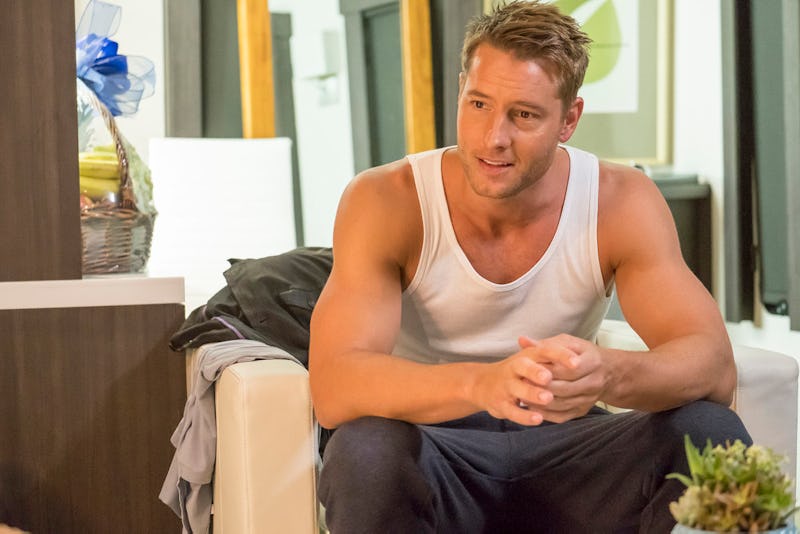 Ron Batzdorff/NBC
This Is Us started off in Season 1 with the Big Three at very different points in their lives. While the famous sibling, Kevin, was seemingly the most successful, he was probably the least happy working on a sitcom. But, is The Manny based on a real show? Kevin may have quit his job on This Is Us, but it's back to haunt him.
Season 2, Episode 2 is titled "A Manny-Splendored Thing," and as you can see in this sneak peek, yes, Kevin is returning to the show that broke him for one more episode. One of the funniest threads in Season 1 was Kevin's various family members (particular from Randall's side) loving and quoting the corny show back at him. It'll be fun to see them support him in this critical time — and hopefully provide some levity after all of those sad Jack revelations and clues.
In case you forgot, The Manny was a multi-cam sitcom filmed in front of a live audience. Kevin played a male nanny who had a history of losing his shirt — there wasn't really an emphasis on child care in the show at all. There was never a real show called The Manny on television, but if it feels familiar, you're not wrong. That just means This Is Us is doing a great job at making the world feel real. There are tons of shows, both past and present, that have either had similar plotlines or similar vibes. Here are some examples of what might have inspired The Manny.
Who's The Boss
The popular '80s sitcom starred Tony Danza as a retired baseball player who becomes a housekeeper. It's literally Cheers meets The Nanny — and if there weren't so many kids, it would be the most similar to The Manny.
Melissa & Joey
Joey Lawrence plays manny to Melissa Joan Hart's niece and nephew in this sitcom.
Baby Daddy
The Freeform series is the original "confused guy holds a baby" show.
Friends
In "The One With The Male Nanny," Freddie Prinze Jr. is hired to take care of Ross and Rachel's kid.
Full House
We didn't get to see that much of The Manny on This Is Us, but it does seem like they had some signature "hugging on the couch" scenes that Full House became infamous for, and now makes fun of on Fuller House.
Jessie
The Disney sitcom is also about a nanny — though it's more The Nanny Diaries than This Is Us. There are actually a lot of shows about raising kids — take The Mick as a recent example. It's a popular subject matter for televised shenanigans.
Growing Pains
The fictional series hired Alan Thicke as a guest star, which was likely a nod to this '80s sitcom that also featured a man staying home. While Brad Garrett didn't play himself in his cameo, Everybody Loves Raymond may also have been a thematic inspiration.
Any Chuck Lorre Show, Really
At the end of the day, The Manny is a multi-cam sitcom filmed in front of a live audience — so if you watch Mom, The Big Bang Theory, Mike & Molly, or Two & A Half Men, you're familiar with the form. That's the feeling that The Manny was probably trying to evoke on This Is Us.
Even a beloved sitcom that goes on forever and pays better than well can cause an existential crisis. While The Manny isn't real, and Kevin might argue that that's a good thing, we know the type of show he's talking about. Hopefully this special episode of The Manny will go smoothly, but knowing This Is Us, there are bound to be a few surprises. Fingers crossed that Kevin makes it out OK.